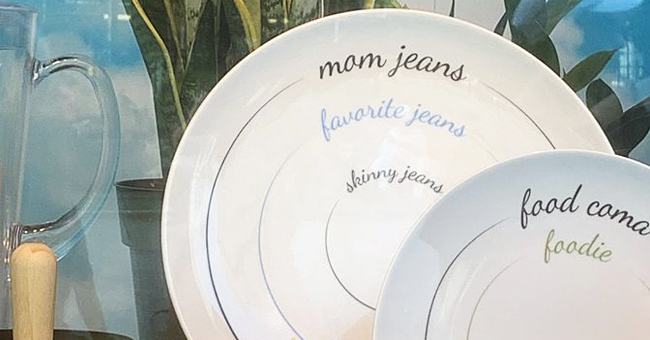 twitter.com/alieward
Macy's Pulls Plates with 'Toxic Message' from All Their Stores after Online Outrage

After the Twitter message was shared the sales giant responded directly to the one who posted the comment on her official account assuming full responsibility.
On Sunday afternoon, Alie Ward walked down the street and met Macy's advertising; it promoted a set of dishes, the dinner plate with three concentric circles: small, medium, and large.
Each circle reads a distinctive phrase, "skinny jeans," "favorite jeans" and "mom jeans," referring to the size of the portions to show off the jean according to that size.
Thinking about the number of people currently struggling with a negative self-image as a result of their weight problems and considering that the amount of food is not the determining factor for weight gain, Alie set out to act.
She wrote her message in the following terms: "How can I get these plates from @Macys banned in all 50 states." And in less than an hour and a half, she had an official response from the company spokesperson.
In its direct message to Ward, the company explains that they certainly lost focus with the message conveyed by the aforementioned dish and that they will gladly withdraw its existence from the exhibition.
They also clarify that it is not nationwide but is part of the STORY, the home division of the store in Herald Square only. Immediately, the dishes were removed from the shelves.
However, the thing was not over yet. In Ward's account, the thread of the conversation extends over two sides: those who support their claim as a spokesperson for those who may be offended by the text of the dishes and those who see the claim as an exaggeration and hypersensitivity, describing the matter as just an innocent joke.
Beyond the plate and its message, its manufacturer is Pourtions, a company was founded by Dan and Mary Cassidy. Pourtions dishes and glasses are designed in the United States developing numerous types to help people with proper guides to calculate their food portions.
Pourtions intentionally supports the control of healthy portion sizes in food and beverages, a nation issue yet. Everyone who knows the Pourtions line of items appreciates the care they put into promoting a healthy eating style and proper portions, with a fun reminder.
And although at this time the dishes are not available at Macy's they are available on the manufacturer's website and other retail stores. Based on the number of messages supporting Pourtions, it would not be surprising that they had already sold the entire existence.
Although the Macy's store showed that it meets the requests of its customers and that it is sensitive to people who might be offended by the message of the dishes, Pourtions said they regret that someone is offended by it and reiterated their commitment to food healthy and healthy proportion too.
Please fill in your e-mail so we can share with you our top stories!