Meghan Markle, Prince Harry Slammed over 'Disrespectful' Birthday Wish to Prince George
The Duke and Duchess of Sussex are being slammed for their "disrespectful" birthday wish to Prince George, saying he should be addressed like the future king that he is. 
Meghan Markle and Prince Harry received backlash for the rather casual birthday greeting they wrote for Prince George, who celebrated his 6th birthday on July 22. 
Prince George's 6th Birthday
On Sunday, the official Kensington Royal account posted three portraits of their first-born son with a greeting. 
"The Duke and Duchess of Cambridge are very pleased to share new photographs of Prince George to mark His Royal Highness's sixth birthday."
A Rather Casual Greeting
In response to the post, Meghan and Harry posted a message in the comments section using the official Sussex Royal handle, saying:
"Happy Birthday ! [cake and balloon emoji] Wishing you a very special day and lots of love!"
People felt the comment was extremely inappropriate and blank as if they weren't addressing the Prince correctly. Others added that the greeting was so plain as if they were greeting a stranger instead of their nephew.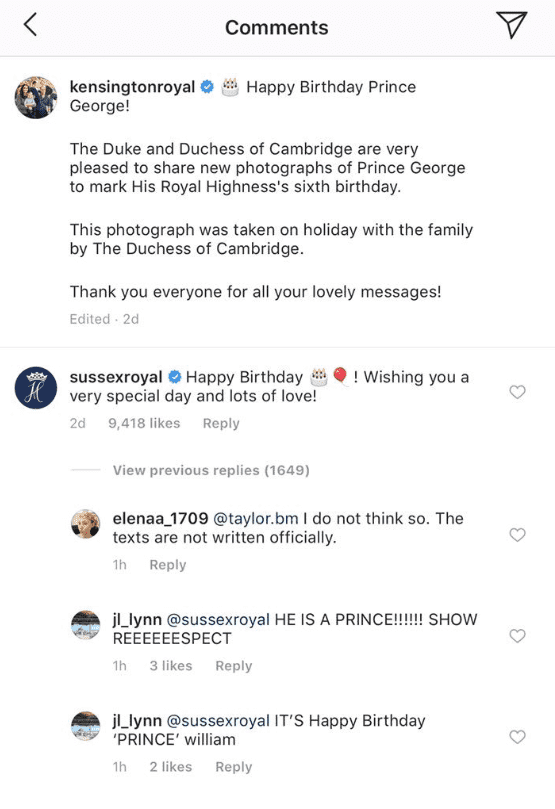 Uncle and Nephew Favorites
While their greeting seemed casual, Prince Harry and Prince George actually share a close bond. In fact, they even share the same preference in movies. 
When asked about Disney movies, Prince Harry mentioned "The Lion King" as his favorite movie. While Meghan said hers was "The Little Mermaid," Prince George shares that he shares his uncle's love for the same movie. 
It's unknown how Prince George will be celebrating his birthday and whether or not the Duke and Duchess of Sussex are celebrating with him this year.