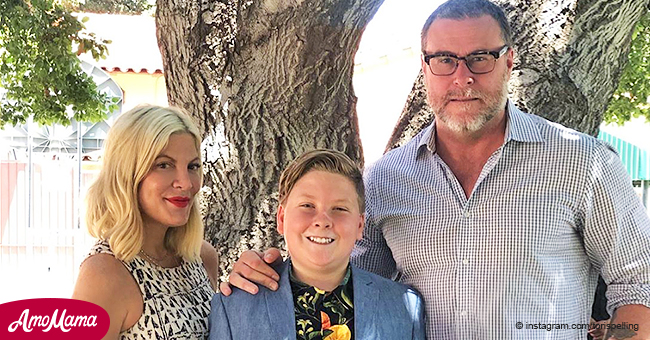 AmoMama.com
Tori Spelling's Husband Dean McDermott Teaches Their Son Liam to React to Criticism with Love
Dean McDermott, Tori Spelling's husband, urges Liam, his 12-year-old son, to exercise kindness while dealing with cyberbullies. He was called 'obese' after Spelling posted an image of her snacks preference for her family on Instagram.
McDermott told his son to send 'love' to body-shaming haters, as opposed to fighting back. This advice came as a result of online trolls cyberbullying Liam about his weight.
Spelling was promoting Entenmann's Little Bites in March. Spelling shared that she found snack time to be a balancing act; with her having to please her children as well as being content with what she was feeding them. She continued to list all the benefits of the snacks for children.
DADDY ISSUES
McDermott shared the criticisms he and Spelling faced about her Entenmann's snack Instagram post on his podcast, Daddy Issues. People were shocked that they were feeding their kids those snacks stating that it was unsurprising that their kids were obese. McDermott mentioned that Liam saw the online comments, took him aside and said :
"Dad, am I obese?" and I said, "Dude, no. You are not obese."
This became a teachable moment for Liam. McDermott warned Liam that people would criticize their family because his parents were in the spotlight. He told Liam that he was in the public eye and as a result, he should be aware that people will always have something to say. McDermott gave Liam the freedom to decide how he would respond to the negativity.
POSSIBLE RESPONSES TO CYBERBULLIES
McDermott told Liam that he could respond to the cyberbullies or that he could send them love instead. He told Liam to place himself in the cyberbullies' position to understand how sad they probably are because of all the effort they put into bullying people online. He added, " We can get mad about this, or we can take the high road, send them some love because they're hurting."
McDermott's 20-year-old son, Jack, is a good example for Liam to follow. McDermott told Liam to look at his brother who is "6-foot-7, and he's, like, 170 pounds. He's like, beautiful, tall and thin, and he went through a phase where he wasn't. You're not obese. You're going to sprout out, and you're big and beautiful."
MCDERMOTT AND SPELLING ARE NO STRANGERS TO CYBERBULLIES
Spelling shared a photograph of her family attending a screening of A Dog's Way Home in January on Instagram. She was met with criticism once again, and her children were body-shamed and cyberbullied for how they were dressed. McDermott explained that their children were experiencing different growth stages and that it was callous for people to comment on his children's sizes. His main concern was that his children were all happy and healthy.
McDermott said: "Social media was made to bring the world closer together and communicate with each other, not to give a voice to people who shouldn't have one. I will always stand up for my children and I will always stand up for the underdog."
Spelling has also responded to online trolls and cyberbullies as her family has continuously been affected by this.
Spelling thanked people saying: "For all the individuals on here that felt the need to #momshame and #kidshame me and my children I say 'Shame on you!' I was raised to believe that if you can't say anything nice about someone then you don't say anything at all. Lift others up and in turn, lift yourself up #endcyberbulllying."
Please fill in your e-mail so we can share with you our top stories!