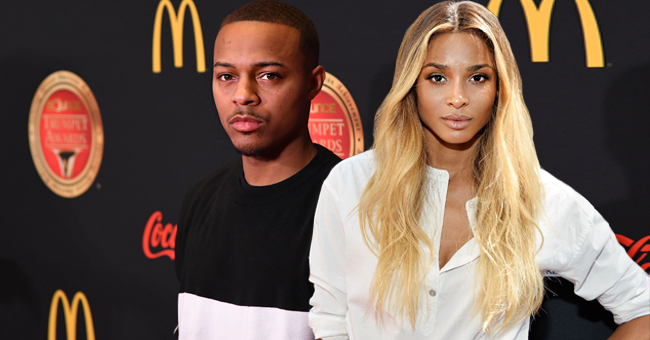 GettyImages
Bow Wow Slammed for Alleged Disrespect of Ex Ciara While Singing 'Like You'
Bow Wow gets criticized by fans for making an outrageous claim about his now married ex-girlfriend Ciara.
Bow Wow crossed the line during a show at the Elleven45 Lounge in Atlanta, and he's facing harsh criticism on social media.
The trouble started when Bow Wow performed his 2005 song 'Like You', which features Ciara, and during which he ad-libbed some lines which fans found offensive.
BOW WOW MAKES INAPPROPRIATE COMMENT
Bow Wow, who had a relationship with Ciara between 2004 to 2006, made a comment about his now-married ex-girlfriend that has fans up in arms.
During the performance of the song, Bow Wow stopped and stated in a challenging tone:
"I had this b–tch first. You know that, right?"
Ciara's relationship with Bow Wow ended over 12 years ago, and the singer is now married to Russell Wilson
ANGRY COMMENTS FLOOD SOCIAL MEDIA
Fans have come out in defense of Ciara, and have made no bones about the fact that Bow Wow's comment was offensive and inappropriate.
"When your brain and pants are still boys size 12!"
"Get over it already! Your behavior is not at all attractive. Someone was somebody else's, before they were somebody elses. So what? I just saw a clip with you and unc Snoop, telling you to be great. This is not that. Please stop,"
"Bow Wow need to leave Ciara alone because nobody has time for his bulls–t, and he just jealous because she is married,"
Ciara's relationship with Bow Wow ended over 12 years ago, and the singer is now married to Russell Wilson, with whom she shares a two-year-old daughter, Sienna Princess.
After Bow Wow, Ciara dated Future, 35, whom she has a son, so the fans are right. It's time he got over it and left the mother-of-two alone to live her life with her new family.
ERICA MENA ACCUSES BOW WOW OF ABUSING CIARA
Bow Wow's track record with the ladies is far from stellar, according to his ex-girlfriend Erica Mena.
Mena came out in support of Bow Wow's ex-girlfriend, Kiyomi Leslie who revealed that the rapper had physically abused her.
Mena accused Bow Wow of causing her miscarriage when he allegedly punched her pregnant belly.
Mena went on to reveal that Bow Wow had also abused Ciara, and had even broken one of her fingers.
"I'm the tough girl so my story was never the truth but y'all see how round 4 played out. He broke Ciara finger years ago, so this been going on," she said.
Considering Bow Wow's verbal abuse of Ciara in Atlanta, it's not hard to believe Mena's story.
Please fill in your e-mail so we can share with you our top stories!