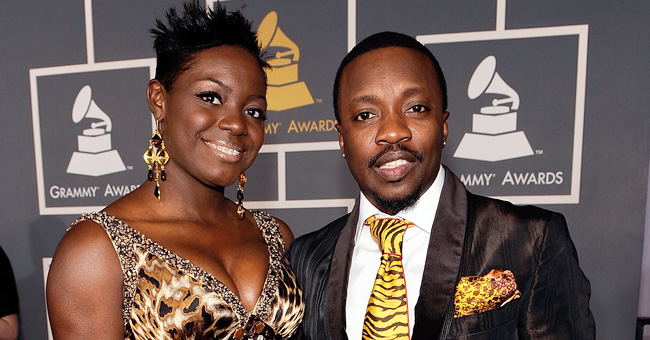 Getty Images
R&B Singer Anthony Hamilton & Ex Tarsha's Sons Look Just like Their Dad in Cool Outfits

Soul singer Anthony Hamilton shared an adorable photo of the sons he shares with and ex-wife Tarshá Hamilton's.
Anthony Hamilton shared an adorable snap on Instagram of two of the three boys he shares with his ex-wife, Tarshá Hamilton.
Even though they are divorced, the couple is united in providing a nurturing environment for their three children, twins Nolan and Aaron, 8, and Princeton, 6.
ANTHONY HAMILTON'S KIDS LOOK JUST LIKE DAD
Anthony is justly proud of his handsome boys, especially since they look so much like him.
The soul singer posted a recent photo of two of the boys on Instagram wearing big glasses and wide grins.
Anthony met Tarshá when she joined his band as a backup singer, and the two still work together
ANTHONY HAMILTON OPENED UP ABOUT HIS DIVORCE
Anthony has confessed that his marriage with Tarshá had foundered not through lack of love, but because he had been unfaithful. He confessed that he was surrounded by many temptations, and being faithful had posed a challenge.
ANTHONY AND TARSHÁ STILL LOVE EACH OTHER
Even though their divorce went through in 2015, Tarshá and Anthony admit that they love and respect each other and that their main concern is setting a good example for their sons.
STILL MAKING BEAUTIFUL MUSIC TOGETHER
Anthony met Tarshá when she joined his band as a backup singer, and the two still work together even though they are no longer married.
It's wonderful to see that love and respect can outlast romance, and this couple is a sterling example to many who end up turning their children into a battleground.
Anthony has three more sons from previous relationships: Anthony Jr, 30, Romeiro 28, and Tristen, 22.
ANTHONY HAMILTON'S TWIN SONS TURN 8
Anthony Hamilton's twin sons Nolan and Aaron Anthony turned 8 in November 2018, and the proud father of 6 posted a sweet photo of his boys to celebrate.
"Saying Happy Birthday To My twins! The Big 8! Daddy loves you and thanks God for your lives .????" he wrote.
Anthony shares the twins and son Princeton with ex Tarshá Hamilton with whom he started dating in 2003. They divorced in 2015, but remain amicable and supportive of their three children.
Please fill in your e-mail so we can share with you our top stories!