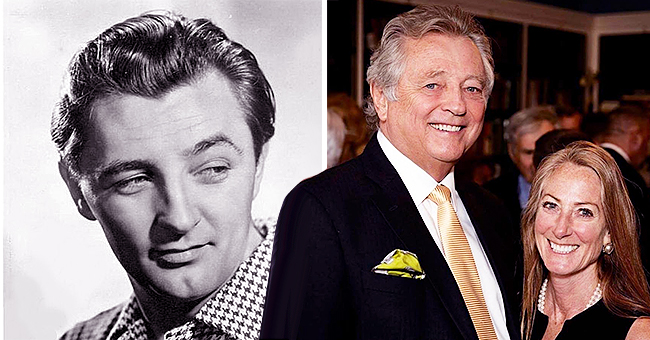 Wikimedia Commons / facebook.com/MitchumStarfish
Robert Mitchum's Lookalike Son Chris Followed in His Famous Dad's Footsteps

Just like his younger brother James, Christopher pursued a career as a Hollywood actor, and he went on to appear in nearly 70 films, sharing the screen on three features with the legendary John Wayne.
But while James got started in the business while still a teenager to play his father's brother in the 1958 film "Thunder Road" (a role originally intended to be played by Elvis Presley), Chris turned to acting as college graduated, married man with children in need of a job.
"Nanarland," a French online publication about film, once interviewed 75-year-old Chris, and he shared many details from his life as the successor to an iconic star as his father Robert, who died in 1997, truly was.
As Chris told interviewer John Nada, he had already obtained a degree in English Literature and was hoping to write and teach, but his plans changed when he married and fathered two children.
Because of his connections with the industry, Chris took small jobs in film and TV and slowly climbed positions until he moved to act, since "acting paid more."
He revealed that his father never encouraged him to follow his footsteps, and according to him, Robert only learned that Chris had become an actor in 1975, nearly 20 years after his first uncredited role in 1958.
"I will say that it wasn't until I worked with Howard Hawks that I appreciated the profession and began to love my work," Chris said.
His first collaboration with the renowned film director was for the 1970 Civil War film "Rio Lobo," one of the three films on which Chris shared the big screen with actor John Wayne, who also co-starred with his father in the past.
While it did open some doors for Chris, being "Robert Mitchum's son" was mostly a nuisance for him as an aspiring actor, who raised suspicion of nepotism among some, because of his family name.
"[My father] never 'pulled strings' for me, and I think everyone in the business knows that," the actor said.
"However, today, despite my own career of over 30 years and my father being dead for over ten years, I'm still referred to as 'Robert Mitchum's son,'" Chris admitted.
Chris' career slowed down in the seventies, when having worked with John Wayne backfired on him, since the "Duke" became unpopular at the time because he was seen as a supporter of the Vietnam War.
Chris didn't have any alternative but to appear in several European "B-movies" in order to be able to continue to support his family with his work as an actor. His exploration of other markets eventually took him to the Philippines and Indonesia.
Since 1998, Chris has been trying to be elected into office as a Republican, although still to no avail. On that year, he competed in the California Assembly election, coming in second following Democrat Hannah-Beth Jackson.
Then in 2012 and 2014, Chris ran for the US House of Representatives in California's 24th district, first coming in third and second coming in second.
Please fill in your e-mail so we can share with you our top stories!