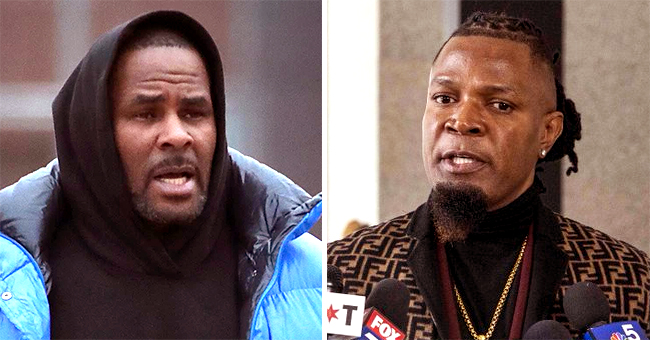 Twitter/Ashlee_Rezin Getty Images
R. Kelly Crisis Manager Quits after Saying He'd 'Absolutely Not' Leave Daughter with Singer

A visible member of R. Kelly's inner circle, Darrell Johnson has resigned after saying he wouldn't leave Kelly alone with his daughter then taking it back.
Darrell Johnson, R. Kelly's crisis manager has reportedly quit working for the jailed singer after releasing conflicting statements about his client.
Johnson confirmed to USA Today that he was leaving the singer's fold for personal reasons. He insists it has nothing to do with Kelly or the crimes he's being accused of.
WHO JOHNSON IS TO KELLY
Johnson has been an outspoken member of Kelly's inner circle ever since the R&B singer was first arrested in Chicago for state sex-crime charges. At the time, Johnson was referred to by the media as Kelly's spokesperson or publicist but that doesn't seem to be the case.
Earlier this month, one of Kelly's defense lawyers, Nicole Blank Becker deemed him to be a spiritual adviser for the accused singer. However, more recently, Steve Greenberg, the head of Kelly's legal team clarified that Johnson is neither a spiritual adviser or a lawyer but rather a crisis manager who has the "full confidence of the defense team."
"I wouldn't leave my daughter with anybody that's accused of pedophilia. Period."
HIS CONTROVERSIAL STATEMENTS
Johnson's exit comes in the heels of his recent interview with Gayle King where he confused the host with his opinion of Kelly. When King asked him if he would leave his daughter with Kelly whose crimes include illegal sexual activities with minors, Johnson said no.
"Absolutely not," he said. "I wouldn't leave my daughter with anybody that's accused of pedophilia. Period."
A confused King followed up and asked if he didn't think it was a contradiction considering he was supposed to be defending Kelly. But Johnson insisted, "I wouldn't leave my daughter with anyone. I'll say it again, (anyone) that's accused of being a pedophile."
"I wouldn't be here if I did not think Kelly was innocent."
HIS ATTEMPT TO CORRECT HIMSELF
Realizing the impact of his comments, Johnson appeared to take it back when he spoke to USA Today a couple of days later.
"I should have worded it better," he said and backtracked by adding, "I would leave my daughter with Kelly because I do not believe he is a pedophile." He further stated, "I wouldn't be here if I did not think Kelly was innocent."
ON KELLY'S STATE BEHIND BARS
Johnson previously told King he was worried about Kelly's disposition behind bars. The embattled artist pled not guilty to 13 federal charges and is currently in jail without bond. And because he could neither read nor write, it is Johnson's fear that Kelly, who remains in solitary confinement and prefers it, would harm himself. Johnson also denied reports of Kelly being happy in jail. He told King he was actually in a state of "mess."
KELLY'S DEFENSE TEAM WELCOMES HIS RETURN
Despite Johnson leaving Kelly's team with a trail of confusion, Greenberg, on behalf of his legal team tweeted his thanks for his "tireless assistance." He also left the doors open for Johnson's possible return by adding that the defense "looks forward for his return."
Please fill in your e-mail so we can share with you our top stories!