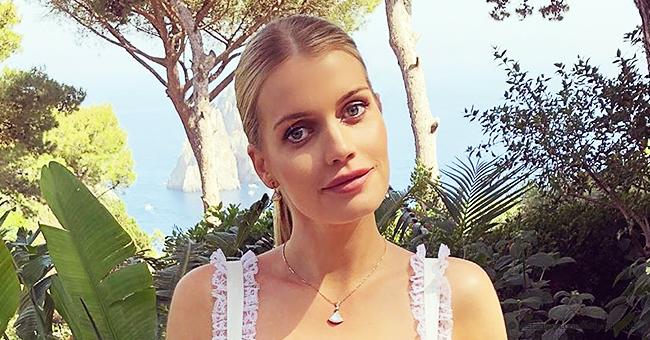 instagram.com/kitty.spencer
Princess Diana's Niece Lady Kitty Spencer Stuns in White Dolce & Gabbana Dress in Italy

Princess Diana's niece looked dreamy in a frilly white dress as she enjoyed Italy during a summer getaway.
Lady Kitty Spencer is not typically in the spotlight, but the 28-year-old niece of the late Princess Diana has long been praised for her poise, socialite tendencies and gorgeous looks which reminds us of her beloved aunt.
Earlier this week, Spencer, a model, shared pictures of an outing she took while vacationing on the island of Capri in Italy. As she effortlessly posed for the camera, we admired her flawless ensemble. Photos are found below.
According to the Daily Mail, the sleeveless dress Spencer had on was a Dolce & Gabbana summer piece. Light purple ruffles adorned the edges. The dress was nipped at the waist before flowing outwards below.
In her caption, Spencer credited Bulgari with providing accessories. She held onto a light pink purse as she leaned against a white railing in the second picture. In the first, the bag rested on the table where she ate.
The company also could have provided her with the gemstone necklace and golden bracelet she wore. Both pictures featured only Spencer, but her relationship with fashion tycoon Michael Lewis, 60, recently became public knowledge.
The lovely Lady is the first daughter of Victoria Lockwood and Earl Charles Spencer, the younger brother of the late Princess Diana. Spencer, though, was raised in South Africa most of her life.
In 2007, she received more attention when she visited cousins Princes William and Harry. These days, she's getting more recognition for her philanthropic work rather than just modeling.
However, speaking to Vanity Fair, she expressed appreciation of how modeling "takes me to new places and you get to dress up and wear beautiful things and live in a little bit of a fairy tale for a day."
It seems the Lady especially likes white outfits. In June, she wore another white Dolce & Gabbana dress as she attended the Royal Ascot in Berkshire. She paired it with a black purse and matching heels.
However, it was her quirky hat that stole the show. Designed by Philip Treacy, the oddly shaped hat was made even more unique by a large black stick poking out of it on one side.
Spencer regularly posts photos showing off gorgeous outfits and clearly lives a life similar to that of the other royals. Always on the go, it's clear that the Lady is enjoying her blessings to the fullest.
Please fill in your e-mail so we can share with you our top stories!