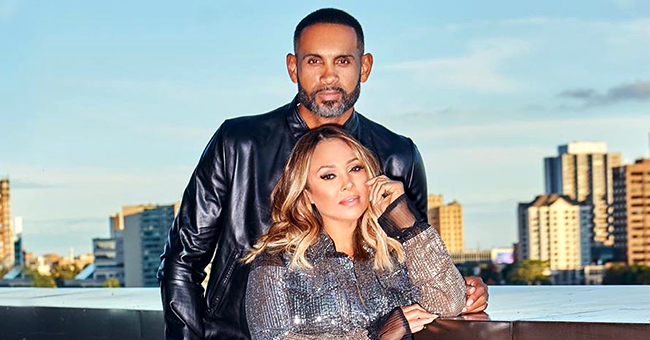 Instagram/realtamiaworld
Tamia & Grant Hill Celebrate 20 Years of Marriage with Sweet Photo

Tamia paid tribute to her marriage to Grant Hill that just made it to 20 years. The couple whose wedding was featured in the singer's music video last year got engaged after Grant tried Tamia's french toast.
20 years is a long time to be married for most celebrity couples but for Tamia and Grant Hill, they can afford 20 years more.
CHEERS TO 20 YEARS
In celebration of their two-decade milestone as husband and wife, Tamia took to Instagram to pay tribute not only to the two decades that have been but to two more she looks forward to. Sharing a photo of them on a balcony overlooking a city skyline, Tamia wrote,
"Happy 20th Anniversary my love. Cheers to the next 20."
ALL BECAUSE OF HER FRENCH TOAST
It all began with Tamia's "bomb French toast" according to Grant who, in an episode of their show, "Black Love" opened up about the day he decided Tamia was the one.
"One day, in the morning, she made this bomb French toast. And I was like, 'I could marry her.' I mean, she's strong, she's beautiful, she's a fighter, we're compatible, and she can cook? And so, I knew I could marry her."
THEIR WEDDING VIDEO
The pair wed on July 24, 1999, three years after they were introduced by Anita Baker. Fans of the couple witnessed snippets from their beautiful wedding day when Tamia released the video for her single, "Today, I Do" in time for their 19th anniversary last year.
Never-before-seen footage of Tamia arriving in a carriage and walking towards her future husband on a beautiful garden accompanied the beautiful lyrics of her song. In her white bustier gown, Tamia looked up lovingly at her groom as they said their "I do's" in front of a small number of guests.
"...it's not about looking into each other's eyes, it's about looking in the same direction."
Tamia told Essence she sang for Grant during the reception as a wedding gift to him thinking, "what do you give a man that has everything?!" I was also a response to Grant's frequent jokes about her never singing to him.
THE SECRET TO THEIR MARRIAGE
With a great many years of experience as husband and wife and two daughters, Tamia told the publication marriage isn't as complicated as many believe. In fact, it's just about "trying to make it."
"Every day you are just saying to each other, 'we are going to work it out, we are going get through it together,' [because] it's not about looking into each other's eyes, it's about looking in the same direction. So, there's no secret," she said.
She also believes saying good morning and goodnight every day was a simple gesture that went a long way for them. It says a lot about communication which she thinks is important for a lasting relationship.
Happy anniversary Grant and Tamia and thank you for inspiring us with your lasting marriage.
Please fill in your e-mail so we can share with you our top stories!