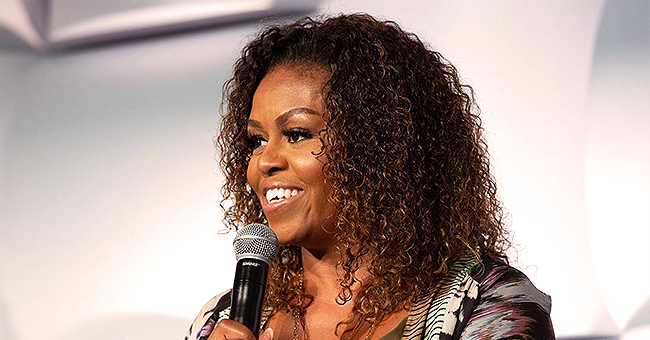 instagram.com/michelleobama
Michelle Obama on Meeting with College Freshmen: 'I Am so Proud of Everyone I Met Today'
Michelle Obama spoke before college freshmen students during her recent "Beat the Odds" Summit and gave them a few words of encouragement: "You are faster, quicker, smarter, sharper."
During Wednesday's "Beat the Odds Summit" at Howard University, the former first lady spoke before 50 first-generation freshmen students heading off to college to share pieces of advice and motivating words.
She began by telling students, who are first in their families to attend education higher than high school, not to be intimidated by their classmates or teachers and never to give up. She said:
"You always think that somebody else knows more than you do. I've been at probably every powerful table there is to be at. I have been on boards with some of the top CEOs. I've had dinner with the frickin' Queen! I've been to the summit of world leaders. They're not smarter than you. I've met these people."
ON MENTAL HEALTH
Obama focused widely on the rising issue of mental health among students and its importance. Be it anxiety or depression, among many others, that are triggered by stress-inducing factors around college campuses.
She urged the students to pay attention to their mental health and to be aware of its symptoms. Some people may not know when a condition is already triggering their mental health, but something as simple as "being homesick" is already a factor to consider.
Obama's daughter, Sasha, is off to college as well after graduating from a private school on June 9, 2019.
The former first lady also advised students to "live a balanced life" to promote good mental health, including watching the food that enters the body and having some form of physical activity.
BELONGINGNESS
A word of caution Obama gave was that feeling out of place is something felt by many -- and it's okay, so long as you never quit. Despite putting up a front that seems to be okay, feeling as though coming to college "was a mistake" can still resonate.
"Walk on those campuses and fake some confidence, because you're going to be faking it for a while," she said. "We're all faking it. It's going to be okay as long as you don't quit."
OFF TO COLLEGE
Obama's daughter, Sasha, is off to college as well after graduating from a private school on June 9, 2019. The 18-year-old is expected to attend the University of Michigan soon. Although her graduation was a private event, photos of her family emerged from those in attendance.
Similarly, former Vice President Joe Biden was in attendance during the ceremony for his granddaughter Roberta "Maisy" Mabel Biden, who also graduated from the same school. The proud grandfather took to social media to share a photo with the graduate.
Please fill in your e-mail so we can share with you our top stories!