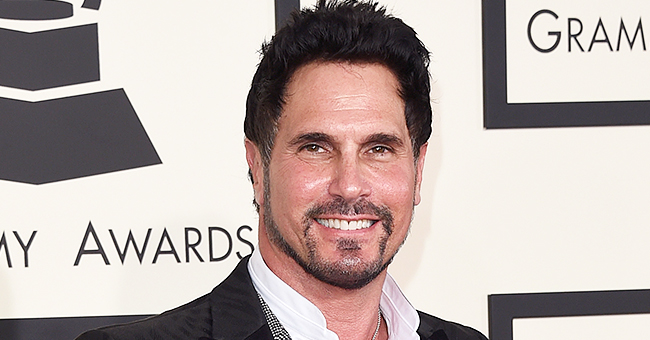 Getty images
Don Diamont of 'Y&R' Shared Family Photos of His Dad, 7 Adult Sons, and Their Girlfriends

Don Diamont might play unscrupulous characters on daytime soaps, but a photo post of his sons and their girlfriends showed that he is much more than that in real-life.
When it comes to fatherhood, Don Diamont takes his role as a father of seven grown-up boys seriously, and showing them off is one of the things he loves to do.
SEVEN SONS AND THEIR GIRLFRIENDS
He shared family photos of his sons on Instagram, with their girlfriends during Father's Day weekend, and it was obvious that they share a close bond and lots of affection.
The photo showed the "Young and Restless" actor with his boys sitting at dinner, with their ladies at their sides, enjoying cart racing, playing golf, and doing nothing but relaxing.
Diamont described himself in the caption as a lucky man, making it evident that he enjoys his role as a father, a sentiment he has shared severally.
HOW DIAMONT ENDED UP WITH SEVEN SONS
Out of the seven, the actor has four biological, and three he became a father to by choice. He shares the first four, Lauren, Sasha, Alexander, and Luca, with his first wife, Rachel Braun.
Lauren and Sasha are Rachel's sons before her marriage to Diamont in '94, and after their 2002 divorce, he continued to act in his capacity as their father.
The "Days of our Lives" star told TV Guide that he never saw himself as anything else, and made it clear to the two, that the end of his marriage with their mom did not mean they were no longer his sons.
In 2003, Diamont welcomed twins, Anton and Davis, with his wife, Cindy Ambuehl, who he was dating at the time, and in 2012, he took custody of his sister, Bette's son, Drew Mazur, after she passed.
DIAMONT ALWAYS WANTED TO BE A FATHER
In a 2013 interview, the actor who spent 12 years on Y&R said that after losing his father and brother at a young age, all he wanted to do was be a father to boys, and life, blessed him with seven.
To show his gratitude and tell his story, Diamont wrote a memoir, "My Seven Sons and How We Raised Each Other," adding in parenthesis, "They only drive me crazy 30% of the time." The book covered everything the actor has done in his life, and the love between him, his father, sons, and Cindy.
Diamont currently stars on the "Bold and Beautiful," as "Bill Spencer," and enjoys a lot of love from his followers who can't get enough of him.
After sharing an inspiring message with them to keep fit earlier this month, they gushed about their love for the actor, writing, "You are such an inspiration, and a wonderful person," and they are 100% right.
Please fill in your e-mail so we can share with you our top stories!