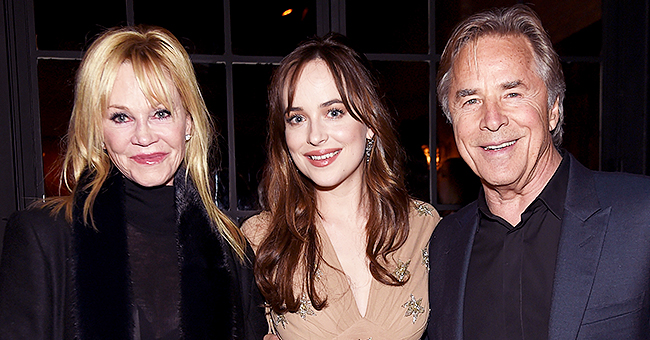 Getty Images.
Meet Don Johnson's Daughter Dakota, Star of the Erotic Romantic Drama 'Fifty Shades of Grey'

Unassuming in her Hollywood fame, Dakota Johnson prefers the unconventional and continually challenges herself through the acting roles she chooses.
Born to acting legends Don Johnson and Melanie Griffith on October 4, 1989, Dakota's split when she was five years old. She often visited her father in San Francisco while he starred in Nash Bridges and traveled with her mother to locations where she worked.
At the age of three, Dakota started therapy and attended numerous schools due to spending only a few months at any particular place at a time. Even though she "loved" going all over the world with her mother, it also left her feeling unanchored.
"I was so consistently unmoored and discombobulated. I didn't have an anchor anywhere," Dakota told Vanity Fair.
Because of a lack of consistency, Dakota loathed going to school and studying as she added, "I never learned how to learn the way you're supposed to as a kid. I thought, 'Why do I have to go to school on time?' I was a disaster, and I thought for so long that there was something wrong with my brain. Now I realize that it just works in a different way."
The actress studied ballet until the age of sixteen but always dreamt of becoming an actress. However, she made some money while in Santa Monica high school modeling and moved to an apartment in West Hollywood with her then-boyfriend, Matthew Hitt after graduation.
When Dakota didn't get into Juilliard, the only college she applied to, she went back to Los Angeles and began pursuing an acting career.
Matthew and Dakota's relationship ended in the spring of 2014, shortly before she starred in the film adaptation of "Fifty Shades of Grey," which also included it's two sequels, "Fifty Shades Darker" and "Fifty Shades Freed."
"I think I'm a little bit heartbroken all the time, even when I'm in a happy relationship. I don't do casual very well, and my feelings, even the good ones, get so intense that they hurt," Dakota said in 2015.
Dakota played the role of Anastasia Steele in "Fifty Shades of Grey," a college graduate that falls for the erotic and wealthy businessman with a taste for BDSM, Christian Grey.
Even though she often appeared naked and in sex scenes with her co-star Jamie Dornan, she doesn't regret starring in such a controversial film. "I'm truly proud of it," she said. "It's a cool story, and I think it's different, and different is what I'm about."
As an actress, Dakota finds nudity interesting as it's all about the raw performance of the actor without the context of other things.
"There's no makeup. There are no clothes to tell you a bit about the story. There's no jewelry to give you a clue about social status. So it becomes purely about the performance," Dakota explained.
While it might be an uncomfortable situation for a father, Don Johnson insisted that he felt proud of Dakota and supported her when she chose to star in the film. "I'm exceedingly proud of my daughter. She's a gifted, gifted actress," he told Cosmopolitan in 2014.
With public exposure, Dakota found herself shying away from the idea of public life. She grew up with famous Hollywood stars, but when the focus shifted to her, she didn't like the feeling.
"I have a thing with the exposure, with the experience of the past two years. I think I went into this weird K-hole of feeling so scared of people. I noticed myself becoming shut off to strangers, even cold. That's not my nature. I prefer to be tender," she said.
In the meantime, Dakota came up with the perfect solution to her conundrum as she added, "I think about my dwindling anonymity, and that's really scary. A very large part of me would be perfectly happy living on a ranch in Colorado, having babies and chickens and horses, which I will do anyway."
During a talk with Interview Magazine in 2016, Dakota admitted that she still felt in the process of finding her feet as an actress despite her success in "Fifty Shades of Grey."
"I still feel like I don't know what I'm doing. Like, I'm unsure of what my life will be like. I mean, I have such an obsession with making movies that I probably will always do that. But sometimes my life can feel so suffocating, and then it can feel so massive like I don't have a handle on it at all," Dakota said.
The actress started dating the Coldplay singer, Chris Martin late in 2017 and appeared together at almost every ceremony since then.
In April 2018, engagement rumors started doing the rounds after Chris's ex-wife reportedly blessed his relationship with Dakota.
Please fill in your e-mail so we can share with you our top stories!