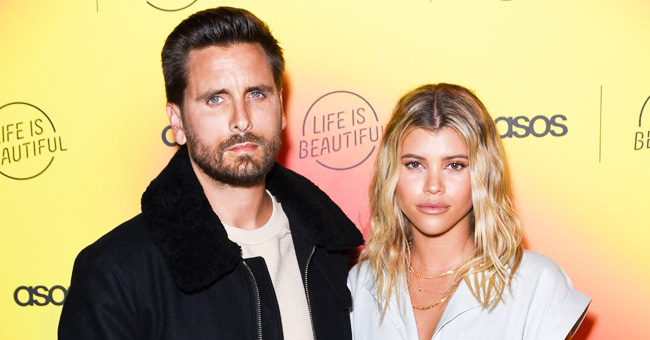 Getty Images
A Timeline of Scott Disick and Sofia Richie's Relationship
When Scott Disick moved on from his relationship with Kourtney Kardashian, fans were stunned at his choice. Especially because of the massive age gap between him and his new girlfriend.
Fans of "Keeping Up with the Kardashians" watched Scott Disick and Kourtney Kardashian's relationship go through everything from the births of their children to their breakups. When they eventually split up completely in July of 2015, fans were heartbroken for them.
So naturally, when rumors surfaced that Scott was dating 19-year-old model Sofia Richie people were shocked. Fans wanted to know how the pair who have such a massive age gap ended up together. So here is a timeline of their relationship.
May 28, 2017: Richie Responds to Rumors
After the rumors that Scott and Sofia are dating began to run rampant, Sofia decided to speak up. At the time she shut down the relationship rumors saying they were "just homies."
However, a month after her tweet, on June 10, 2017, the pair were spotted walking arm in arm on their way to Nobu in Malibu. Fans assumed they were on a date.
Scott Sparks More Rumors
In September that year, Scott posted a snap to his Instagram Stories of him and Sofia. In the pic, it appears that he is nuzzling her neck.
Naturally, the loving photo raised eyebrows and questions. Fans assumed that he was hinting their relationship was more serious than they initially implied.
October 2, 2017
The pair eventually confirmed their relationship on October 2, 2017. They made their relationship Instagram official with a post of Sofia hugging Scott while they were on vacation in Puerto Vallarta, Mexico.
Her Father's Reaction to their Relationship:
Lionel Richie revealed in an interview with US Weekly that he was "scared to death" about their relationship.
However, a source reportedly said, "Scott wasn't bothered by Lionel's recent comments."
Kris Confronts Scott About his Relationship
On February 11, 2018, Kris Jenner confronted Scott about who he was dating. During an episode of Keeping Up with the Kardashians, Kris asked:
"Wait, so how old is she? Because I really don't know. Is she Kylie's age? 20?"
Scott awkwardly informed her that she was only nineteen and Kris then goes on to ask his age. He responds that he is 34.
"You're 34? OK, so I was 17 and Robert was 12 years older," says Kris. Scott then says, "You were underage, she's not."
Lionel Richie Takes More Digs at their Relationship:
Lionel Richie once again decided to comment on his daughter's relationship. In an interview with The Daily Telegraph, he said:
"She's 19. When you're 19, you know everything. Is it going to be for life? I don't know. But for right now, it's just a phase and I'm going to stand real still in the corner, get me a good drink, and not make too much noise."
He then went on to take a jab at Scott saying,
"When you hang around the reality world, who knows what you are really doing? This is a well-oiled machine, the Kardashian machine. I don't really know what to think. I told Sofia I will have no opinion. I'll continue to be my cheerful self and move on."
Scott's Cheating Scandal
In June 2018, the rumor claimed that Scott and Sofia had broken up. According to the reports claimed that Scott had cheated.
"Sofia and Scott split up," a US Weekly source claimed. "He cheated on her in Miami and she found out and told [her father] Lionel [Richie]. He said he is going to cut her off and write her out of his will if she continues her relationship with Scott, as he thinks he's extremely toxic for her."
TMZ Refutes the Claims
Two days later, TMZ refuted the claims and called it a giant misunderstanding. According to TMZ, a source said:
"Scott has known the woman for years, and that holding her at the party was nothing sexual...and only lasted a few minutes. They also did not go home together. Regarding him telling people at the party he was single...we're told that was the booze talking."
Scott and Sofia both took to their Instagram Stories to shut down the rumors as well. later that month, People Magazine confirmed they were living together through a source.
"Sofia again lives with him. Everything seems good now. It's back to normal," revealed a source.
Las Vegas Trip
Later that year, the two went on a trip to Las Vegas. Sofia shared a pic of her sitting on a hotel room bed taken by Scott who could be seen in the mirror behind her. The pic served as proof that they were still going strong.
She captioned the post, "The man in the mirror."
Kourtney Accepted their Relationship
Then in a surprising twist of events, Scott and Sofia were spotted with Kourtney Kardashian on vacation in December 2018. They could be seen soaking up some sunlight in Cabo.
The holiday was apparently a family trip and all three of Scott and Kourtney's children were also there. In fact, Penelope, Reign, and Mason even had a special movie night on the beach.
Considering Marriage?
According to Us Weekly, Scott and Sofia "have talked seriously about getting engaged." The report goes on to say that they "look at each other as life partners."
Please fill in your e-mail so we can share with you our top stories!