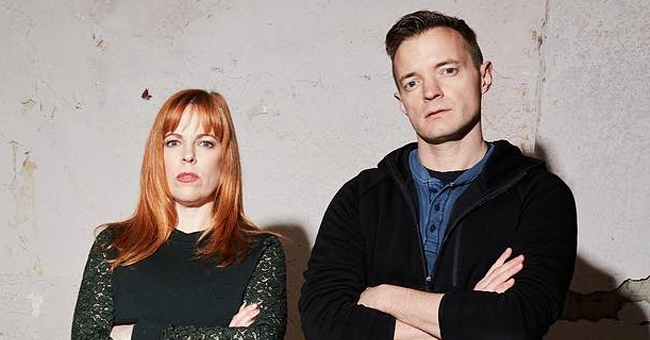 Instagram.com/amybruni
Amy Bruni of 'Kindred Spirits' Urges Fans to Find the 'Ghost Bread' in a New Photo of Adam Berry
Amy Bruni of "Kindred Spirits" is a pro when it comes to spotting ghosts, and this time it's a loaf of "ghost bread."
The reality star asked her fans if they can spot an evasive loaf of bread in her new Instagram post and fans were happy to volunteer.
Paranormal investigators Amy Bruni and Adam Berry from "Kindred Spirits" are famous for their ghostbusting abilities--no evil spirit can hide from the duo's positive vibes.
Ever since the show's premiers on October 21, 2016, the duo has been crossing countries to ward off evil spirits.
In a new Instagram post, Bruni asked her fans to spot the "ghostbread" and fans were delighted to engage in the ghost hunting activity.
"Can you find the #ghostbread?" the reality star captioned the post featuring Berry talking on the set.
FANS PLAY GHOST HUNTERS
Keen fans were quick to spot the notorious ghost bread.
"On the ledge above Adam's head. #ghostbread, lol," one fan wrote.

Fan comment on Amy Bruni's post. | Source: Instagram/amybruni
Another fan commented: "On Adams left above his head a couple of feet."

Fan comment on Amy Bruni's post. | Source: Instagram/amybruni
"So funny. And yes," a third fan wrote, having spotted the evasive loaf of bread.

Fan comment on Amy Bruni's post. | Source: Instagram/amybruni
HOW AMY'S GHOST HUNTING JOURNEY STARTED
Amy's fascination with evil spirits started when she was merely a six-year-old. When her family moved to Almeda, California, they had no idea that their home was haunted until Amy saw a specter dressed in green.
Years passed and Amy ultimately discovered that the ghost was the landlord's son who died in World War II.
Anyone would be scared after encountering evil spirits, but Amy's parents encouraged her to embrace the supernatural instead of letting it spook her.
She has been chasing evil spirits since then and her father started taking her on paranormal investigations when she was nine-years-old.
ADAM'S FIRST BRUSH WITH THE PARANORMAL
Growing up in the small town of Muscle Shoals, Alabama, Adam encountered many ghosts ever since he was a kid. He was terrorized by evil spirits when he was just nine.
Adam could not explain what the mysterious, spooky figures were but he was curious for sure. After encountering ghostly white figures in a field, his interest in the supernatural grew.
In 2010, he competed on Ghost Hunters Academy which landed him a spot on Ghost Hunters.
Please fill in your e-mail so we can share with you our top stories!