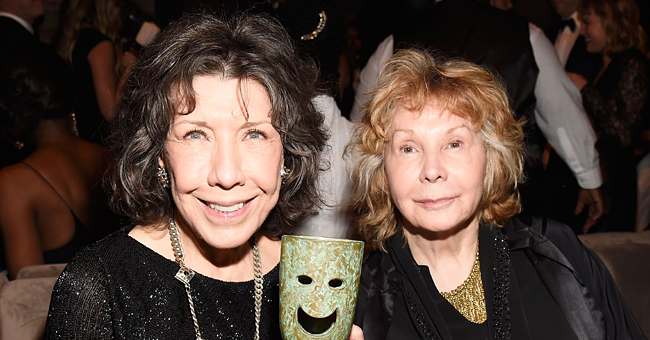 Getty Images
Inside Lily Tomlin's Relationship with Her Partner of 48 Years Jane Wagner

A union spanning almost five decades showcased director/producer Jane Wagner and actress Lily Tomlin's unique match, not only in love but also in their careers.
Forty-two years after Jane and Lily's first collaboration, they tied the knot on December 31, 2013, during a private ceremony at a friend's house in Los Angeles.
"It was sweet," Lily said. "We didn't have any rings, so I went into our jewelry and was digging out rings. I said, 'We have to have some kind of rings!'"
They met in 1971 during their collaboration on Lily's comedy album, "This Is a Recording," which won a Grammy Award for Best Comedy Recording the following year.
Before they got married, Jane and Lily tried to get their marriage license without the media catching on as Lily told People:
"We went in Van Nuys because if anyone should see us, we didn't want them to write about us. There were all kinds of young kids there getting married."
Since their first award-winning project together, Jane acted as director, producer, and writer on several films with Lily including "Moment by Moment" in 1978 followed by "The Incredible Shrinking Woman" three years later.
In 1991 the pair worked together again on "The Search for Signs of Intelligent Life in the Universe." In total, the pair got nominated for six Primetime Emmy Awards and won three for their comedy specials in 1974, 1976, and 1981.
Lily and Jane did not hide their sexual orientation, but they didn't draw unnecessary attention to it either as "women who identified, looked, and dressed as a gay woman" found the 1970s "hard."
During an interview with producer Jeffrey Schwarz in 2010, Lily gave an example of the social views at the time when she recalled her answer after being asked about having children.
"I said, 'If you mean do I want to bear children biologically, no I really don't.' You could hear a pin drop in the audience because that was even audacious at that time. A girl that is not married and a girl that doesn't want to be a mother, what's wrong with her," Lily elaborated.
Changes over the last forty years left Lily "dazzled" as matters around human rights have come a long way since. "What the younger generation has created for all of us. Their openness and absolute demand to be acknowledged and just be left alone," Lily said. "I feel like so much positive has happened in a short time."
Lily further got acknowledged for her contributions in the entertainment industry when she received a SAG Lifetime Achievement Award in 2017. Jane went on to win awards of her own which included two Peabody Awards, first in 1969 and again in 1996.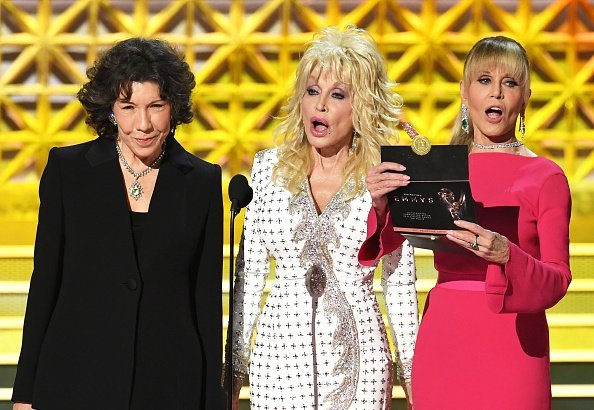 Lily Tomlin, Dolly Parton and Jane Fonda speak onstage during the 69th Annual Primetime Emmy Awards at Microsoft Theater on September 17, 2017, in Los Angeles, California. | Source: Getty Images.
However, Lily also got to star alongside her longtime friend, Jane Fonda in the Netflix series, "Grace and Frankie" which first aired in 2015. Jane Fonda and Lily Tomlin first met in 1980 when they starred alongside Dolly Parton in "Nine to Five."
"When you and I and Dolly made Nine to Five, we laughed so much; we found we had so much in common," Lily told Town and Country. "Here she is, like Hollywood royalty; I'm like a tough kid from Detroit; she's a Southern kid from a poor town in Tennessee. And we found that we were so in sync as women."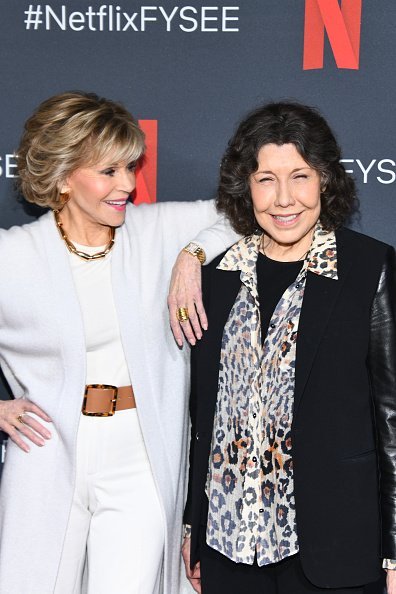 Jane Fonda and Lily Tomlin at FYC Event For Netflix's "Grace And Frankie" at Raleigh Studios on May 18, 2019, in Los Angeles, California. | Source: Getty Images.
During their years of friendship, their shared social views had both Jane Fonda and Lily stand in solidarity with the people of Standing Rock, who campaign for fair wages for restaurant workers, protest big banks, etc.
A Ted talk about lifelong female friendships had Lily sing Jane Fonda's praises as she elaborated on what she looks for in a friend.
"I look for someone who has a sense of fun, who's audacious, who's forthcoming, who has politics, who has even a small scrap of passion for the planet, someone who's decent, has a sense of justice and who thinks I'm worthwhile," she said.
Known for her sense of style, the iconic Jane Fonda felt like she only came into her "own" after she turned 62 and single. Although the actress enjoyed a successful acting career, her personal life looked somewhat differently.
Please fill in your e-mail so we can share with you our top stories!