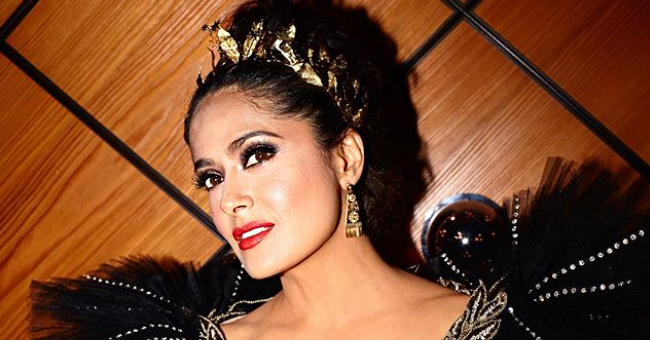 Instagram/salmahayek
Overweight, Depressed, Adult Acne: A Look at Salma Hayek in Her 20s
Salma Hayek is one of Hollywood's most beautiful and talented women. But there was a time in her life when she dealt with depression, caused in part by her shame of having acne and being overweight.
The "Frida" star opened up about some of her darkest time before she made it big in the entertainment industry.
In an interview with the now-extinct Lucky magazine in 2012, Hayek revealed that she was 25 when she left her natal Mexico and moved to the U.S to chase her dream of being a movie star — ignoring the mocking from her fellow Mexican actors.
However, not everything went as smoothly as she hoped.
"I could barely get work as an extra. You want to talk about bad skin? I had acne. And this acne was so bad, it sent me into a severe, severe depression," Salma told the magazine.
"Like I couldn't leave the house. I'd wake up in the morning and lie there and touch my face before I got up, just to prepare myself to look in the mirror!"
The emotional stress caused Salma to develop anxiety, and she could only find solace in food.
"The next stage with that sort of depression is food — too little or too much. Guess what I did? I was fat and broken out. I couldn't leave the house, and I couldn't pay the rent!" she admitted.
The 52-year-old star credits her friend, director Alfonso Cuaron, for helping her with his honesty and encouragement.
"Alfonso Cuarón — amazing director — he came to the house," she recalled. "He did not play it down. He did not try to say, 'Oh, you look fine.' He said you can't do this to yourself and taught me to meditate, relax. I got myself back together!"
Leaving the acne days behind, Salma was asked if she was worried about the next phase for her skin—age signs—and if she would try relying on botox like many other Hollywood stars.
Although she admitted being tempted at the time, she said the risks were too big. She said:
"Botox, trust me I've been tempted — but I resist! Think about what happens to your muscles — and your skin — if you're sick and don't move for a few days. It all atrophies! Plus, if you freeze a muscle in your face, other muscles have to compensate! And once you stop, what does that look like?"
Salma has now been married to French businessman Francois-Henri Pinault for a decade, and they share 11-year-old daughter, Valentina, who has inherited her mother's beauty.
She also created her own beauty and skincare line, Nuance, based on her own needs and using some products from Mexico.
Now in her fifties, Salma's beauty remains ageless and is safe to assume time will keep doing wonders for her.
Please fill in your e-mail so we can share with you our top stories!