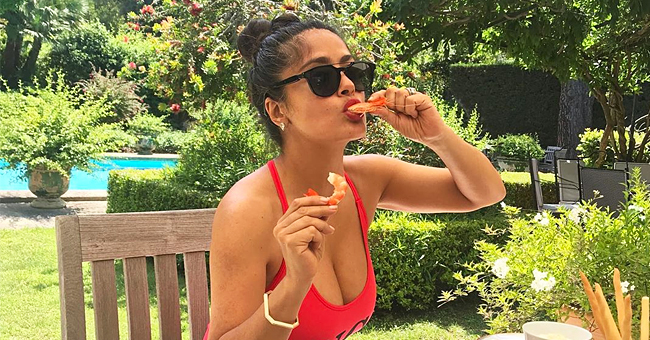 instagram.com/salmahayek
Salma Hayek, 52, Is Age Defying Wearing a Plunging Red Swimsuit in Her New Vacation Photo

Salma Hayek looked stunning in her latest Instagram pic, which showed her eating in a plunging one-piece red bathing suit.
It was a sunny day, and the actress treated herself to a variety of delicious meals outside by the pool in a garden. The actress wore a bright red bathing suit, had her pretty black hair in a bun and adorned her looks with sunglasses to shield her eyes from the sun.
She also wore a bracelet and silver earrings while holding a shrimp and eating another. Salma joked on her Instagram post saying::
"This is how jarochas (girls from Veracruz) eat shrimp."
She then proceeded to address her fellow jarochas in Spanish with the message:
"Así es Como comemos Los Camarones las jarochas #veracruzanos #food."
The actress who just finished filming "The Hitman's Bodyguard 2" alongside Ryan Reynolds and Samuel L. Jackson was showered with lots of love from her followers. A fan exclaimed at how young the actress looks saying:
"Have you not aged in 25 years."
Another follower wrote:
"You are the most beautiful woman in the world."
These were followed with many more sweet comments. A previous image shared by the exotic beauty on her Instagram page shows that she has been vacationing in Saint-Tropez for a few days now. In the picture, Salma sat by the ocean, wearing a black tank top and tropical skirt.
She had on a long gold necklace, black sunglasses, and a white hat. The actress sat on a ledge while looking away from the camera. Her caption of the photo was "Hello #sttropez."
Hayek also recently attended the Cannes Film Festival in France, which is just about 90 minutes drive away from Saint-Tropez. During the festival, there was an alarming incident that quickly went viral.
Another famous actress and model, Elle Fanning fainted while eating dinner. Elle later explained the reason for her fainting stating that she was on her period and her dress was too tight for her.
Hayek and Elle will, however, be starring together in a new movie that's about to hit the cinema hard. The film "Molly" boasts of a star-studded cast that includes Javier Bardem, Chris Rock and Laura Linney. 69-year-old British director Sally Potter will direct the movie.
Salma Hayek became famous after the 2002 movie "Frida" where she played the role of "Frida Kahlo." The film became an instant hit and earned her various award nominations.
From then till date, the actress is always a delight to see!
Please fill in your e-mail so we can share with you our top stories!