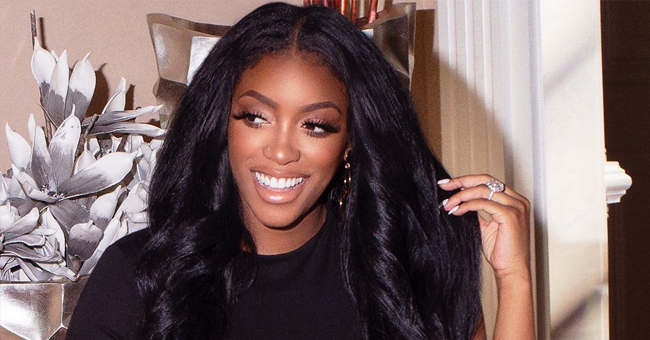 Instagram/porsha4real
Porsha Williams Says She 'Gave Birth to Myself' after Sharing Childhood Pic

It finally happened! Porsha Williams convinced her fans that her daughter is her twin with cute throwback baby photo, but some still managed to rain on her parade.
Since Porsha Williams gave birth to her daughter, Pilar Jhena, her fans and social media followers have used every opportunity to inform her that the little girl looks like her father, Dennis McKinney.
"I GAVE BIRTH TO MY TWIN"
The "Real Housewives of Atlanta" star, determined to prove them wrong, shared a throwback photo of herself as a baby, side-by-side that of her daughter, on Instagram.
The photos showed that mother and daughter have an uncanny resemblance, and their facial features looked identical too. Williams, who appeared pleased to have found irrefutable proof that Pilar is her lookalike captioned the photo,
"OMG! Look what I found; I gave birth to myself."
The caption started with a shock-faced emoji and had a laughing one in between. The reality star's fans agreed with Porsha, and they took to the comment section to gush about the resemblance.
"SHE IS PORSHA JR."
One follower wrote that the mother-daughter duo looked like twins, while another pointed out that the two shared the same nose and mouth. Another wrote, "OMG! I thought she looked more like her dad, but no, she is Porsha Junior," while others called the photo, "Cute and beautiful."
Despite the affirmation the reality star got, others were firm in their belief that the March-born baby looks like McKinney.
One follower wrote that Williams should stop trying to find similarities between her and Pilar, while another tried to console the first-time-mum by writing that most children do not look like their mothers.
PILAR SPARKS DEBATE
Earlier this month, the RHWOA star sparked another debate when she shared a throwback photo to prove that her daughter takes after her.The TV star's followers got divided with some on her side, and others on that of McKinney.
Williams, on her part, captioned the post,
"Baby Porsha; told y'all PJ looks like me too."
One fan, disagreeing with the mum-of-one asked her to leave the comparison alone as Pilar looks like her dad, adding,
"Maybe the next baby will look like you."
Another who agreed wrote that there was never a doubt that the baby took after her mother, while others sat on the fence, choosing rather to say that the little girl looks like both of her parents.
The good news is that since Pilar is still a little girl, the jury is still out on who she looks like, and in the meantime, Williams can bask in her belief that her daughter is her twin.
Please fill in your e-mail so we can share with you our top stories!