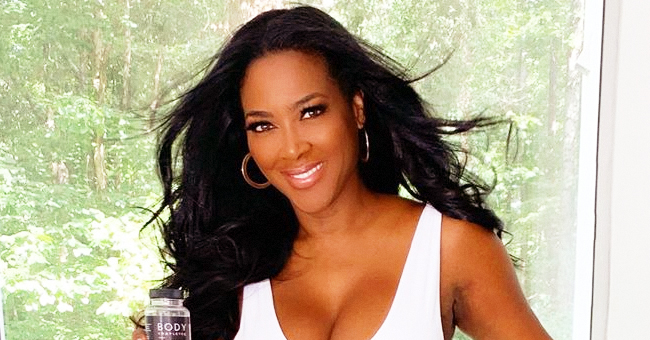 Instagram/thekenyamoore
Kenya Moore Shared Video of Baby Brooklyn Crawling and on Her 'Next Mission'

It's incredible how quickly little Brooklyn Daly is growing, and mom Kenya Moore has just shared her baby's most recent achievement.
Adorable Brooklyn Daly has marked yet another milestone in her little life, and proud mom, "Real Housewives of Atlanta" star Kenya Moore shared the precious moment with the fans
Brooklyn has made mom proud by starting to crawl, just days after her first timid attempts.
"Working on my next mission #searchandrescue training." Kenya Moore
BROOKLYN DALY LEARNS TO CRAWL LIKE A CHAMP
In the video, a smiling and giggling Brooklyn is clearly delighted with her new mobility and first moves towards her mom.
Then in an abrupt turnabout, she makes a quick escape crawling away between two sofas, clearly trying to entice Kenya into a game of "catch."
Little Brooklyn has her own Instagram page with over 120,000 followers of her own.
FANS LOVE BROOKLYN'S NEW VIDEO
Of course, Kenya and Brooklyn's fans couldn't refrain from commenting on the adorable clip.
"She's literally the happiest baby I've ever seen, she'll be giving you GREAT energy for the rest of your life. I see it ????"
"???,Brooklyn?crawling??.?Fabulous?.Standing, & walking??.Wonderful 2 ???Mommy & ?Poppie?so ????.Family?"
"She has knee pads on she's on the move❤️adorable"
BROOKLYN DALY SOCIAL MEDIA STAR
Little Brooklyn has her own Instagram page with over 120,000 followers of her own. Kenya had better watch out, or Miss Brooklyn will take over as the star of the family.
KENYA MOORE IS RETURNING TO RHOA
Kenya, who took a break from "Real Housewives of Atlanta" so that she could concentrate all her time and energy on Brooklyn during her first months, will be rejoining the cast for the coming season.
"I decided to take my time, and do what I wanted to do, which was [to] focus on my family. I'm so happy that I did. I'm so happy that nothing happened to my baby, and that she was protected, and that she was loved. The outcome is that she is such a happy baby, and that's all I could have ever dreamed of," she said.
We will be seeing a lot more of Kenya and Brooklyn on RHOA, and maybe even some playdates with Porsha Williams and baby Pilar!
KENYA MOORE SHARES THE MOST ADORABLE VIDEO OF BABY BROOKLYN
Kenya Moore shared the cutest video compilation of her daughter, Brooklyn, on Instagram, and fans were delighted.
The clip, titled "The Brookie Cookie" shared several photos and video clips starring out favorite celebrity baby, and fans couldn't resist commenting - some even admitted they were moved to tears.
"Between her cuteness, that uncle bond, and that got damn background music my eyes are over-hydrated!"
"I just love your little girl Kenya!!! She is so adorable and so cute!"
"This is so amazing. Kenya you did and glad you shut the haters up. Love your family. May God continue to cover and bless your family."
We can't wait to watch baby Brooklyn grow and to share even more of these special Daly family moments. Thank you, Kenya!
Please fill in your e-mail so we can share with you our top stories!