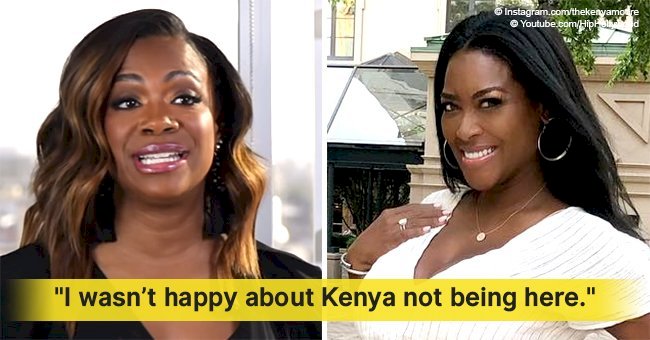 Kandi Burruss finally speaks up on Kenya Moore's possible return to RHOA

"Real Housewives Of Atlanta" star, Kandi Burruss has been spilling a lot of details about her friend and former co-star Kenya Moore. Now, Burruss is confirming that fans will get to see Moore on the show again.
First-time mom, Kenya Moore was last seen on Season 10 of RHOA where she revealed she was pregnant, and when news broke out that she wouldn't be returning for the reality show's 11th season, a lot of fans were unhappy.
Well, Burruss now has some good news for lovers of the former Miss USA. While on media rounds to promote the show's current season, the Xscape singer got to talking about her friend, Moore. Burruss first said:
"I think she'll probably come back next year, hopefully. I'm gonna speak it into existence."
Later, she admitted that Moore's appearance is more than a probability.
"I did twist her arm. She did show her face. You'll have to watch. She's coming."
During the interview, Burruss, 42, also opened up on how she felt about Moore not being a part of the show's main cast anymore.
"I wasn't happy about Kenya not being here," she said, before adding that everything happens for a reason. "I feel like more than anything she really needed to just focus on having a healthy pregnancy. Because this is something, she's wanted forever and ever."
Moore welcomed her first child with husband, Marc Daly on November 4, and even though the new mom had a couple of pregnancy complications followed by an early emergency birth, Burruss insisted her friend was in "a great place."
"Of course, how can she not be?" she said, convinced that Moore was probably glowing after the birth of her preemie baby. "Kenya has been waiting for this moment forever, so you know there's no words to describe how happy she is right now," she added.
Ever the thoughtful friend, Burruss made sure to send over a bouquet after her friend's challenging delivery.
Moore, 47, shared a photo of the gift on Instagram, along with a message to her dear friend:
"Having a tough day of recovery and just got these! So gorgeous feeling so emotional! Thank you @kandi for being you and all your generosity from you and your family! I love you mama!"
Moore's fans were thrilled to hear she had welcomed her baby, and now they're in for more good news. We can't wait to see Moore's return!
Please fill in your e-mail so we can share with you our top stories!