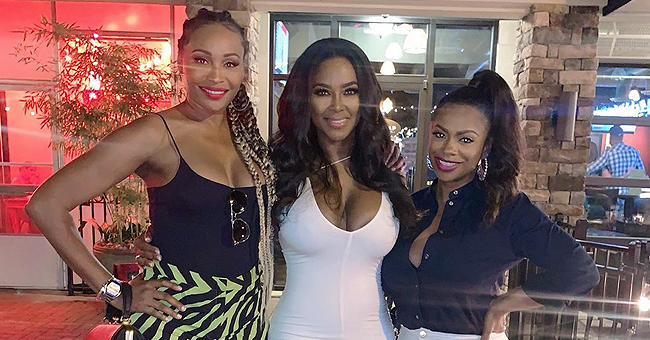 Instagram/kenyamoore
See Kenya Moore Flaunt Curves in Tight Dress 8 Months after Giving Birth
Kenya Moore looks stunning in new photos shared to her Instagram account from a date night alongside some of her "Real Housewives of Atlanta" co-stars. Moore flaunted her toned post-baby body, eight months after welcoming to her first child.
Kenya Moore is getting her groove back. Not only is she confirmed to return on season 12 of "Real Housewives of Atlanta," but she'll do it looking fabulous.
BEAUTY IN WHITE
The 48-year-old former Miss USA took to Instagram on Monday to share a series of pics from her date night, and she left her fans speechless flaunting her curves and toned figure in a body-hugging white dress.
The piece, which featured a low cut that that allowed Moore to show some cleavage, adjusted on her body in all the right places. She completed the look with sandals, silver accessories, and a matching clutch bag.
"#datenight was a great night," she captioned one of her pics.
Kenya also posed with her RHOA co-stars, Cynthia Bailey, and Kandi Burruss, who also looked beautiful for the occasion.
"#sexymamas @cynthiabailey10 @kandi," Kenya captioned her post.
FANS' GUSH ABOUT KENYA'S FIGURE
Fans were quick to fill the comment section gushing about the new mom's figure, and most agreed her snapback after giving birth has been one for the books.
"Now this a bounce back!!! Heyyy Kenyaa! Looking gone with the wind, fabulous!" wrote one user.
Another added, "Melanin Goddess, one of the dopest chocolate sisters in the game."
And a third one raved:
"They hate to see you winning go get all the bags. U r a phenomenal woman stay looking up towards the light you will always find your way through."
A COMPLICATED PREGNANCY
Kenya welcomed baby Brooklyn Doris, her first child with husband Marc Daly, on November 4, 2018.
At the time, Moore was weighing 220 lbs, but it wasn't a natural pregnancy-happenstance. It turns out, Kenya was diagnosed with preeclampsia, a condition that causes extreme fluid retention and high blood pressure that can lead to serious, even fatal complications.
"In one week, I had gained 17 lbs," she recalled in a conversation with People. "I was like, 'Wait a minute, is this scale, right?' Because I remembered specifically what my weight was, and at that point, I was at 203 lbs already. And then when they weighed me, I was 220 lbs. And I was thinking, 'Something is not right here. Is the scale broken?'"
Although doctors kept an eye on Kenya, her condition worsened.
"I called them to give them my blood pressure readings, and my reading was through the roof and climbing," Moore explained. "They told me, 'Your condition is worsening so get your bags and go straight to the hospital, you're delivering today.'"
Three hours and an emergency cesarean section later, Moore had her baby girl in her arms.
A QUICK SNAPBACK
Only three weeks later, Moore was flaunting her toned abdomen in a series of Instagram pictures that, at the time, caused some fans to accuse the reality star of getting surgery.
"The SnapBack is real!" Kenya wrote in her post at the time, and continued:
"I still can't work out yet, but I feel much better. I was cut twice during my 3 hr C-section, but I made it! I've always been healthy and worked out my entire life...whatever my body will do I'm not rushing it. It feels good to start to feel myself again."
Despite Kenya's explanation, one fan took to the comment section to say, "I would of gotten a tummy tuck, too after having a c-section."
To which Kenya replied, "No plastic surgery, no tummy tuck. No surgeon would perform a tummy tuck on a woman 3 weeks after giving birth. Just stop it."
Hard work sure pays off, and Kenya's figure is an example of that.
Please fill in your e-mail so we can share with you our top stories!