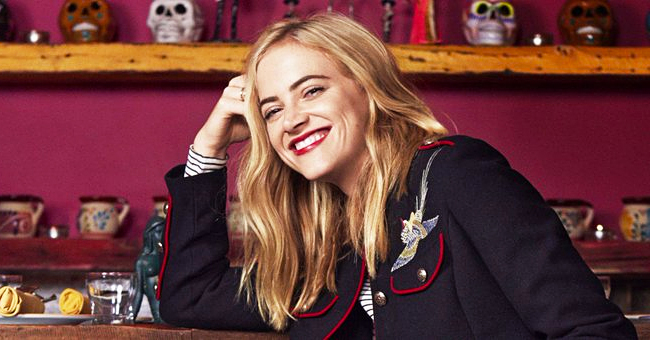 twitter.com/goodhousemag
Emily Wickersham's NCIS Fans Compare Her Haircut to Farrah Fawcett's in a Throwback Photo

The NCIS star took to her social media page to share a throwback photo of herself while reminiscing on the past.
However, fans can't help but notice the stunning similarity between her look, and that of the late actress, Farrah Fawcett.
Emily recently shared an image on her Instagram page, which featured her when she was much younger. In the photo, the 35-year-old TV star was captured rocking a sleeveless orange dress as she posed for the camera with a straight face.
She shared the post with a caption which read:
"If it was 2005 and I was auditioning for @euphoria."
Fans were thrilled upon sighting the adorable image and adorned Emily with a myriad of comments. However, the highlight of the moment was when she was compared to late Charlie's Angels star, Farah Fawcett with her look.
An internet user wrote:
"Loving the 70s Farrah hair" while commenting to Emily's throwback photo.
Farrah Fawcett died in 2009 at the age of 62 after a career which spanned over four decades. Although she had been quite active in the Hollywood scene, she got her first breakthrough with famous late 1900s series, Charlie's Angels. There, she was widely acclaimed for her role as Jill Munroe - a private investigator in the series first season.
The throwback image comes a few weeks to NCIS Season 17 premiere where Emily plays the role of Elanor Bishop - an NCIS special agent.
The previous season ended on a dramatic note thus leaving fans excited on what is to come next. The season 17 premiere will air on September 24 on CBS.
ABOUT EMILY WICKERSHAM
Childhood:
The actress was born on April 26, 1984, in Kansas. She had most of her childhood in New York and is of Australian and Swedish Ancestry. Her acting debut was in 2006 on the show, "Late Night with David Letterman," where she acted as "Jules." Since then she has appeared in several onscreen projects and now plays the role of 'Bishop' in CBS series, NCIS.
Relationship:
Emily got married to Blake Anderson Hanley on November 23, 2010. Blake is a musician from Palm Beach and the pair tied the knot at the Florida Keyes on Little Palm Island.
She's an 'animal person':
Emily's social media fans would be quite accustomed to this fact as she is very fond of posting images which show her pet dogs and several other animals.
Movie history:
Although she is well known for her role in series, the actress has featured in 6 movies with her movie-debut being in 2007. Her most recent one is a 2015 film titled "Glitch."
She has appeared in a TV commercial:
Emily once appeared in an advert for an app named MTailor. MTailor is an automated digital custom shirt measuring application that aids its users with selecting sizes of outfits. In the advert, the actress is captured advising men to stop wearing other people's shirts.
Please fill in your e-mail so we can share with you our top stories!