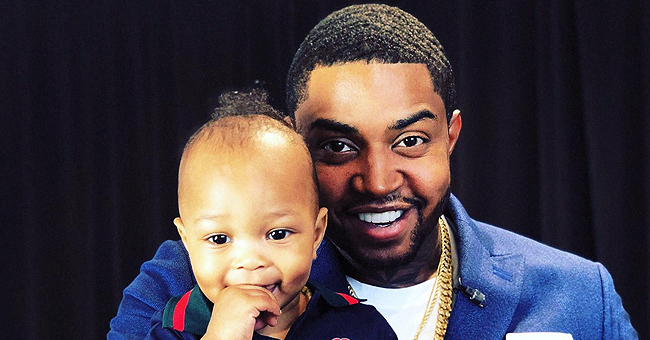 Instagram/reallilscrappy
Lil Scrappy Fires Back at Troll Who Called Son Breland 'Bald'
Lil Scrappy is a protective father and won't let anyone talk ill of their children. So, when one follower shamed his son for "being bald," the rapper didn't hold back and replied with a string of insults that many fans applauded.
Lil Scrappy only wanted to share an adorable photo with his son, Breland, after the "Love & Hip Hop: Atlanta" final season reunion aired on Monday.
Instead, he ended up spitting some harsh words for a troll in his Instagram comment section.
HIS MOM'S TWIN
In the sweet pic, Scrappy holds his son in his lap with a big smile on his face. The 10-months-old boy has a hand over his mouth, hiding his smile from the camera.
"Hope y'all enjoyed #LHHATLREUNION check out me and my lil buddy @princebreland looking like his moms, he flyer than the sky jack #TheRichardsons #OUTDAFAUCET our now on all platforms check video out on #YouTube," Scrappy captioned the post.
Most fans took over the comment section to gush about Breland's cuteness and how much he looks like his mother, Bambi Benson.
"He looks like Bam all the way. He's so adorable. Look at that smile," wrote one user. And another added,
"Look at that million-dollar smile he has he is just too cute!!!"
A DISRESPECTFUL FAN EARNS A DISRESPECTFUL REPLY
However, there was one fan that didn't have something nice to say; instead, she wrote: "He should not be that damn bald wtf going on."
Scrappy caught sight of the comment and went off on the user with a string of insults, as read in the image below: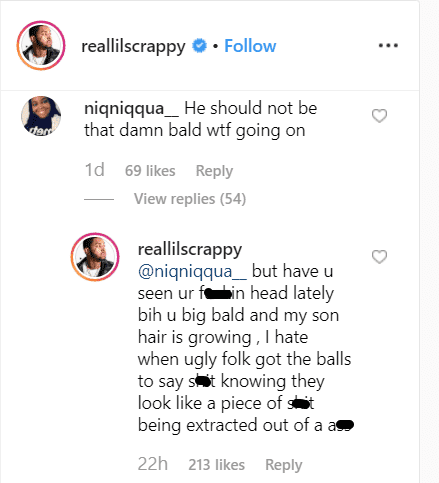 Lil Scrappy fires back at one alleged fan. | Source: Instagram/reallilscrappy
People came to Scrappy's support too, like one user who wrote:
"Don't understand why you feel the need to comment about someone else's child? It's a child. A child who is still growing. Keep your negative opinions to yourself. Really hope someone doesn't talk about your future child either."
A FATHER OF TWO
Scrappy and wife Bambi Benson welcomed little Breland in September 2018. The boy is Benson's first child and Scrappy's second, as he also shares 14-year-old daughter Emani with ex-girlfriend Erica Dixon.
Emani is continuously featured on her dad's Instagram page, as she loves to spend time with her little brother. The teenager also has a great relationship with stepmom Bambi, and Scrappy is constantly stating how proud he is of the girl.
However, Scrappy and Erica have been facing co-parenting problems for years, and in the season finale reunion of "L&HHA," they went head to head once again discussing the issue.
CO-PARENTING WITHOUT COMMUNICATION
According to Dixon, she and Scrappy don't have a direct line of communication to discuss Emani's upbringing. He pays for child support and spends time with the girl but refuses to talk to Erica to allegedly avoid drama.
However, Dixon believes Bambi is responsible for the messy situation, as she refuses to develop a relationship with Erica, making it harder for her and Scrappy to have a healthy co-parenting situation.
Emani has made it clear she just wants everybody to get along, but it seems like there's still a long road for her parents to find common ground.
Please fill in your e-mail so we can share with you our top stories!