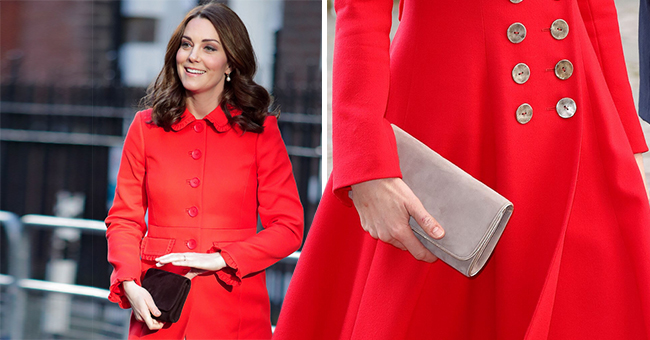 Getty Images
Fashion Expert on Why Kate Middleton Always Holds a Clutch Purse

When you are a member of the royal family, every single move you make in public has to be carefully calculated in order to keep the formalities right. This is one of the tricks in Kate Middleton's book.
When 37-year-old Kate Middleton married same-age Prince William in 2011 she put herself in the public view for anybody to scrutinize, but she has never disappointed when it comes to her sense of fashion and royal protocol.
After eight years followed by the cameras every time she steps out in public, royal watchers have noticed a pattern in her choice of purses and how she carries them, always opting for a clutch purse instead of a bag of any different kind.
KATE'S WAY
Every time the Duchess of Cambridge is spotted in an official royal appointment, she invariably holds her clutch purse in front of her body, using both hands, unless she needs to use one of them.
If this is the case, Middleton will carry the purse with the available hand, but she won't be caught tucking the handbag under an arm, neither she would leave it on top of a table.
IT'S ALL ABOUT ETIQUETTE
As royal family etiquette expert Myka Meier told Good Housekeeping in 2016, Middleton's choice is not merely a matter of style and she might have practical reasons to observe this custom.
"When the Duchess is at an event, she holds her bag in front of her in both hands when shaking hands might be awkward," Meier said.
That way, Middleton can decide whom she shakes hands with and whom she doesn't without appearing to be distant or cold with others.
But it doesn't end there. When sitting, the Duchess would never leave her clutch resting where it can be seen.
"If there's not a stool available, slip it between your back and the back of the chair,' she recommends," Meier recommends to anyone who wants to follow Middleton's way.
AN AUTHORITY ON THE SUBJECT
Meier studied in finishing schools in both the UK and Switzerland, and she was fortunate enough to train in London under a former member of the royal household before founding the Beaumount Etiquette School in New York City.
To Meier, some of the most important etiquette rules to observe by a royal who wants to act properly come into play when hosting a party, and she shared some of the rules that Middleton would never break in such cases.
To name a few, the host must always send an official invitation, even if in these modern times the Duchess allows herself to opt for digital invitations sent by e-mail. The end time of the event should always be included.
Meier also recommends any host to set the table and decorations ready at least one day prior to the gathering so the host can be relaxed when the guests start to arrive.
Please fill in your e-mail so we can share with you our top stories!