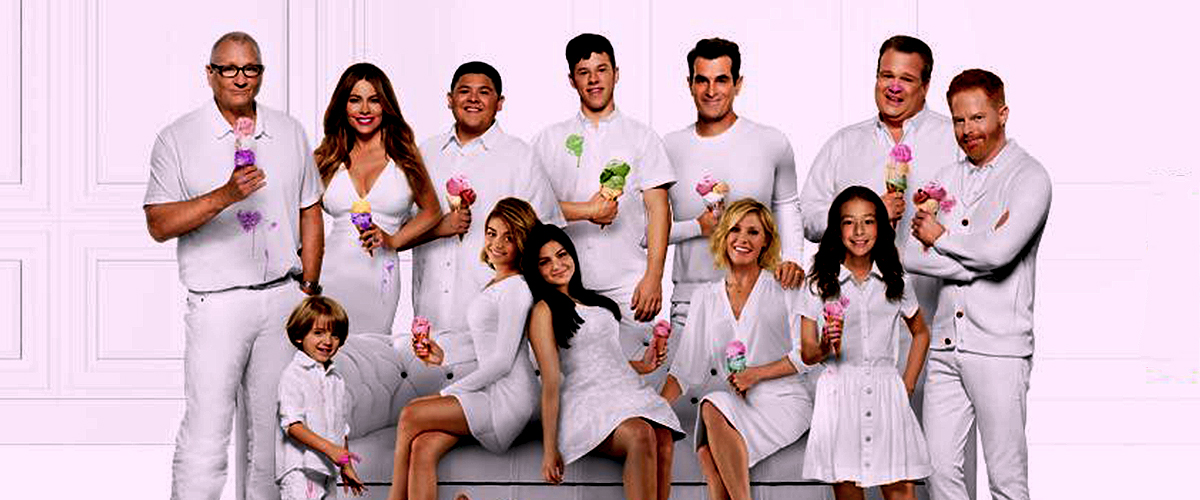 twitter.com/ModernFam
'Modern Family' Actors Recreate a Group Photo from 10 Years Ago as the Show Comes to an End
On Wednesday, "Modern Family" actress Sofía Vergara took to social media to pay tribute to the series as it's coming to an end. She posted a 10 year before and after photo featuring the cast members.
Ten years ago the "Modern Family" cast posed together for a photo that featured all of them. To pay homage to their last ever season, the group recreated the same image at the studio lot where they film the show.
Sofía Vergara, 47, took to Instagram to share both pictures. The images showed the cast posing with their respective on-screen families.
The original photo featured Vergara, Ed O'Neill, 72, and Rico Rodriguez, 21, embracing each other. Next to them were Ty Burrell, 51, Julie Bowen, 49, Sarah Hyland, 28, Nolan Gould, 20, and Ariel Winter, 21.
The last members are Jesse Tyler Ferguson, 43, and Eric Stonestreet, 47. In the recreation, the onscreen family featured a new member: Aubrey Anderson-Emmons, 12.
Anderson-Emmons joined the sitcom in its third season when she was just 3-years-old. Vergara captioned her post: "10 years later!!... Modern Family!!!... #ourlastseason."
Ferguson shared the two images on Twitter and tilted them: "The last first table read of Modern Family season 11 & the same photo taken 10 years ago today." On Instagram, he added the latest image and wrote: "I love this cast and crew so much. Happy season 11. "
Gould added the same pictures and asked fans to "Spot the differences." He revealed that Wednesday "was the last of our first table reads."
Ferguson and Anderson-Emmons also recreated an image they'd taken together on set 7 years ago. Anderson-Emmons shared the two images on her Instagram writing: "Seven years ago today. Almost nothing has changed."
"Modern Family" premiered in 2009 and won five Emmy Awards for outstanding comedy series. In February at the Television Critics Association Winter Press Tour in Pasadena, California, ABC announced that the sitcom had been renewed for its 11th and final season.
The co-creator of the show Steve Levitan also shared the 10-year difference images and wrote: "Today the ending begins." Wednesday also happened to be Rodriguez's 21st birthday and Vergara wished him a "Happy" one.
Stonestreet posted a video where he ambushed each cast member by asking them how they felt on the first day of the final season. "Modern Family" season 11 will premiere on September 25 at 9 p.m. ET on ABC.
Please fill in your e-mail so we can share with you our top stories!