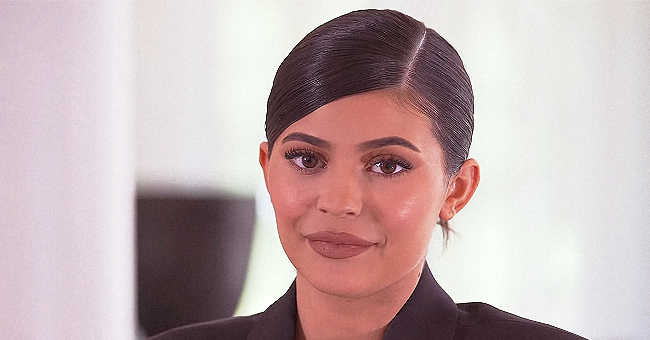 YouTube/Forbes
Kylie Jenner Shares Photo of Stormi at Aquarium: 'She's Too Cool for Me Now'
Kylie Jenner's daughter, Stormi Webster, seems to have inherited her father's aloof attitude, and fans are more than thrilled about it.
The young mom took to Instagram to share a pic of the girl looking uninterested on a trip with friends to the aquarium, but Stormi Webster is "too cool" to be wasting time looking at fishes.
AN AQUARIUS AT AN AQUARIUM
The adorable 1-year-old was caught on camera by Jenner looking unamused at an aquarium while her friends enjoyed the sight of a fish tank.
In the photo, Stormi is standing on the side, coolly resting against a wall with her arms crossed and a bored expression on her face. She rocked a gray t-shirt, black leggings, and colorful shoes.
"Everyone says you change completely when you become a mom, but I really feel the same, just better." - Kylie Jenner.
Jenner, 21, was taken aback by her daughter's attitude but found it amusing either way, writing in her caption:
"This girl... look at your daughter @travisscott She's too cool for me now. Is this the Aquarius in her or the little rager? Or both mmm I need answers lol."
Scott, Stormi's father, replied with a string of crying laughing and hearts emojis, while fans and friends took over the comment section to gush about Stormi's cuteness.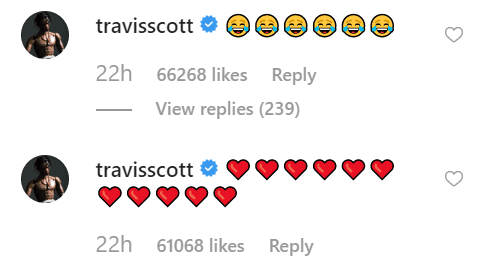 Travis Scott's comment on Kylie's post. | Source: Instagram/kyliejenner
FANS' REACTIONS
"This is what you get when you put an Aquarius in an aquarium @kyliejenner," wrote one user.
Another joked:
"Stormi said she has already found Nemo so she's just chilling while waiting on them to find him and wishing they'd hurry so she can go find Baby Shark."
And a third one added,
"@travisscott you and @kyliejenner have the cutest baby ever. She's soo smart love u guys."
Afterward, Jenner took to her Instagram stories to share a side to side pic comparing Stormi and Travis, as they both posed with crossed arms. She added a crying and a heart emoji to express her feelings at the adorable duo.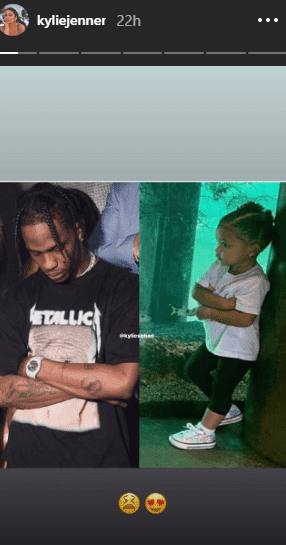 Kylie Jenner on Insta stories. | Source: Instagram/kyliejenner
STORMI IS A SMART GIRL
Stormi's trip to the aquarium came just a few days after the 1-year-old showed off her intellect by pointing out letters, numbers, colors, and shapes with the help of her billionaire mom.
"Where's the O?" Jenner asked Stormi on a series of videos shared to her stories. The toddler was quick to repeat "O!" before grabbing the corresponding letter from an Abecedary set — and then did the same with the letter "A."
Stormi was also capable of following the count sequence, saying "3, 4," after Kylie started with "1, 2." She even handed Jenner a red heart at her request.
Finally, Kylie held up a purple letter X, asking Stormi, "what color is this?" "Purple!" the replied with confidence, as Kylie gushed with pride in the background.
KYLIE ON MOTHERHOOD
Managing a company while being a first-time mom has not been easy for Jenner, but she has embraced motherhood and all of the changes Stormi brought to her life with her.
"I think more about the future because of her," Kylie told the Evening Standard last year. "Every time I leave and I'm stressed about leaving her, I'm like, 'I'm doing it for you.'"
And continued:
"Everyone says you change completely when you become a mom, but I really feel the same, just better. So I don't know what really has completely changed my world, besides her, of course. But I feel like it's only gotten better. You're less selfish — and I actually enjoy changing diapers."
Although Jenner and Travis Scott have only been together for two years, the makeup mogul has revealed in several occasions that she wants to have more kids and give Stormi a sibling, although she has no plans for another baby yet.
Please fill in your e-mail so we can share with you our top stories!