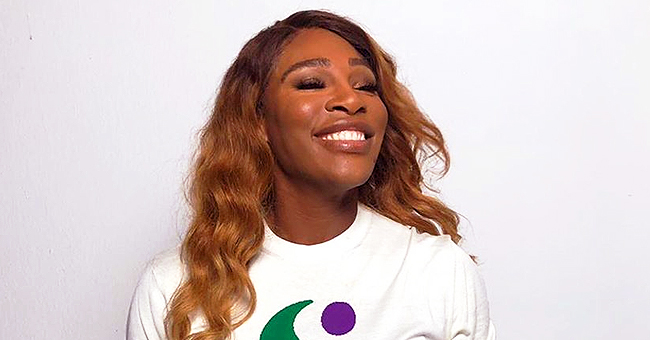 Instagram/serenawilliams
Watch Serena Williams Kill Her Karaoke Performance When Rapping to Cardi B
Serena Williams let her hair down for a girls' night out with some friends on Tuesday. After enjoying some tacos and margaritas, the tennis superstar made of the Karaoke her new playground. And she killed it.
Serena Williams knows how to have fun, and once she takes ahold of the mic, her confidence and love for music take over.
KARAOKE NIGHT OUT
The 37-year-old mom of one was recently spotted at the COYO Taco restaurant in Palm Beach alongside a group of friends. There, she enjoyed taco Tuesday, which gives guests the chance to get half-priced tacos and two margaritas for the price of one.
Williams, who was rocking a body-hugging pink dress, matching purse, and pink sneakers, "hit the taqueria's karaoke station, singing the night away," according to what a witness told Page Six.
Serena wasn't shy of showing off her singing and rapping skills. She killed it with a performance of Cardi B's "Bodak Yellow," and also sang some classics like Thelma Houston's "Don't Leave Me This Way" and 4 Non-Blondes' "What's Up."
"Serena was really confident when she was on the mic, dancing around the room and breaking it down as she sang along to songs," said the witness. "She had great energy."
Although Williams was a strong contender, she didn't win the karaoke competition. But still, the prize went to her table, as one of her friends got the crown and earned a bottle of Herradura tequila. The group reportedly stayed at the place until it's closing time, at 11 PM.
A BUSY YEAR
Although Serena was out partying the night away, the 23-times Grand Slam winner has never been busier.
She's now a wife and mother and is also overseeing her eponymous clothing line, several partnerships with other businesses, campaigns, charity work, and of course, her tennis career.
Last month, Serena came close to winning her 24th title at Wimbledon but eventually lost to Simona Halep in the final match.
Serena is aware that her career in tennis will eventually come to an end, which is why she has started to invest in the fashion world and has plans to extend her line into jewelry, and beauty products.
"My dad was like, You can't just play tennis forever, even though I kind of have," she recently told Sports Illustrated. "For me, it's important to have something beyond tennis because I have always planned on it."
A FASHION LINE FOR EVERYONE
With "Serena," the clothing line, Williams attempts to offer women comfort and confidence at a reasonable price.
Just a few days ago, she launched her Red Twist Front dress, which is designed to fit and enhance every type of body.
Serena described the dress as a piece "for everybody and every BODY" in an Instagram video where she and six more women—all with different body shapes and sizes—rocked the same dress and looked incredible in it.
"No one in the world looks exactly the same," Williams states in the clip. "We all are different people, and we have different personalities, we have different traits. We all look different, and we've got to bring our personalities out."
The tennis superstar hopes to encourage people who wear her brand to find their confidence and feel good in what they wear. "We made this for you," she said. "And it embodies so much more than just fashion. It embodies a whole movement."
Please fill in your e-mail so we can share with you our top stories!