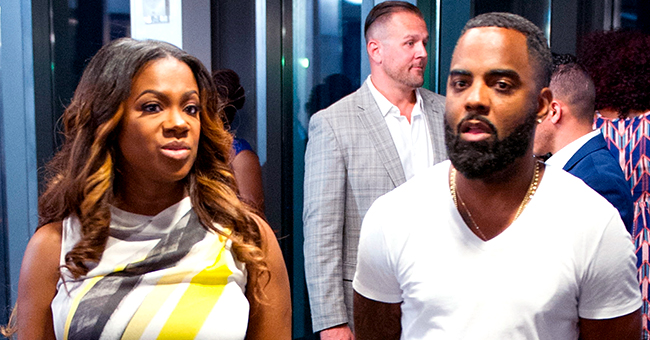 Getty Images
Kandi Burruss Pays Tribute to Husband Todd Tucker's Late Mama Sharon on Her Birthday

Kandi Burruss remembers Todd Tucker's late mother on what would have been her 74th birthday. "You are truly missed," she wrote to caption a heartwarming tribute.
It's been almost five years since Kandi Burruss' husband, Todd Tucker lost his mother, Sharon Joel Wells. On what would have been Mama Sharon's 74th birthday, Kandi made sure to honor her still.
TODD WAS LOST WHEN HIS MOTHER PASSED
Todd was devastated upon learning of his mother's unexpected death after suffering a stroke. As Sharon's only child, it was as if he lost a great part of him.
"Today I lost my partner, my ride or die, my best friend! I don't know what to do? I'm lost!" Todd wrote in a heartbreaking post following Sharon's passing. "My heart hurts so much! She was a fighter, a warrior for her son! It was me and her against the world!"
KANDI SHARED HIS PAIN
Kandi equally mourned the death of her mother in law who she described as "fun, energetic, loving, & caring" in her own tribute.
"I loved how she liked to get up & go all the time. She would get you in check one minute & give you a hug the next minute. She still had a young spirit. It's unbelievable that she's gone," the reality star expressed as she pained for her husband who was very close to his mother.
Fortunately for Kandi, her own mother Joyce Jones is still very much a part of her life despite having an absentee father.
SHE STILL MISSES SHARON
Four years later and Kandi still feels Sharon's absence. She shared a photo of the two of them along with another picture of Sharon's grave with flowers on top. Her caption read,
"Happy Birthday #MamaSharon! You are truly missed. Your legacy lives on through your son & grandchildren. We love you! #RIP."
KANDI DOTES ON HER OWN MOTHER
Times like this make one realize how precious life is and how lucky some are to still have their parents around. Fortunately for Kandi, her own mother Joyce Jones is still very much a part of her life despite having an absentee father.
Kandi even showed her appreciation for Mama Joyce last year when she gifted her with a car on her birthday. The television celebrity considers it a blessing to be able to shower her mother with that kind of affection. Mama Joyce was certainly delighted with the gesture.
EVEN THROUGH ROUGH PATCHES, THEIR LOVE REMAINS
It wasn't always a smooth relationship between Kandi and her mother. Earlier last year, Kandi expressed her disappointment over Mama Joyce meeting her frenemy Porsha Williams behind her back. That same meeting saw her mother expressing her dislike for Todd which Kandi didn't appreciate too.
Despite this, Kandi holds her mother dear and even declared her love for her when she gifted her with a car after that. No matter what happens, they are family and Kandi cherishes that.
Please fill in your e-mail so we can share with you our top stories!