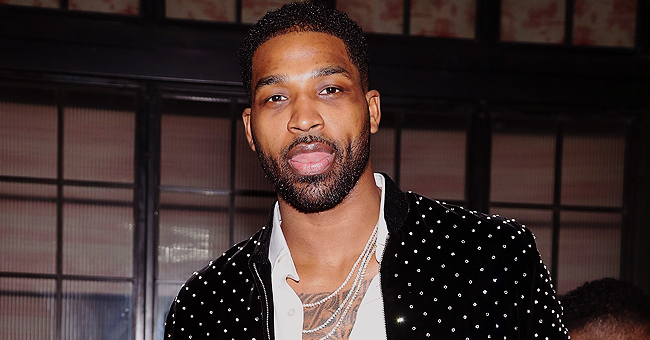 Getty Images
Tristan Thompson Responds to Rumors He Got With Khloé While Still Dating Pregnant Jordan
Tristan Thompson has been accused for years of cheating on his ex-girlfriend Jordan Craig—while she was still pregnant—with Khloé Kardashian. Now, the NBA star took to Twitter to set the record straight.
Tristan Thompson is fed up with all the talk surrounding his love life, and on Wednesday, he finally came forward to put an end to the speculations.
ON VACATIONING WITH HIS FIRST BABY MAMA
The Cleveland Cavaliers power forward took to Twitter to address rumors that surfaced this week about him vacationing in Thailand with baby mama Jordan Craig and their 2-year-old son, Prince Thompson.
Fans first started to speculate that Thompson and Craig were together because she shared a photo of her and Prince basking under the sun by the sea, and a day later, Thompson shared another pic of Prince enjoying himself aboard a yacht.
Although it is possible Craig took the photo and send it to Tristan, some fans took it as proof that the former flames were vacationing together. But Tristan slammed the rumors tweeting:
ON CHEATING ON JORDAN WITH KHLOÉ
The 28-year-old also took the chance to finally address another big rumor: that he was still in a relationship with Jordan Craig when he started dating Khloé Kardashian.
"Also, when I met Khloe, I was SINGLE," he added in another tweet. And continued:
"The negative comments that are constantly being directed towards her are unnecessary. She does not deserve all this backlash for my wrongdoings. Both Khloé and Jordan have been nothing but great mothers to my kids."
Some fans of the 35-year-old Kardashian slammed Thompson for taking so long to give his side of the story, allowing people to slander Khloe's reputation and label her as a "home wrecker."
Others believe he's disrespecting Jordan by saying he was "single."
JORDAN'S SIDE OF THE STORY
According to court documents obtained by Radar Online in June, Jordan Craig accused Thompson not only of cheating on her while she was expecting, but also of causing her so much distress that her doctors had to order her bed rest for the last months of her pregnancy.
"Their relationship went viral, and everything took a turn for the worst," Craig said of Tristan and Klhoé's relationship.
And continued:
"Every day several articles were published worldwide mocking my new unfortunate reality, and my pregnancy would now become one of the most popular gossip headlines due to the woman Tristan was now publicly dating during my pregnancy."
Fortunately, Jordan and Tristan eventually welcomed a healthy son, Prince, in December 2016.
KHLOÉ'S SIDE OF THE STORY
After Craig's statement went public, Khloé was obligated to address the accusations when people started to attack her for messing with a man that was in a relationship.
The Good American designer revealed in a series of Instagram stories that she met Tristan on a blind date set up by a mutual friend; that he told her about having a pregnant ex-girlfriend, and that he assured her that relationship was long over before they met.
"He showed me physical proof (correspondence between the two) and had me on calls with his lawyers to prove his point," Khloé added. "His best friends, business associates, and even his mother told me, him and his ex were broken up before we met."
"This is my truth!" the mother of one said. "The truth that I believed and trusted. If for any reason this is NOT, in fact, the truth, I am so completely and utterly sorry that TRISTAN and his inner circle would lie on something like this!"
ONCE A CHEATER, ALWAYS A CHEATER
Tristan's cheating tendencies first came to light two days before Khloé gave birth to their daughter, True Thompson, on March 2018.
At the time, videos and photos of the NBA player kissing and groping some girls, and entering a hotel with another, surfaced online.
Eventually, he and Khloé managed to move past his indiscretions. But five months ago he did it again.
This time, he got involved with a family friend of the Kardashians, Jordyn Woods, which led Khloé to end the relationship for once and for all.
Please fill in your e-mail so we can share with you our top stories!