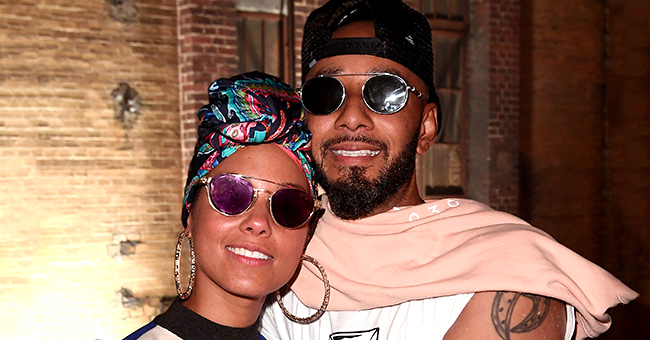 Getty images
Alicia Keys and Husband Swizz Beatz Celebrate Their 9th Anniversary over a Romantic Dinner
Alicia Keys and her husband shared a romantic dinner to celebrate their ninth anniversary. They also paid touching tributes to each other on social media.
Alicia Keys and Swiss Beats, whose real name is Kasseem Dean, recently celebrated the ninth anniversary of their marriage.
To mark the special day, Dean, treated his lady love to a romantic dinner featuring low light, a bouquet of red rose, cake, wine, and candlelight.
In the video posted on Instagram, the happy couple wished each other a happy anniversary, before Dean asked Keys to blow out the candles and make a wish.
The music star obliged her man by closing her eyes and making a silent wish.
Thrilled about the years they've been married, the producer wrote in the caption,
"9 was fine like aged wine."
He added that when they get to ten years, they will celebrate by renewing their vows. Dean included several heart-shaped emojis, and clasped hands, depicting a prayer mode, before ending with the words, "Blessings Mrs. Dean."
Before dinner, the couple wrote a touching tribute to each other on Instagram. Keys, alongside a photo of her and the music producer kissing, called him,
"My dream increaser."
The "Superwoman" singer wrote that she loves the father of her children more than she did when they first met. She described him as her
"Partner, Mindsharer, cheerleader, life partner, and king." The New York native added, "I'm so blessed by your love."
Dean, on the other hand, thanked his wife for the years they've spent together, writing,
"I've never met a human like you."
ALICIA KEYS DIDN'T LIKE DEAN IN THE BEGINNING
In a recent interview for Bazaar's Icon issue, the "A Woman's Worth" singer described Dean as engaging and smart, but she didn't always see him that way.
Keys and Dean met for the first time when the Grammy winner was 16, and Dean was 17. In a past interview, the "We Are Here" singer said she didn't like him at the time, as she considered him flashy and annoying.
However, when their music labels brought them to work together, they hit things off and by 2009 they were engaged. By July 2010, the couple got married on French Island, Corsica.
Keys and Dean share sons, Egypt, and Genesis. The couple equally co-parents his son, Kasseem Jr. from his first marriage to Mashonda Tifrere, and between the trio, they have a perfectly blended family.
The singer and record producer continue growing strong together and are determined to keep the fire burning by making each other smile every day.
Please fill in your e-mail so we can share with you our top stories!