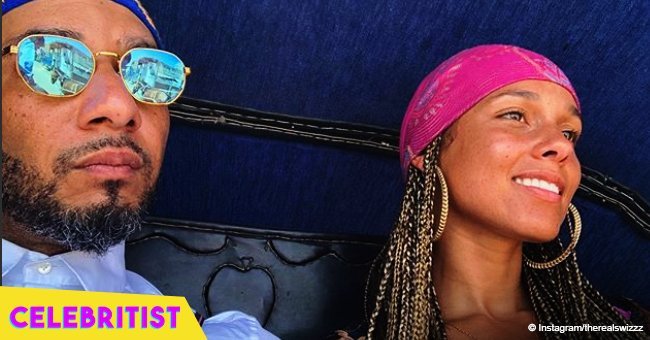 Swizz Beatz shares picture of wife Alicia Keys who stuns in high heels and tight outfit

Renowned music producer, Swizz Beatz recently posed with his wife, singer Alicia Keys, for an adorable photo. From their chemistry, you wouldn't imagine all the challenges their relationship has been through.
The duo posed up a storm on a yellow carpet with their statement outfits. Keys wore a long latex jacket over a back crop top and skin-tight leggings. Purple high heels, large earrings, and a blue head wrap completed her ensemble.
Swizz was not so interested in capturing his face for the photo. The record producer was absorbed in the look of love shared with Keys as he turned his back to the camera.
Like his wife, he also wore a long jacket with an abstract print. He donned a pair of skinny black jeans and high-top sneakers.
The love-struck music maestro and his wife of eight years were at the Yellow Ball, an event co-hosted by fellow musician Pharrell Williams.
The bond between Swizz and Keys is no ordinary one. It is forged not only by passion but also by controversy. The two had known each other since they were teenagers but Keys, 37, revealed that she found him annoying.
When they would eventually reconnect after so many years, the timing was not so perfect. The couple started dating in 2008, but Swizz was still married to his first wife, Mashonda Tifrere, at the time. What followed was a barrage of negative media publicity for Keys.
After Swizz divorced Tifrere, he and the "No One" singer tied the knot in 2010 and welcomed their first son, Egypt Daoud, the same year. Their second child, Genesis Ali, was born in 2014. For a while, the relationship between Keys and Tifrere was strained, but they finally decided to settle their differences for the sake of the children.
Swizz, whose birth name is Kasseem Dean has three other children. He shares his son Kasseem with Tifrere, while he's also father to Prince and Nicole from two other previous relationships.
Swizz and Keys were recently on a family vacation to Egypt where things turned slightly ugly after the husband posted a tribute to his wife. Folks came up in the comment section calling Keys a homewrecker and Swizz fired back.
After many years of enduring public hatred, this couple is finally in a good place.
Please fill in your e-mail so we can share with you our top stories!