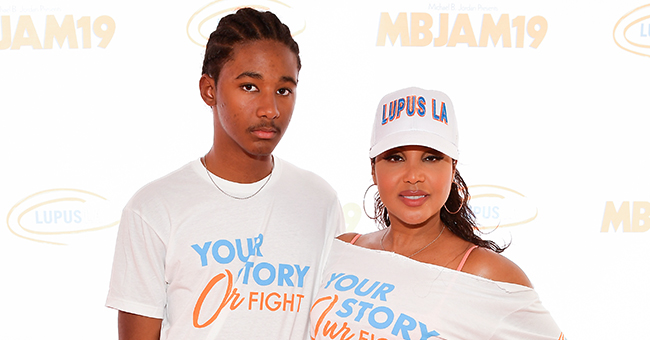 Getty images
Toni Braxton and Son Diezel Support Michael B Jordan's Event to Find a Cure for Lupus
Legendary singer, Toni Braxton is lending her voice to the search for a lasting treatment to Lupus. She and her son, Diezel, graced an annual event hosted by actor, Michael B. Jordan, which seeks to find a cure for the dreaded disease.
Braxton was at the star-studded event with her son, Diezel Braxton, and the two wore similar T-shirts, as seen in their Instagram posts. While Diezel's T-shirt sported the words: "Your story, Or fight," his mother's came with a little modification saying, "Your story, 'our' fight," implying that she was directly associated with the fight against lupus.
TONI'S AILMENT
The "Unbreak my Heart" crooner was diagnosed with Lupus in 2008, a systemic autoimmune disease that causes the body to attack its tissues and organs.
The incurable condition is characterized by inflammation of the skin, organs, blood cells, and joints, causing the patient excruciating pain.
The singer has lived with this condition for over ten years, which is the sad reason behind her absence from the spotlights in years past.
MICHAEL JORDAN'S INSPIRATION
While Toni's reason for pushing for the cure of Lupus has a more personal basis, Michael has a deeper motivation. The actor's mom was one of the special guests at the event.
"When we moved to LA as a family and needed resources to help her, Lupus LA was the first place we turned."
Lupus LA was a nonprofit organization that helps people living with the condition, including arming them with resources to help improve their quality of life.
"They've been awesome to us, so we wanted to give back in a meaningful way."
The actor understands the pain of those living with the disease and is devoted to being a hero to them as they go through the endless struggle.
TONI BRAXTON'S MARRIAGE
The health challenges are hard enough to deal with for lupus patients. Coupled with the stigma that comes with the disease, it is tasking to maintain a normal life once it sets in.
"I felt shallow because my ex-husband and I broke up for money issues. I couldn't make money because I had Lupus. That was my personal contribution to the marriage failing, because who wants to take care of a person who is sick all the time? He never said that, but I felt it."
Toni and her ex-husband got divorced in 2013, after being married for 12 years. The singer was left with two adorable sons to care for and has always been a good mom to both of them.
She is also an amazing fiance to rapper, Birdman, despite her ailment. That is proof that people living with the autoimmune condition can still lead a normal life, once given support.
Please fill in your e-mail so we can share with you our top stories!