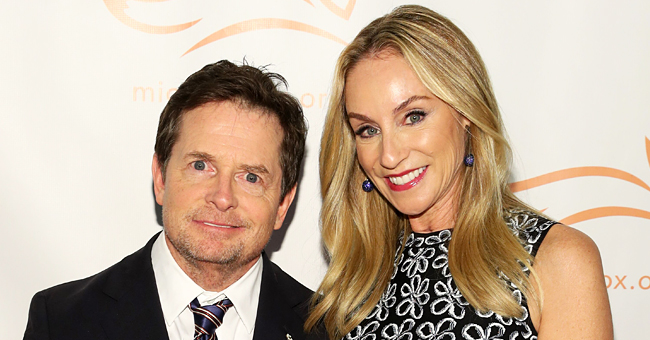 Getty Images
Michael J Fox's Daughters Look All Grown up in Colorful Outfits in Tracy Pollan's New Photo

Michael J. Fox daughters with Tracy Pollan stunned in new photos shared by their mother to celebrate a special day and the bond between the girls.
Michael J. Fox and Tracy Pollan are proud parents of three beautiful girls; judging by the latter's recent post on Instagram, they are all grown up too.
The proud mother shared a photo of her three girls dressed in colorful print-design outfits in the shades of yellow, blue, and red.
The trio which includes twins — Aquinnah Kathleen, and Schuyler Frances — and their sister, Esme Annabelle, posed in a natural setting with green scenery.
The sisters looked super relaxed, cheerful, carefree, and they wore a beautiful smile. Pollan celebrating a special day for sisters captioned the photo,
"Happy #NationalSistersDay to the cutest sisters, I know."
The actress's followers agreed with her, and they left comments like, "Gorgeous girls and dresses," "The most beautiful, wonderful, and sweetest girls in the whole world," and "They are adorable."
The sisters take after their mother in beauty, but some have argued that they equally share a resemblance with Fox. Aquinnah and Schuyler, 23, are studying at Duke and Pomona Universities respectively, and 17-year-old Esme, recently graduated high school.
Fox and Pollan also share a son, Sam Michael, who undoubtedly resembles the actor, but did not inherit his movie talent. Sam works as a sales rep for a new startup, and he is very private.
Privacy is vital to the Fox-Pollan family, and they are a close-knit group. The family's decision to live a private life comes from years of dealing with their patriarch's medical condition — Parkinson's disease.
Fox got diagnosed in '91, three years after he got married to his "Family Ties" co-star. He was 29 at the time and chose not to make his condition known until the late '90s.
Since then, the "Back from the Future" star has raised hundreds of millions of dollars to fund research to find a cure for the disease.
In July, he gave Dr. Ellis Dowd and his Irish research team, $300,000 to carry out more tests on their theory that healthy transplanted brain cells can replace the dead ones.
Throughout Fox's battle with Parkinson's, his children and Pollan have stood by him; during an appearance on Jimmy Fallon's "The Tonight Show," he revealed the secret to his lasting marriage.
The "Spin City" star said it involved among other things, being able to make each other laugh, and Pollan, who was with him during the interview, chalked it down to trusting and always giving each other a chance to explain their side of things.
The couple extends this trait to their children, and together, the family-of-six has a strong family network.
Please fill in your e-mail so we can share with you our top stories!