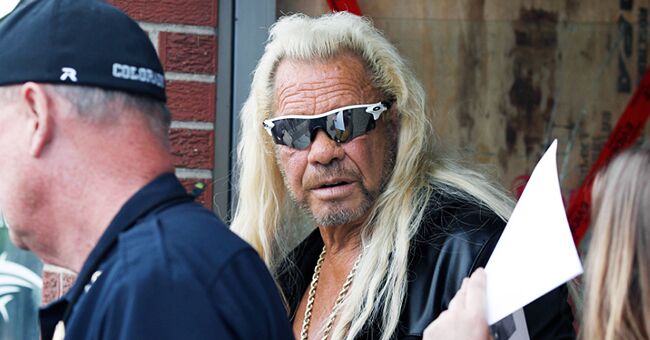 twitter.com/KATUNews
Dog the Bounty Hunter Sends Warning to Burglar Who Stole Late Wife Beth's Personal Items

Last week Friday, Duane Chapman, in an open call to the person who broke into his Colorado merchandise store, gave the suspect 48 hours to surrender or face charges.
The Dog the Bounty Hunter star, while speaking to reporters in front of his damaged storefront, said he would request that the police do not press charges if the person surrenders and asks for forgiveness within 48 hours after his speech.
Duane spoke following the release of the surveillance footage showing the suspected burglar by the police.
According to the Daily Mail, Police Chief John Mackey described the suspect as carrying a large backpack and was inside the store for a short amount of time before leaving with nothing in his hands.
It is believed that some of the merchandise may already be on sale online. The merchandise store was robbed last week.
One of the items stolen by the burglar is his late wife's, Beth Chapman, bounty hunting gear. Beth's personal items were kept in the store to create a makeshift memorial for her.
As Duane spoke to the press outside the store, he said he cried after checking out the burgled store, and that he wants back the Taser used by Beth.
He also tweeted on Friday that there is a cash reward for anyone who can bring information that would lead to the burglar's arrest.
BETH CHAPMAN'S DEATH
Beth Chapman died after a long battle with cancer on the 26th of June. At the time of death, she was 51. After her initial diagnosis of throat cancer in September 2017, she went into remission.
However, in late 2018, her cancer returned, and she had to undergo emergency throat surgery after a significant blockage was discovered in her throat by her doctors.
Briefly in April this year, she was hospitalized due to an accumulation of fluid in her lungs.
And later in June, she experienced a choking incident at her home, which made it difficult for her to catch her breath.
She was rushed to the hospital, where the doctors placed her in a medically induced coma to allow her body's recovery from the traumatic emergency. She passed away while in a coma, surrounded by family.
Please fill in your e-mail so we can share with you our top stories!