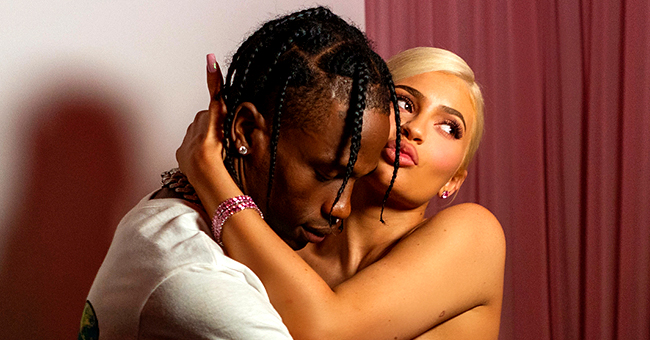 Instagram / Kylie Jenner
Travis Scott Fills Kylie Jenner's House with Roses before Her Birthday

It's almost Kylie Jenner's 22nd birthday, and her boyfriend Travis Scott made sure to start the festivities with a bang by covering home's entire floor with red rose petals.
Kylie Jenner was in awe after seeing her floor covered in red petals, but Travis didn't stop there. He also had a couple more large vases filled with red flowers, which she and Stormi both enjoyed as they walked through the sea of roses.
On Instagram, Kylie made sure to share a video of the whole thing, captioning it with:
"My house is covered in ROSES! @TravisScott and it's not even my birthday yet!!!!! Omg"
Stormi's Delight
It's not just the beauty mogul that enjoyed the roses, though, as even Stormi seemed to be having a lot of fun. In the background, the little girl could be seen sitting down on a pile of roses as she tossed some in the air.
Of course, the whole surprise came with a card, and for this one, Scott, 28, wrote:
"Happy Birthday!!!! We're just getting started. Love you!!!!"
A Recurring Surprise
This isn't the first time Travis filled up Kylie's home with roses, and this seems to be a recurring thing. On November last year, Scott surprised his girlfriend and baby mama with a bunch of rose bouquets that were placed in every area of her home.
Dozens of rose bouquets could be seen in her dining and living rooms, her hallways, even all the way up to her staircase. To add more romantic flair to it, there were lit candles all around.
It is unclear what the occasion was for him to surprise her so extravagantly on a random day, but nonetheless, the "Keeping Up With The Kardashians" star looked pleased.
When she gave birth to Stormi, Travis gifted her with 443 flowers at home, which signified the time their child was born: 4:43 PM on February 1, 2018.
The Kylie Cosmetics founder turns 22 this August 10.
Please fill in your e-mail so we can share with you our top stories!