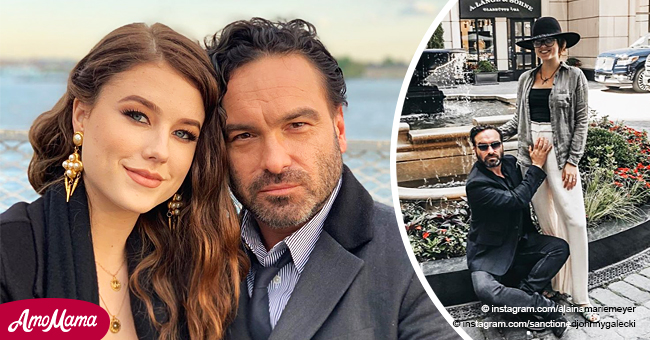 instagram.com/sanctionedjohnnygalecki
Johnny Galecki of 'Big Bang Theory' & Girlfriend Alaina Meyer Celebrate 1-Year of Dating (Photos)
Johnny Galecki, and his young girlfriend, Alaina Meyer recently celebrated their first anniversary; to mark the special day, they went back to where it all began.
Johnny Galecki is the only member of the four main cast of the "Big Bang Theory" who did not get married in the 12 years the show ran, but he is happy and in love with his 21-year-old girlfriend, Alaina Meyer.
The couple recently celebrated their first anniversary with cute photos, and from the caption on Meyer's Instagram, they went back to where it all started.
Although she failed to mention where that is, precisely, judging by her location at the time of the post, the place referred to is presumably the Waldorf Astoria, in Chicago.
The photos showed the couple looking super chic and casual; in the first, Galecki sat on a concrete slab surrounding a water fountain at the front of the hotel. Meyer stood beside him, and she had her hand on his shoulder.
In the second, their positions remained the same, but this time, the actor had his hand on his girlfriend's belly; a gesture meant to include their unborn child in the joyful moment.
The "Roseanne" star and Meyer revealed in May that they were expecting their first child together. They asked the public to respect their privacy as they celebrate the news, adding that they were, "Over the moon."
Later that month, the couple held an outdoor paint party to reveal the gender of their child and later announced on Instagram that it's a boy, much to the TV star's slight disappointment. He had earlier stated on "The Talk," that he was leaning towards a girl.
The baby news came a few months after Galecki and Meyer went public with their relationship last September. By November, they made their red carpet debut at the People's Choice Awards.
The "The Conners" actor looked dapper in a suit, while the soon-to-be mother wore a black dress. After the debut, some fans criticized the couple's relationship because of the age difference, while others were glad that he was happy.
Galecki and Meyer are quite happy, and they are known to share photos of each other on their Instagram accounts, like the matching Santa costumes, they wore in December.
The couple is equally huge on PDAs, and as they celebrate one year together, they believe more than ever that there's enough love out there for everyone.
Please fill in your e-mail so we can share with you our top stories!