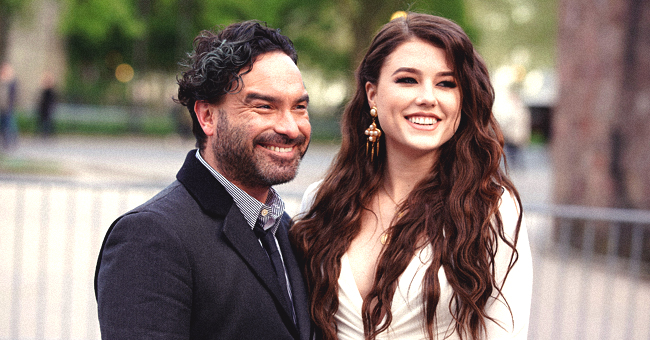 Getty images
Johnny Galecki and Girlfriend Alaina Meyer Reveal Their Baby's Gender
The actor and his 22-year-younger girlfriend threw a gender reveal "paint party" recently, during Memorial Day weekend, and the baby's gender is not what the soon-to-be father expected.
Now that "The Big Bang Theory" has come to an end after 12 seasons, a new chapter starts for 44-year-old actor Johnny Galecki, not only in his career but also in his private life, now that he is about to welcome his first baby.
Both Galecki and his girlfriend, 22-year-old Alaina Meyer took to their social media to share images from the outdoor party they threw for their close friends and family to announce the gender of their unborn bundle of joy.
A MESSY PARTY
The couple, which relationship has been public since September, used blue paint to let the attendees know that they are expecting a boy, and even when Galecki previously admitted that he "kind of prefer(s) a girl," he seems to be on cloud nine.
"A day I'll never forget," the "Roseanne" star captioned a picture that shows him on his knees as his girlfriend plants a kiss on his lip, and you can see both of them smeared with paint.
"We are absolutely over the moon to announce that we will soon be welcoming a little one into this crazy and wonderful world."
"I can not wait to raise a baby boy with my love. He will follow in his father's footsteps of being a generous, loving, chivalrous fellow," Meyer captioned another picture from the lovely evening, showing she and Galecki smiling in pure joy.
Meyer used her Instagram Stories to congratulate those fans and followers who correctly guessed the baby's gender. "To all those who voted boy, you were right!" the mother-to-be wrote.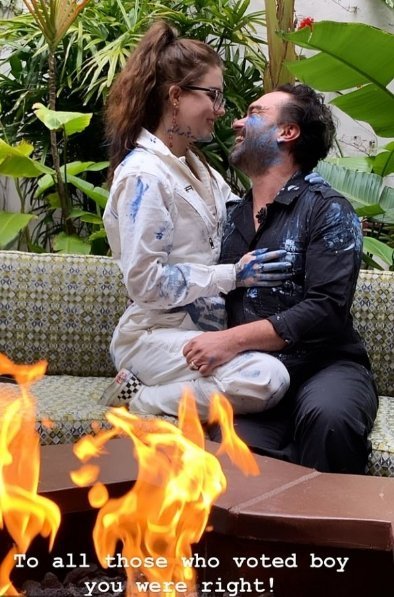 Alaina Meyer and Johnny Galecki. I Image: Instagram/alainamariemeyer
ANNOUNCING THE PREGNANCY
Galecki and Meyer delivered the good news about their upcoming child on May 3, when they released statements expressing their joy for the journey that has just begun, and asking for respect for their privacy.
"We are absolutely over the moon to announce that we will soon be welcoming a little one into this crazy and wonderful world," Galecki revealed.
"We ask that you please respect our privacy during this celebratory time for us and our families. There truly is love out there for all. We hope ours is the ember of yours, as we feel yours is the ember of ours," he added.
Meyer shared a similar message on that same day, to caption the same picture that Galecki's for the special announcement.
GALECKI'S PREVIOUS RELATIONSHIPS
Galecki famously dated his "The Big Bang Theory" co-star Kaley Cuoco, who also played his love interest in the comedy series.
Despite having broken up after two years in the relationship in 2009, they remained very good friends in the following years, and they kept working together until the series' finale.
Cuoco has married twice since then, first in 2013 to tennis player Ryan Sweeting, whom she divorced after three years, and recently to equestrian Karl Cook, the last June.
Cuoco is not the only co-star Galecki has dated. Back in the 90s, during "Roseanne's" original run, he dated actress Sara Gilbert.
ARE THEY GOING TO MARRY?
Despite having these high profile romances, Galecki has never married, and while some of her fans are hoping for Meyer to be the lucky one, she denied the rumors about a marriage in the near future back in December.
Will they change their minds now that they are starting a family? We will have to pay close attention to these two to see if there is a wedding on the horizon.
Please fill in your e-mail so we can share with you our top stories!