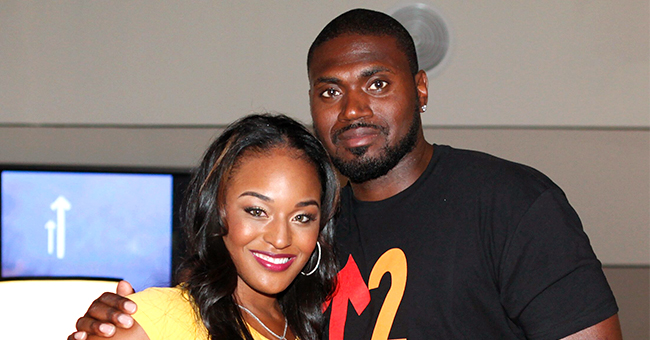 Getty images
BW Alums Brandi & Jason Maxiell Celebrate 10 Years of Marriage after His Cheating Reveal

Brandi Maxiell celebrates her marriage with a milestone post. "I wouldn't change it for the world," she wrote despite being cheated on more than 300 times.
In spite of the many women that came between them throughout their relationship, Brandi Maxiell still found a reason to celebrate her 10th wedding anniversary with Jason Maxiell.
As per her count, it's been "10 Years • 120 months • 522 weeks • 3652 days • 87,658 hours • 5,259,000 minutes," to be exact.
"WOULDN'T CHANGE IT FOR THE WORLD"
Brandi says she "wouldn't change it for the world" because she married her best friend. The 36-year-old was only 17 when they first met. They wed in 2009.
"No one will ever know the love we have for one another," she wrote to caption a series of photos featuring milestones in their life including one of Brandi's pregnant belly next to Jason's face and another of their only son, Jason Maxiell II when he was a baby. Jason II was born in 2011.
Jason revealed he actually slept with 50 women during their marriage and a total of 341 in the course of their entire relationship.
WHEN BRANDI DISCOVERED JASON CHEATED ON HER MORE THAN 300 TIMES
For many, it would be difficult to understand why the Basketball Wives star chose to stay with Jason despite his public admission that he cheated on her 341 times.
Yes, you read it right. The former NBA star admitted last year in an episode of "Iyanla: Fix My Life" that he cheated on Brandi over three hundred times throughout their relationship that now spans 19 years.
The number surprised Brandi who confessed knowing about only eight women he slept with during their time together. Jason revealed he actually slept with 50 women during their marriage and a total of 341 in the course of their entire relationship.
He also denied having a sex addiction and instead attributed his need for sex as an escape from reality. A shocked Brandi stormed out of the room after learning how far she'd been lied to.
She later admitted she was more upset over having the number broadcasted to the world making her look like a fool to the public.
"Eight put a damper on our relationship and I was willing to work on it. Over 50 tore it down!" she said.
STILL MARRIED AND CELEBRATORY
But it seems no matter how great the number of times Jason's infidelity scorched their marriage, it didn't do much to tear it down seeing that Brandi still considers it worth celebrating.
Along with her caption declaring her commitment to their marriage, Brandi shared photos from their wedding day and at Christmas.
She even featured a photo from their interview on "Fix My Life" showing Brandi's reaction after learning of her husband's blatant infidelity. The final clip in the series showed the two of them enjoying some we-time on the beach.
There are marriages built on trust and there are also marriages built on the strength it gains after the trust is broken. Brandi and Jason prove that no matter how many times one falters in a relationship there is always room for forgiveness.
We can't say their union makes for marriage goals but we admire them for sticking together in spite of the many obstacles that came their way.
Please fill in your e-mail so we can share with you our top stories!