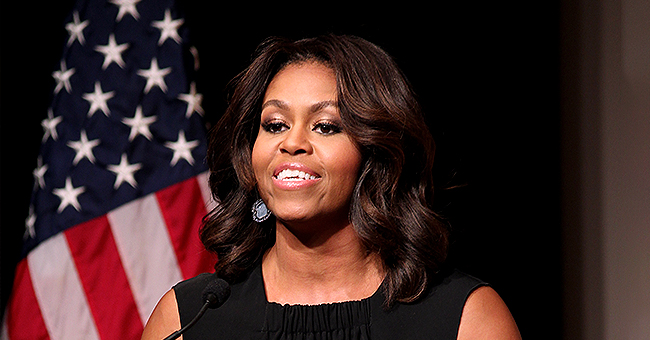 Getty Images.
Michelle Obama's Watershed Moments: From College Years to Her Daughters' Graduation

Michelle Obama's approach to life had always been to respect but also to question. A perspective that played an integral part in Michelle's commitment to change and personal happiness.
Her innate sense to tell something the way it is, and the upbringing by her parents Marian Shields and Fraser Robinson helped shape Michelle from an early age.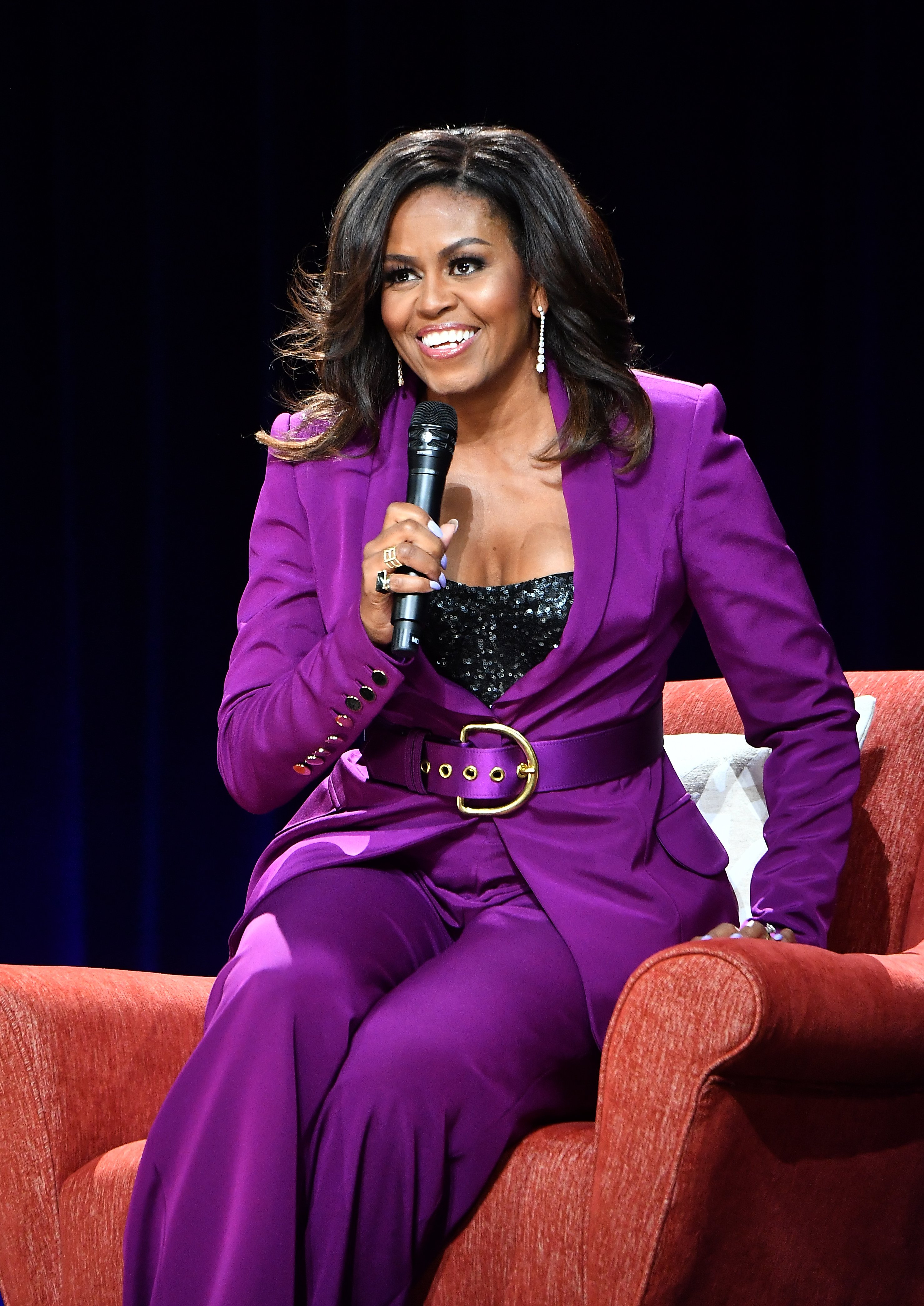 Former First Lady Michelle Obama attends 'Becoming: An Intimate Conversation with Michelle Obama' at State Farm Arena on May 11, 2019, in Atlanta, Georgia. | Source: Getty Images.
Along with her brother Craig, the family lived in a modest house where money was tight but sufficient. Michelle's father became partially handicapped by multiple sclerosis and worked shifts as a city pump operator while her mother stayed at home.
The Robinsons didn't go to church often, but they believed in living an honest life and taking responsibility for one's actions. Marian and Fraser encouraged their children to think for themselves and make their own decisions.
"More important, even, than learning to read and write was to teach them to think," Marian said. "We told them, 'Make sure you respect your teachers but don't hesitate to question them. Don't even allow us to just say anything to you. Ask us why.'"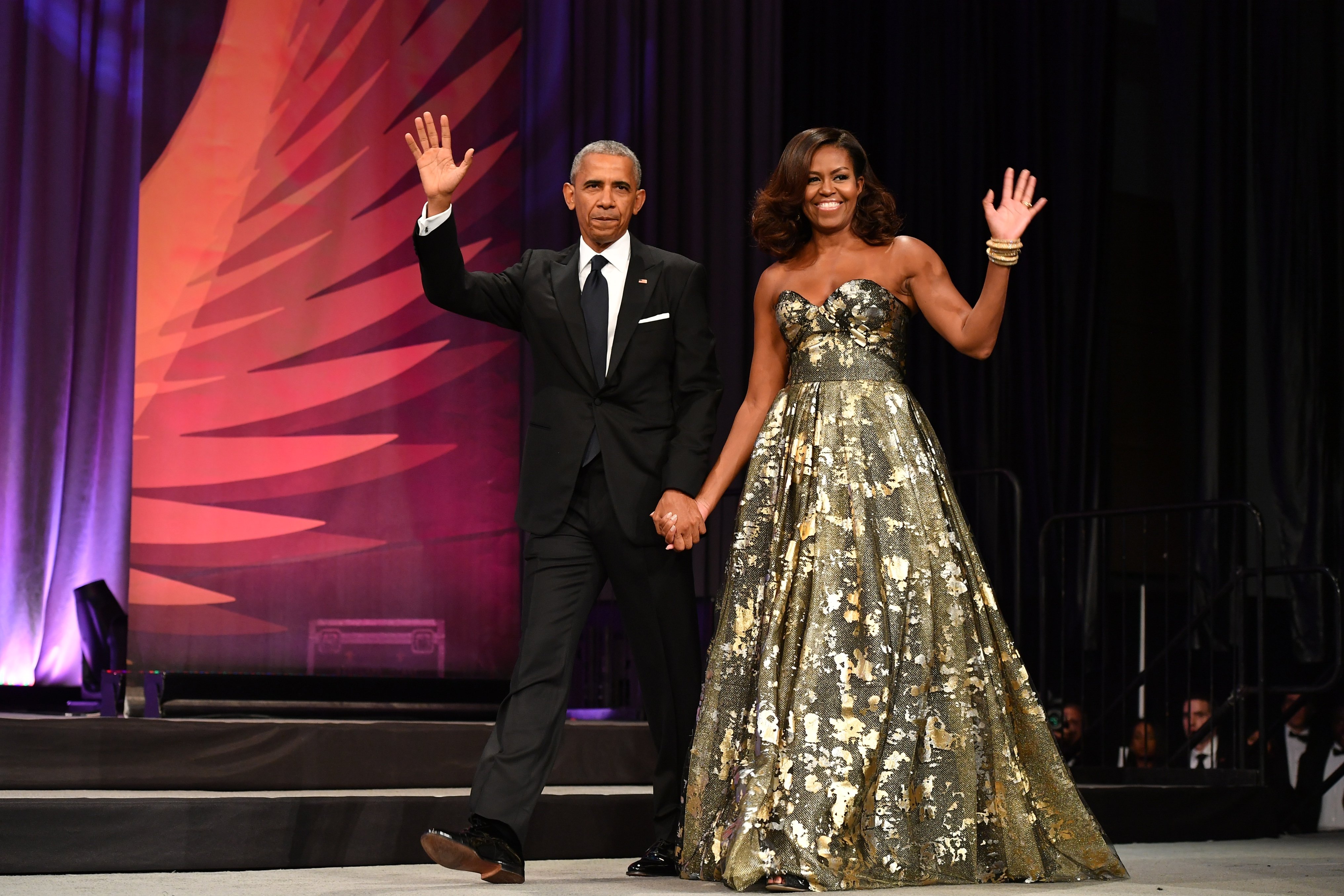 President Barack Obama and Michelle Obama arrive at the Phoenix Awards Dinner at Walter E. Washington Convention Center on September 17, 2016, in Washington, DC. | Source: Getty Images.
That is exactly what Michelle did when she finished high school on the South Side of Chicago and got into Princeton.
During the early 1980s, Princeton's Ivy League campus with its unofficial racial segregation had Michelle ask questions about loyalty and race.
Regarded as one of the most conservative of Ivy League schools at the time, the elite's "eating clubs" rarely had black members.
When Michelle started at Princeton in 1981, she became one of 94 black students in a class of 1,141. Her brother, Craig, who had already been at the Ivy League school for two years as a star basketball player helped with Michelle's transition.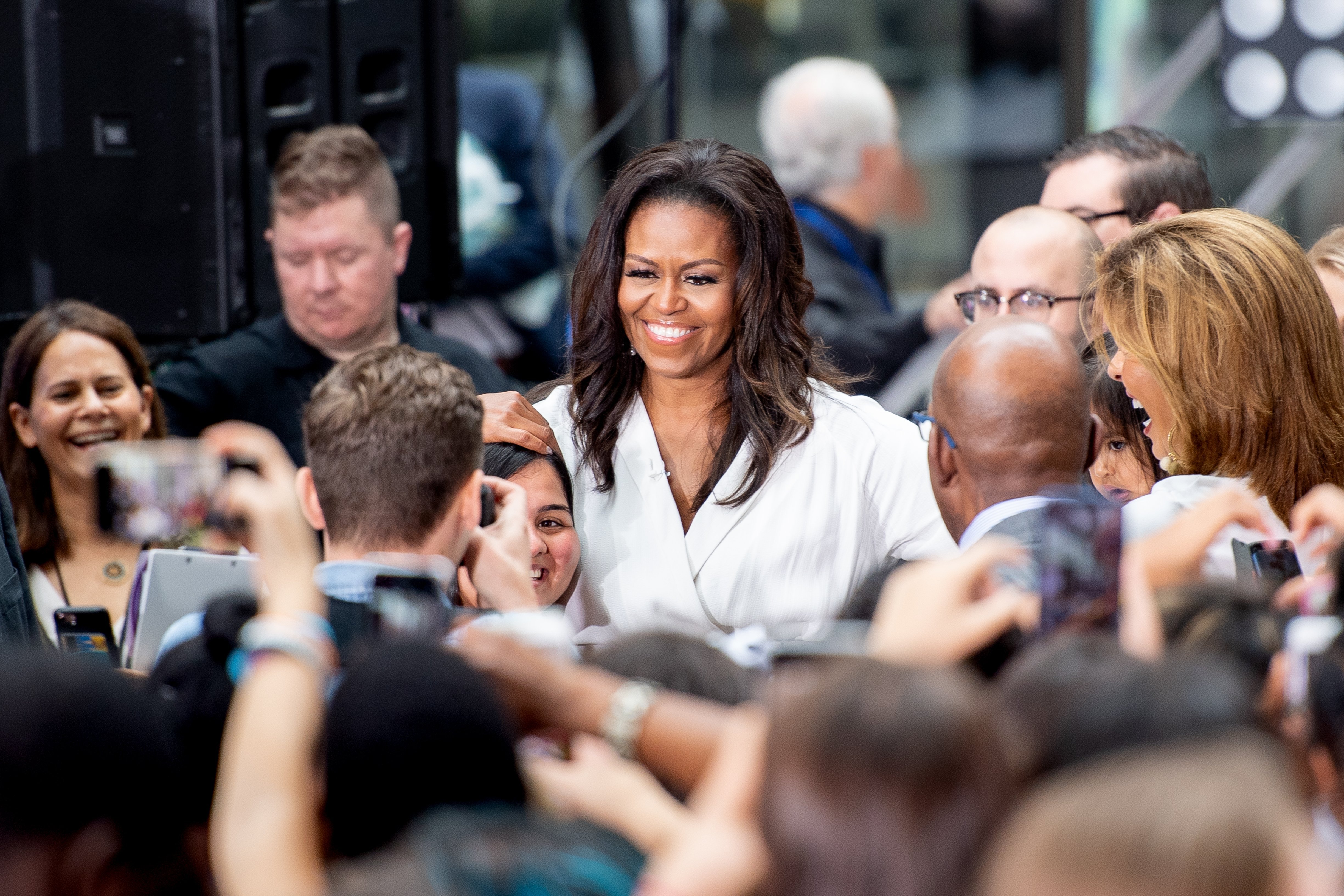 Michelle Obama attends NBC's 'Today' Celebrates The International Day Of The Girl at Rockefeller Plaza on October 11, 2018, in New York City. | Source: Getty Images.
However, the racial difficulties didn't keep Michelle from speaking about what she thought to be right, as Marian recalled a telephone conversation she had with Craig.
"Michelle's always been very vocal about anything," Marian explained. "If it's not right, she's going to say so. When she was at Princeton, her brother"—Craig, now the head basketball coach at Brown, was two years ahead of Michelle—"called me and said, 'Mom, Michelle's here telling people they're not teaching French right.' She thought the style was not conversational enough. I told him, 'Just pretend you don't know her.'"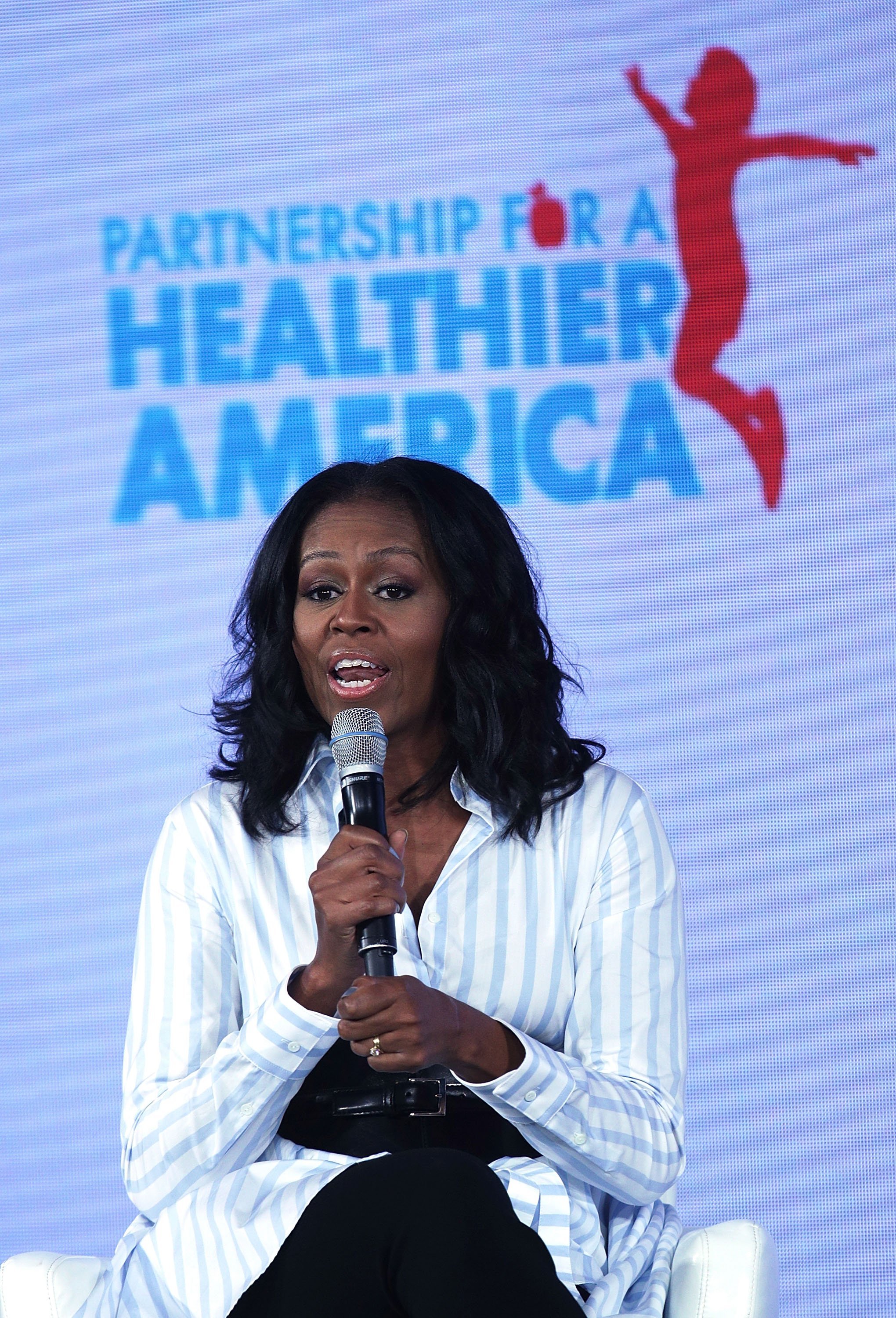 Michelle Obama speaks during the Partnership for a Healthier America Summit May 12, 2017, in Washington, DC. | Source: Getty Images.
By Michelle's second year she became known for her vast Stevie Wonder collection, her sense of style, and a woman committed to change.
"Michelle was always fashionably dressed, even on a budget," Angela Acree, Michelle's roommate for three years and now a Washington, D.C., lawyer said. "You wouldn't catch her in sweats, even back then."
Hardly the typical activist, Michelle instead began efforts in understanding the racial situation from both sides before offering input and helping to create change. The main problem for black students was two-fold; they felt unwanted on campus and worried whether they gave up the identity given by their parents.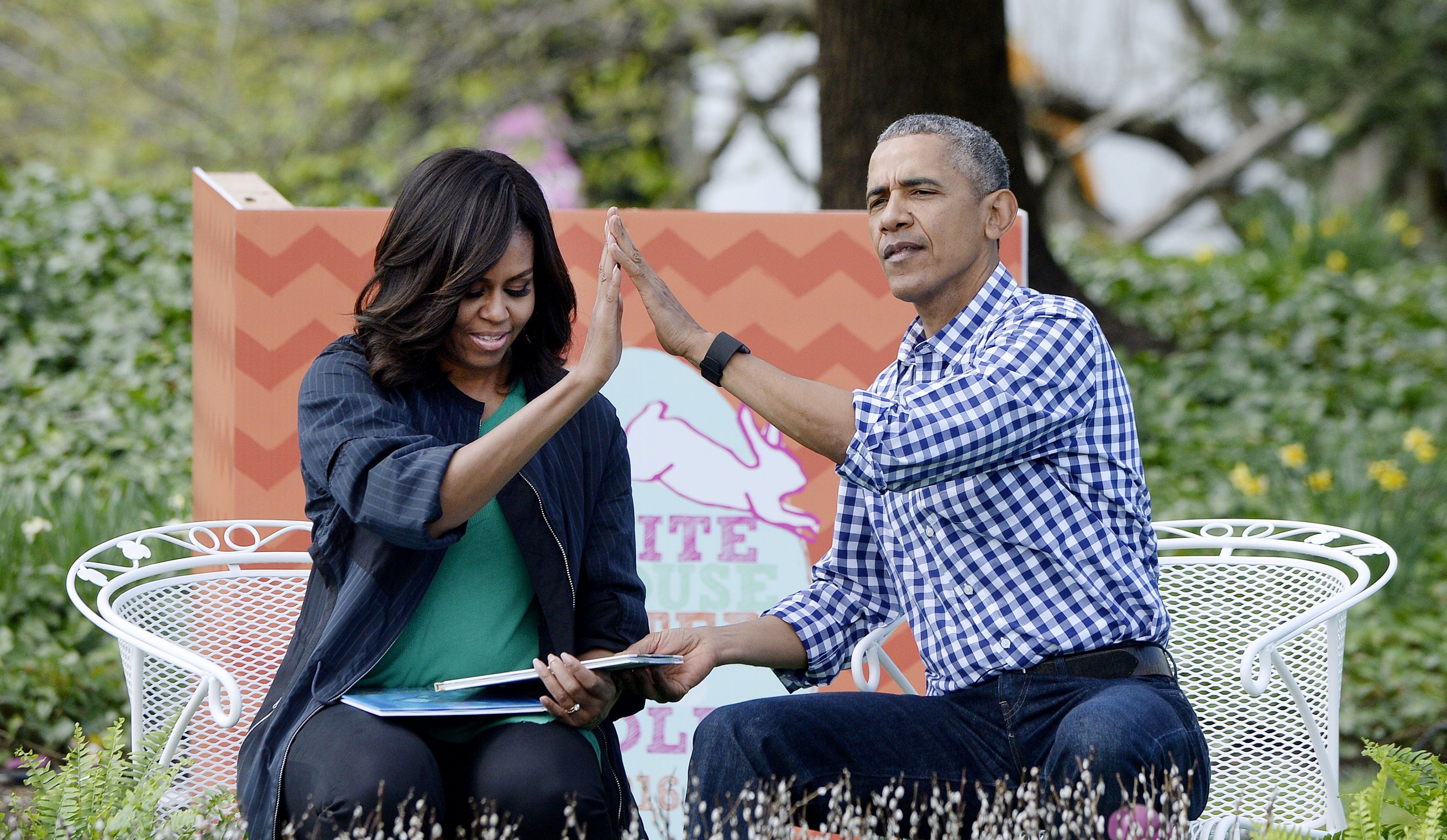 President Barack Obama (R) and first lady Michelle Obama (L) read "Where the wild things are"during the White House Easter Egg Roll on the South Lawn of the White House March 28, 2016, in Washington, DC. | Source: Getty Images.
Determined to bring about change, Michelle began attending school administrator meetings involving the African American Studies department and had black alumni come to campus to talk with other students.
Michelle dedicated her afternoons to working in the school's Third World Center, a critical and formative time of her life.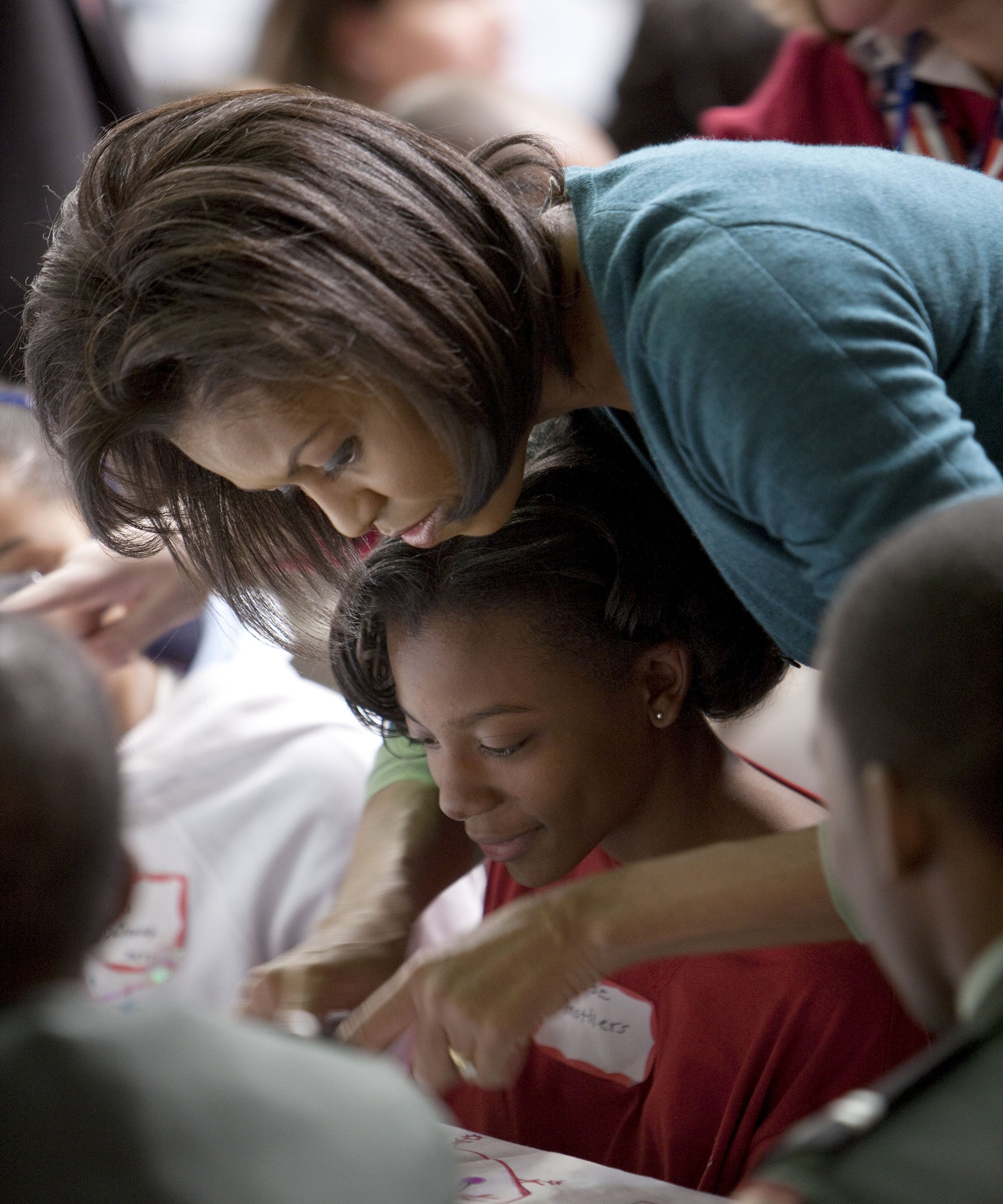 Michelle Obama helps a girl at Calvin Coolidge High School where students, military families, and volunteer service groups are working on various projects supporting the troops on January 19, 2009, in Washington, DC. | Source: Getty Images.
"Princeton was a real crossroads of identity for Michelle," said Harvard Law School professor Charles J. Ogletree. "The question was whether I retain my identity given by my African-American parents, or whether the education from an elite university has transformed me into something different than what they made me. By the time she got to Harvard, she had answered the question. She could be both brilliant and black."
For Michelle's third year, she wrote a thesis called "Princeton-Educated Blacks and The Black Community," wherein she addressed those questions along with her observations.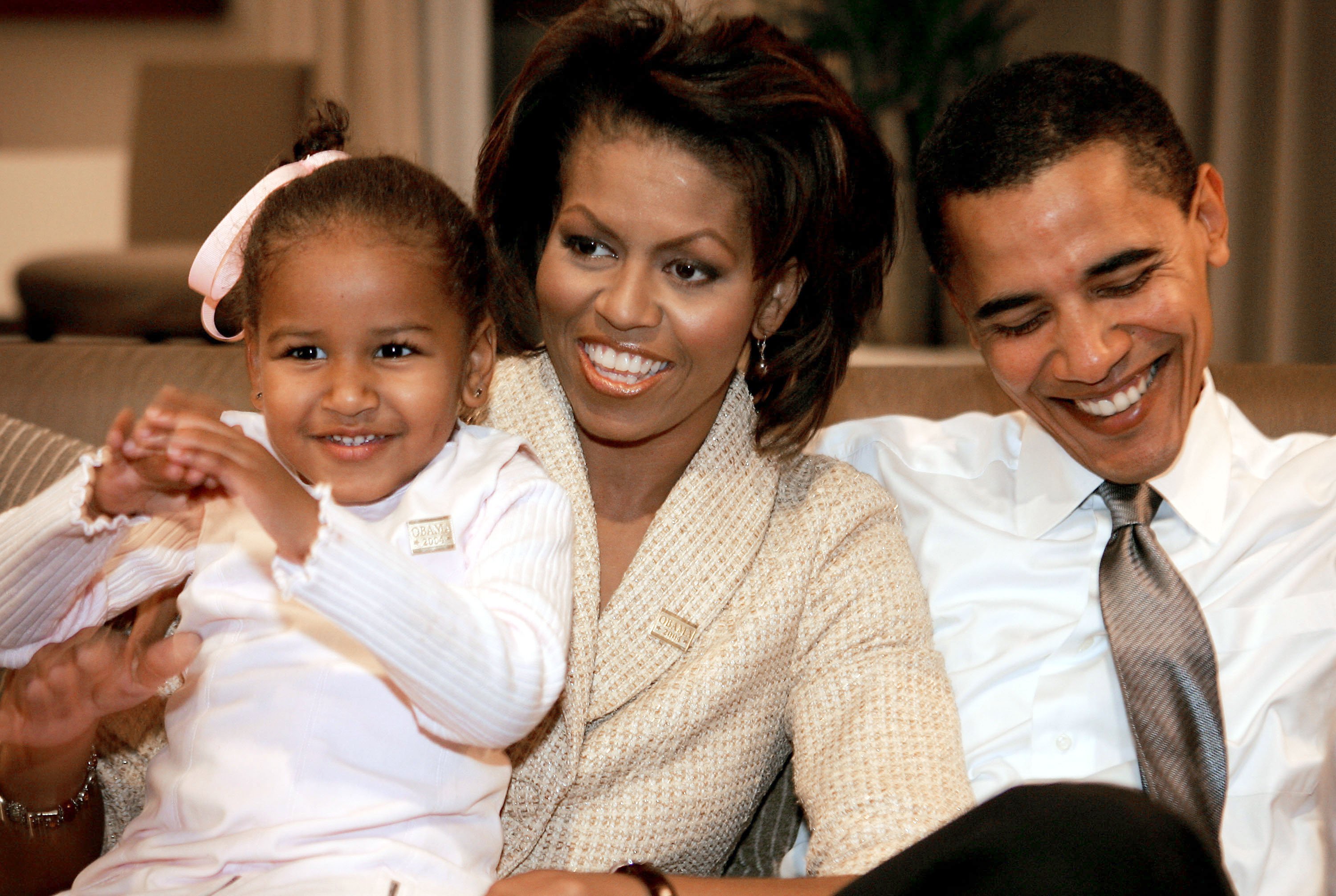 Candidate for the U.S. Senate Barack Obama (D-IL) sits with his wife Michelle and daughters Sasha (L) in a hotel room as they wait for election returns to come in November 2, 2004, in Chicago, Illinois. | Source: Getty Images.
"My experiences at Princeton have made me far more aware of my 'Blackness' than ever before. Regardless of the circumstances under which I interact with Whites at Princeton, it often seems as if, to them, I will always be Black first and a student second," Michelle wrote.
Her 1985 thesis also addressed broader issues, as the sociology professor emeritus and former chairman of the Center for African American Studies, Howard Taylor said:
"Michelle's central question was what good does a Princeton education do for the black community. "What will it do for me? Will it separate me from the black community?"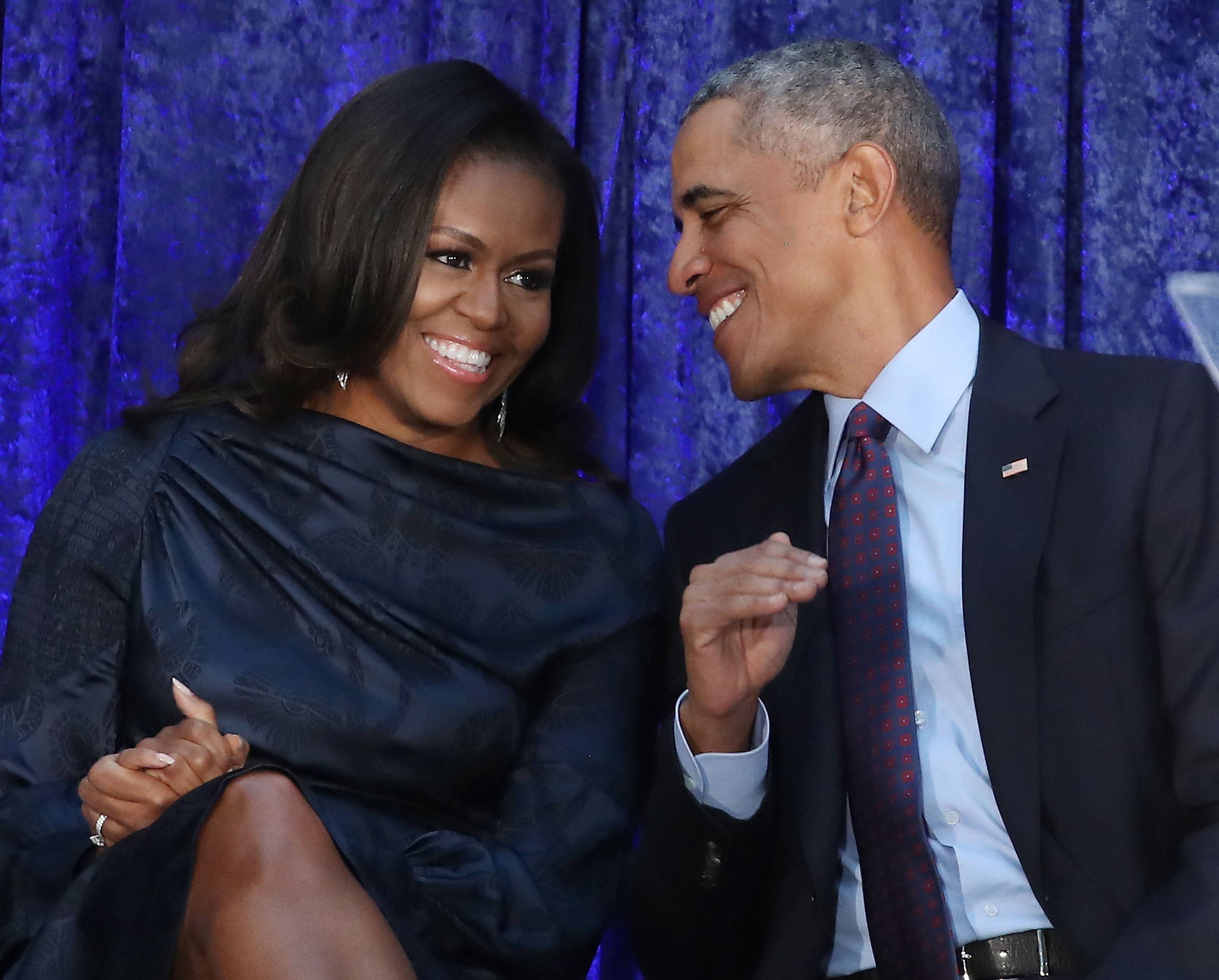 Former U.S. President Barack Obama and first lady Michelle Obama participate in the unveiling of their official portraits during a ceremony at the Smithsonian's National Portrait Gallery, on February 12, 2018, in Washington, DC. | Source: Getty Images.
As a member of the Organization of Black Unity, Michelle helped the primary resource for black students on campus by arranging programs and speakers. She also partook in a popular discussion group, Black Thoughts Table, on topics related to current affairs and race.
After Michelle majored in sociology with a minor in African-American studies from Princeton, she headed straight to Harvard Law School. Landing a job as a junior associate at the Chicago firm Sidley & Austin after graduating from Harvard, Michelle specialized in intellectual property law.
In 1989 Michelle got tasked with mentoring a summer associate in his first year of law school, Barack Obama. "Despite my resistance to the hype that had preceded him, I found myself admiring Barack for both his self-assuredness and his earnest demeanor," Michelle wrote in her 2018 memoir, "Becoming."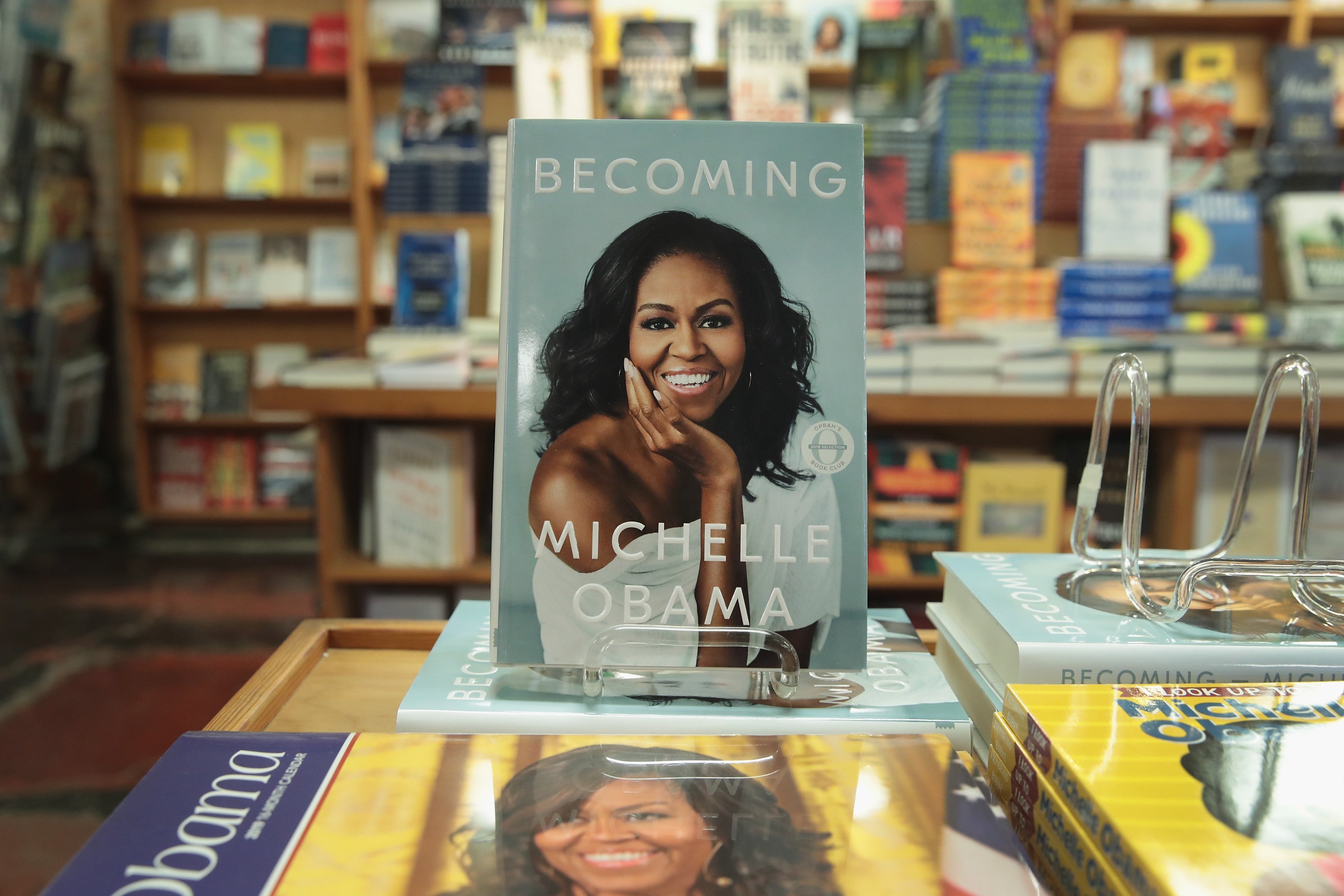 " Becoming", a book by former first lady Michelle Obama, is displayed at the 57th Street Books bookstore on November 13, 2018, in Chicago, Illinois. | Source: Getty Images.
Even though there had been a spark between the two, Michelle insisted on keeping their relationship professional. But Barack didn't give up, and when he offered to quit his job at the firm, she gave in to going on a date.
The pair attended the law firm's barbecue for the summer associates, and while driving Michelle home afterward, Barack stopped for some ice cream.
"I treated her to the finest ice cream Baskin-Robbins had to offer, our dinner table doubling as the curb. I kissed her, and it tasted like chocolate," Barack reminisced in 2007.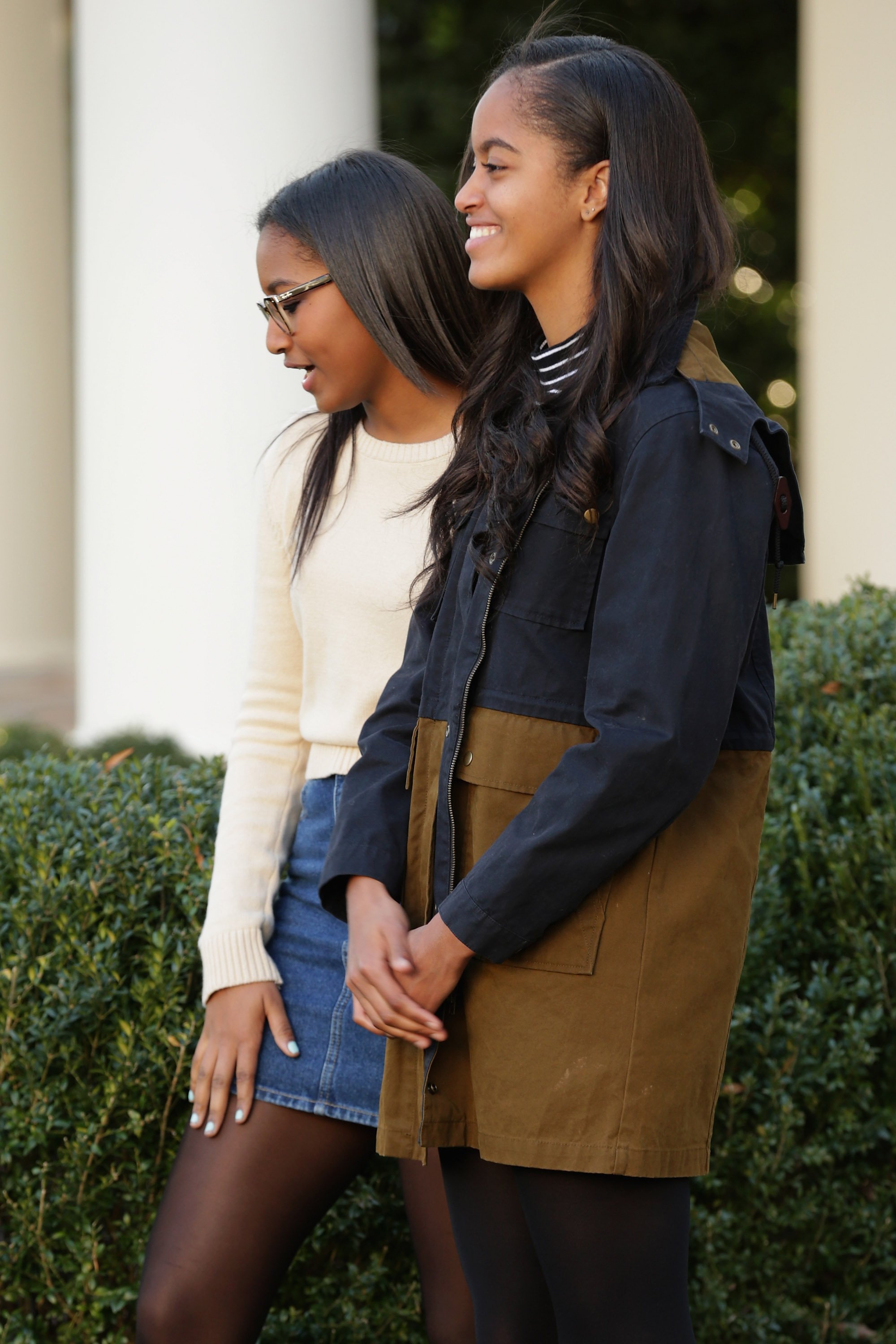 U.S. President Barack Obama's daughters Sasha (L) and Malia participate in the annual turkey pardoning ceremony in the Rose Garden at the White House November 25, 2015, in Washington, DC. | Source: Getty Images.
Three years later, Michelle and Barack got married on October 3, 1992. The couple continued building their careers, but they struggled to start a family. Michelle had fertility problems and several devastating miscarriages that eventually had the couple turn to IVF treatments.
"I felt like I failed because I didn't know how common miscarriages were because we don't talk about them. We sit in our own pain, thinking that somehow we're broken," Michelle said.
The treatments later led to the conception of their daughters, Malia and Sasha. Years later and all grown up, Sasha graduated for Sidwell Friends School in Washington, D.C. on June 2019 with the family proudly in attendance.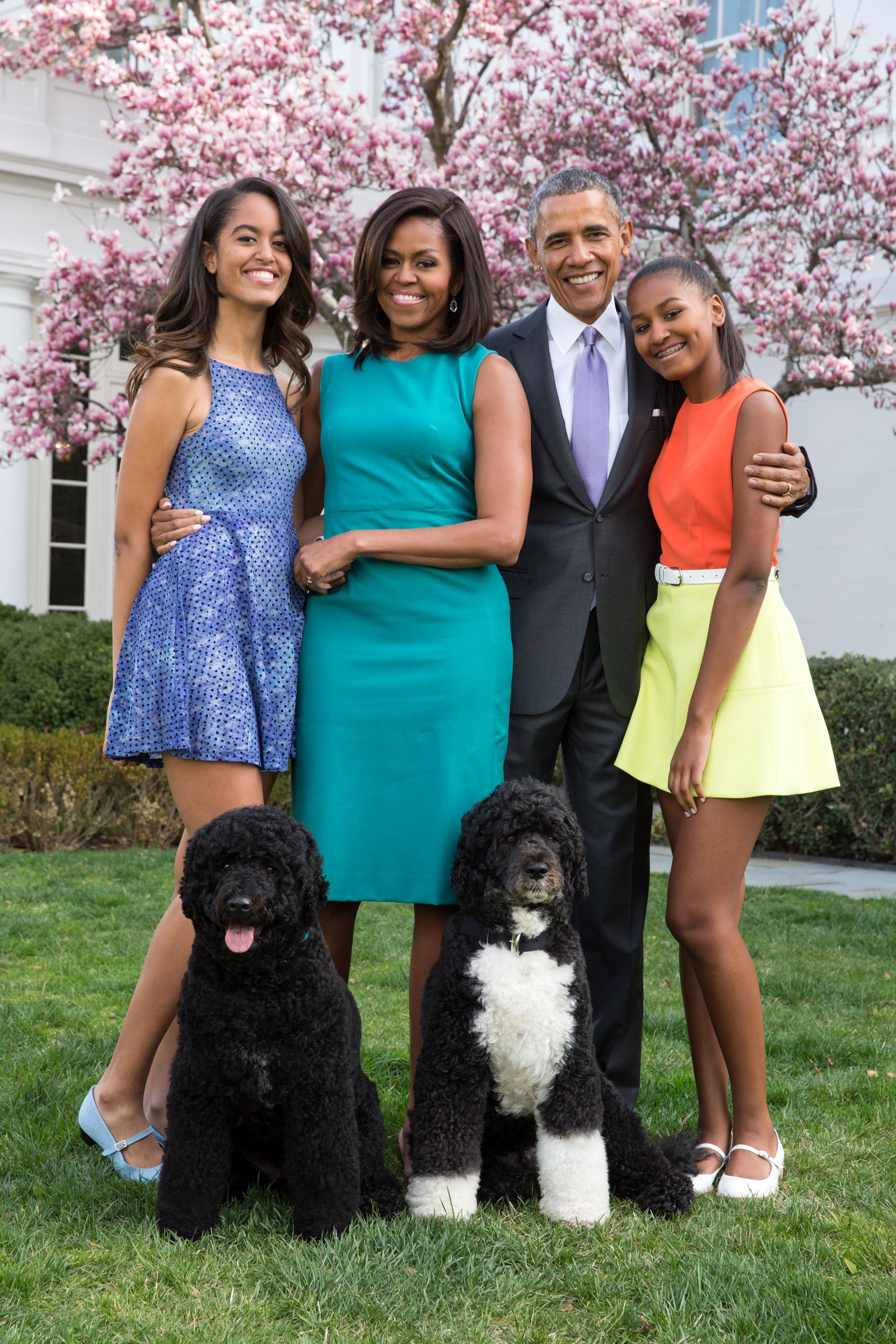 U.S. President Barack Obama, First Lady Michelle Obama, and daughters Malia (L) and Sasha (R) pose for a family portrait with their pets Bo and Sunny in the Rose Garden of the White House on Easter Sunday, April 5, 2015, in Washington, DC. | Source: Getty Images.
As the youngest of the two sisters, Sasha is set to attend the University of Michigan while Malia is already in her third year at Harvard.
At an early age, Malia's dream of becoming a filmmaker became apparent. During the summer of 2014, Malia worked as a production assistant on "Extant" in California, while she also interned in Washington at the Smithsonian's National Zoo.
The year before Malia started at Harvard, she spent the summer interning on the set of the HBO series "Girls." When her firstborn went off to university, Michelle gave Malia one piece of advice, "Don't wind up on Page Six."
Advice from the most popular woman in the world it turns out. According to two polls done by YouGov in 2019, Michelle is not only the most admired woman in America but also in the world.
Please fill in your e-mail so we can share with you our top stories!