Khloé Kardashian and Daughter True Pose in Leopard-Inspired Outfits in New Pics
Kloé Kardashian and daughter True match up in mommy-and-me leopard-skin look.
Kloé Kardashian and baby daughter True Thompson melted hearts on social media in leopard skin in a series of sweet photos posted on Instagram.
We can't blame Khloé for wanting to show off her baby leopard cub, who is too cute for words.
KHLOÉ KARDASHIAN WOWS IN LEOPARDSKIN
The snaps were taken outdoors, with a charming white gate in the background. Khloé is wearing a clinging leopard-print romper from Naked Wardrobe, black sneakers, and a Dior headscarf.
She accessorized with large earrings, dramatic sunglasses, and a Fendi brown velvet belt bag.
Khloé has revealed that her life is focused on two things: her daughter, and her healing.
TRUE IS THE PERFECT LEOPARD CUB
Perched on a sunny wall next to her glamorous mom, True wore a black outfit with matching sneakers and complemented Khloé's look with a leopard-print headscarf.
"A leopard and her cub ?," Khloé wrote.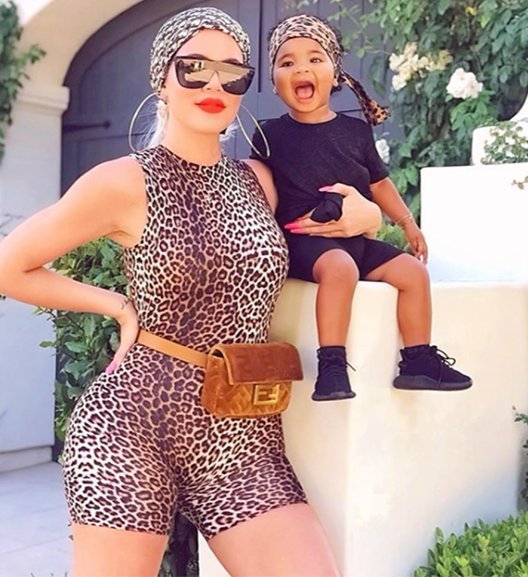 KHLOÉ KARDASHIAN SOLDIERS ON
The last 15 months of Khloé's life haven't been easy, but she has soldiered through all her challenges bravely, from learning of her ex-partner Tristan Thompson's infidelities just days before giving birth, to the most recent scandal involving a close family friend.
KHLOÉ KARDASHIAN IS FOCUSED ON HER HEALING
Khloé has revealed that her life is focused on two things: her daughter, and her healing.
"People make mistakes, but I won't hurt my own healing by holding on to hate," she wrote.
Khloé later went on to say that she could never hate the man who helped her make such a beautiful baby and that she is too busy raising her daughter and working to cling to the past.
TRUE'S PRETTY PINK PRINCESS ROOM
Khloe Kardashian is well known for her passion for fashion, and although her own choices are sometimes daring, for her daughter's bedroom she chose to go totally pink.
True's nursery is decorated in the softest of candy-pink, and her crib is made of clear Lucite. To entertain her, she has a delicate pink butterfly mobile.
There is a pink bunny on the bed, and beside it a big fluffy sheep stands guard over the fluffy carpet which is...You guessed it! Pink!
Sweet pink dreams to baby True.