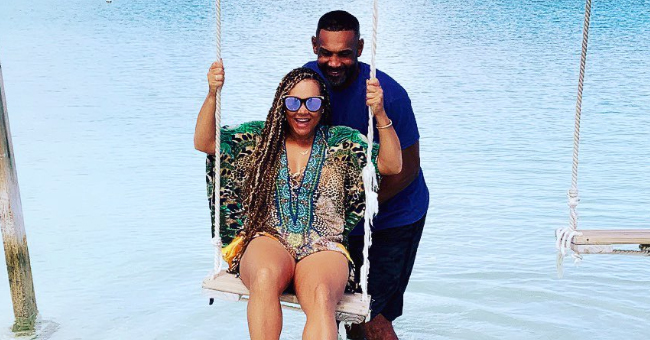 Instagram/realtamiaworld
Tamia & Grant Hill Take Trip to Bahamas to Celebrate 20th Wedding Anniversary
Singer Tamia and her husband Grant Hill are celebrating 20 years of marital bliss with a special family trip to the Bahamas alongside their teenage daughters. Fans often wonder what the couple's secret to a healthy relationship is, and for them, the answer it's "not that deep."
Approaching two decades of marriage is an important milestone for any couple, especially if they're part of such an unstable industry like the entertainment one.
For that reason, R&B songstress Tamia and former NBA star Grant Hill made of their 20th anniversary a week-long celebration worthy of a lavish trip to the Bahamas, where they have been enjoying the sunshine in the company of their daughters, Myla Grace and Lael Rose.
FAMILY FUN
Although the couple celebrated their anniversary on July 24, it was almost a week later that they embarked on the trip the paradisiac place.
In one of the many pics shared by Tamia on Instagram, she's seen sitting on an oceanside swing at Highbourn Cay while Grant stands behind her ready to push her. They both have huge smiles on their faces, and it seems like they were having a lot of fun.
"It's the little things #love #laugh #livingthedream #still #20yrsmarried," Tamia captioned her post.
She also shared a video of daughter Lael doing a backflip with the help of Grant, and also a clip where she's harmonizing with Myla while Lael beatboxes.
Hill, on the other hand, wasn't afraid of embarrassing himself by sharing a video of his failed attempt to dive by jumping from a yacht—although he later redeemed himself by actually nailing the jump a second time around.
CELEBRATING LOVE
On the actual date of their anniversary, Grant Hill melted hearts with an Instagram post where he shared three pics of him and Tamia through the years, adding a sweet caption that read:
"Happy 20th Wedding Anniversary @realtamiaworld (cue the words of disbelief)... Seriously, I'm truly amazed and inspired by how far we've come; humbled by how far we have left to go, and beyond grateful to be on this journey with you...Thankful is an understatement!!"
Tamia also shared her celebratory post, but she kept her caption short and sweet by stating that she's looking forward to the next 20 years with Grant.
The "Into You" singer's post fell short this year, considering that on their 19th anniversary she released never-before-seen footage of their wedding ceremony as the music video for her song "Today, I Do," released as part of her latest album "Passion Like Fire."
THE SECRET FOR A LONG-LASTING MARRIAGE
Although Tamia and Grant are considered one of the best examples of "black love" in the entertainment industry, the pair doesn't hesitate when admitting that they don't have a secret formula to the "perfect" relationship.
"We were just talking about how people were asking just these deep questions, and we were like, at the end of the day, it's not deep," Tamia told ESSENCE. "Marriage is not deep. It isn't complicated. You're just trying to make it."
And continued:
"Every day you are just saying to each other, 'we are going to work it out, we are going get through it together,' [because] it's not about looking into each other's eyes, it's about looking in the same direction. So, there's no secret."
Happy anniversary to Tamia and Grant! And may they have more to come.
Please fill in your e-mail so we can share with you our top stories!