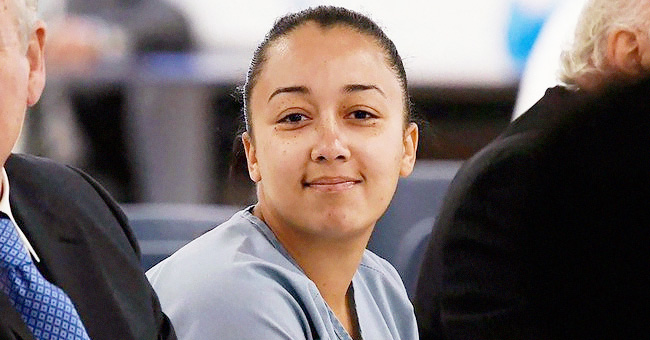 twitter.com/SisterSong_WOC
Cyntoia Brown Released after 15 Years in Prison
Cyntoia Brown, the woman who was sentenced to life imprisonment for killing a man that picked her up for sex at age 16, is finally free after spending 15 years in jail.
Now 31, Brown was released on parole from Tennessee Prison for Women early on Wednesday, August 7, CBS News reports.
THE CRIME
Brown's face began to attract attention amid the rise of the #MeToo movement with her supporters insisting that the 2004 murder of 43-year-old real estate agent Johnny Allen was an act of self-defense.
Allen had picked Brown up for sex at a Drive-In in Nashville and, according to NPR, the teen told the police that she pulled a pistol out of her purse and fatally shot him because she thought he was reaching for a gun.
Brown fled the scene with Allen's guns and money but was eventually captured and in 2006, was convicted of aggravated robbery and first-degree murder and handed a life-without-parole sentence.
Despite the U.S. Supreme Court ruling that life-without-parole sentences for juveniles are not constitutional, state prosecutors argued successfully that Brown's sentence was not in violation of federal law because she would only be eligible for parole after serving 51 years, in 2055.
According to court documents, Brown ran away from her adoptive family in Nashville in 2004 and found herself in an abusive relationship with a drug dealer -- known as "Cut Throat" -- who forced her to become a prostitute.
SUPPORT FOR CYNTOIA BROWN
In their argument, Brown's lawyers argued that not only was she a sex trafficking victim who feared for her life but that she also lacked the mental capacity to be culpable in the slaying because her mother's alcohol use impaired her while she was in the womb.
Brown's case drew the attention of celebrities like LeBron James, Kim Kardashian West, and Rihanna, who lobbied for her release. Backed by the outcry from members of the public, their efforts resulted in then-governor of Tennessee Bill Haslam granting Brown clemency.
CYNTOIA BROWN SPEAKS
In a statement obtained by USA TODAY, Brown said upon her release:
"While first giving honor to God who made all of this possible, I would also like to thank my many supporters who have spoken on my behalf and prayed for me. I'm blessed to have a very supportive family and friends to support me in the days to come. I look forward to using my experiences to help other women and girls suffering abuse and exploitation."
CONDITIONS OF THE RELEASE
"I thank Governor and First Lady Haslam for their vote of confidence in me and with the Lord's help I will make them as well as the rest of my supporters proud," she added.
Haslam's commutation reportedly demands that Brown remains on parole supervision for ten years after her release, on the condition that she keeps a job, participates in regular counseling sessions, and does not violate any state or federal laws.
REACTIONS TO THE RELEASE
Individuals and groups have been celebrating Brown's release on social media since the news broke. James tweeted: "Cyntoia Brown welcome home!!!" while U.S. Senator Elizabeth Warren said:
"Cyntoia Brown is finally free—but we can't forget that she was denied justice for over 14 years. The words above the Supreme Court say 'Equal Justice Under Law.' We need to start acting like it, and that means standing up for survivors of sexual violence."
Brown, who earned her GED and a bachelor's degree from Lipscomb University as an inmate, now plans to publish a memoir by October and will also be the focus of a documentary to be produced by a nonprofit group.
Please fill in your e-mail so we can share with you our top stories!