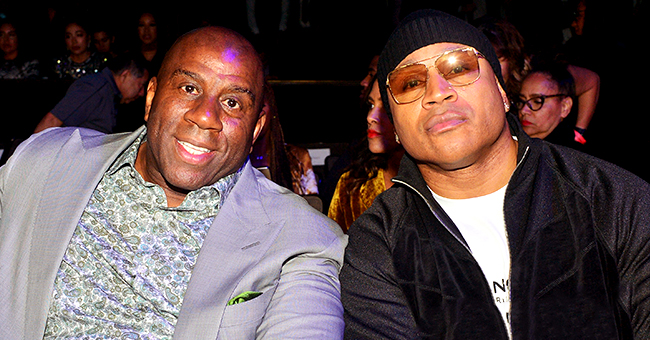 Magic Johnson & LL Cool J Go on Vacation on Yacht That Allegedly Costs $950K per Week
Basketball legend Magic Johnson took his friends and on a pleasure cruise around the Amalfi Coast, and the price of the jaunt is astounding.
Extravagance is the name of the game, with celebrities spending millions on a single night for a party, but even in that cash-rich set, Magic Johnson is on a league of his own.
MAGIC JOHNSON'S LUXURY ITALIAN VACATION
The basketball legend rented a 281-foot ship called the Aquila, with 28 crew-members and the capacity to host 12 guests in the literal, lap of luxury.
And the cost? The Aquila will set you back a cool $950,000 a week, and Johnson's vacay is scheduled to last 6 weeks. Can you do the math? !t comes to breathtaking $5,700,000.
The enchanting Amalfi coast is just riddled with the rich and famous enjoying the beauties that seduced Roman Emperors
MAGIC JOHNSON'S LUXURY SEAFARING "HOTEL"
The Aquila is a floating hotel, which offers guests extensive leisure areas, and luxurious quarters as well as a gym, a movie theater, a hot tub, 2 massage rooms and its own nightclub for those inclined to party all night long. Johnson knows how to do things!
MAGIC JOHNSON AND FRIENDS
Johnson's Italian getaways usually feature a rotating guest list of celebrities, and this time the lucky few include LL Cool J, Rodney, and Holly Robinson Peete and several others.
MAGIC AND COOKIE'S CELEBRITY "NEIGHBOUR"
Of course, the enchanting Amalfi coast is just riddled with the rich and famous enjoying the beauties that seduced Roman Emperors, and in Capri, their next-door neighbor in the marina was none other than the equally famous Naomi Campbell.
Johnson, who resigned from his position with the Lakers and will now be without his $10 million yearly paycheck, is living it up.
And it is said he is heading for even bigger things.
MAGIC JOHNSON, LL COOL, WILL SMITH AND ICE CUBE IN BILLION DOLLAR BID
In order to comply with monopoly laws (no, not the game!) Walt Disney Co. which recently acquired 21st Century Fox has to sell 22 of their regional sports networks-
And guess who is grouping together to put in a bid? Magic Johnson, Will Smith, LL Cool J, and Ice Cube.
The 22 stations are expected to reach as high as $25 billion if the bidding war is fierce. If they succeed, Johnson, Smith, LL Cool, and Ice Cube will be able to afford all year-long yacht jaunts on the Aquila.
Please fill in your e-mail so we can share with you our top stories!