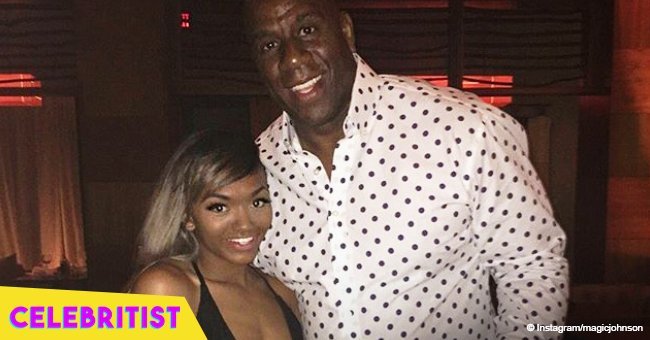 Magic Johnson's daughter sizzles in black swimsuit while sporting a cute bob in pic
Magic Johnson's daughter, Elisa Johnson, shared a photo of herself looking all shades of awesome in a two-piece black bikini. Elisa, who is adopted but shares the Johnson family stylish streak, met her birth mom in an emotional encounter documented in a video here.
In the picture, the budding model can be seen kneeling on a patterned rug laid out on a beach. There's an open tent beside her and palm trees dotting the landscape provide laid-back Island vibes. Then, of course, there's the sun that gives Elisa the perfect melanin-glow filter.
It's not too surprising that Elisa has grown into a stylish woman; she was raised in a family of style icons. Her father and mother are regular faces at prestigious fashion shows, and let's not forget her brother, EJ Johnson, who is a fashion movement all by himself.
Elisa, who signed on to Wilhelmina Models in 2017, was a basketball and soccer player until high school. She explained:
"[I] tried to move away from the norm of things and do my own thing. …That's where it progressed."
Style is not the only legacy Elisa inherited from her famous family. The 23-year-old is also drawn to advocacy, as is her father who was diagnosed HIV positive in 1991, and her brother who came out as gay in 2013.
Elisa works with the Ladylike foundation to inspire and educate young females from underprivileged communities. The petite beauty also intends to work with adopted and foster kids. She told W magazine:
"I know what it's like to feel sometimes like you're not whole, that something's missing."
Despite her adopted status, Elisa is every inch a daddy's girl to her NBA legend dad. Magic spilled to The Steve Harvey Show in 2016:
"Athletes and entertainers are calling me about my baby now, and I'm like 'Hold up, man. That's my baby. No you can't date her. …You know, I'm all in her business and she gets mad at me, she want to be on her own so bad."
Elisa also confirmed her father's funny statement in a separate interview:
"My dad is not really of that. I'm focused on school right now. He's a no-go on the athletes and Dodger players."
Magic and Cookie Johnson adopted Elisa three days after she was born in 1995. The couple wanted another child and did not want to risk any infection due to Magic's HIV status.
Please fill in your e-mail so we can share with you our top stories!