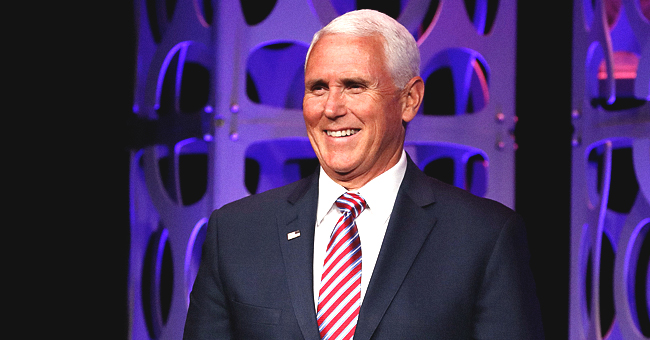 Getty images
Mike Pence's Daughters Are All Grown up and Look Stunning

Mike Pence is the father of two beautiful grown-up women; they are both successful, and one of them is not a fan of her father's political party.
While most of the world know all about President Donald Trump's daughters', Ivanka and Tiffany, things are slightly different when it comes to Vice-President, Mike Pence daughters.
Pence shares three children with his wife Karen; the last two are girls, and they are all grown up and very stunning. The daughters, Charlotte and Audrey, were born 1-year-apart, and have followed each other closely in life.
Interestingly, the sisters got engaged within months of each other. In April, Audrey accepted her college sweetheart's — Daniel Tomaneki — proposal, and in an Instagram post where she reflected on the importance of friendship, the Vice-President's daughter revealed her wedding would take place next year.
In July, Charlotte shared on Instagram that she said "Yes" to Daniel Bond, writing,
"I said yes, then I said 'thanks' a lot, because I didn't know what else to say."
Not knowing what to say is new for Pence's middle child, who is a published author. After staying in the shadow of her siblings for so long, the writer said they encouraged her to chase her dream.
In late 2018, the newly engaged Charlotte published the book, "Where You Go: Life Lessons from my Father." The book focused on Pence's political career, and the Vice-President wrote the forward.
The writing talent also extends to Audrey; she once co-wrote a piece with Christina Asquith for CNN.
Pence's last child is also very outspoken, and back in 2013, when her father was running for Governor of Indiana, she described herself as "Politically independent social liberal."
At the time, Pence supported the description, and he has always encouraged his children to find their voice and own their opinions. The VP raised his children mostly on the campaign trail, beginning with his bid for Congress.
After serving in Congress for 12 years, he became a Governor, before President Trump chose him as his running mate. His inauguration took place on January 2017, and he has served in his capacity as Vice-President since.
Pence, however, has not always been a Republican. In his younger years, he identified with the Democratic party, and once revealed that he voted for Jimmy Carter, in place of Ronald Reagan.
The Columbus native identifies as a Christian, Conservative, and Republican, in that other. He has never been shy of his beliefs, and with his climb in public office, Charlotte and Audrey have the spotlight on them, and they are shining brightly.
Please fill in your e-mail so we can share with you our top stories!