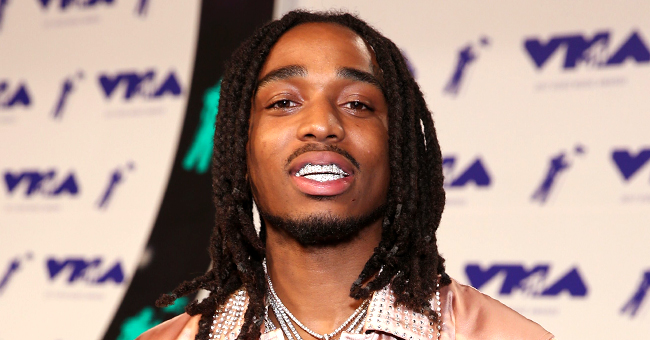 GettyImages
Migos Rapper Quavo Surprises Mom with Brand New Jeep Rubicon for Her Birthday
It's no secret that Migos rapper, Quavo, loves his mom as he has proven time and again by getting her extravagant gifts each year for her birthday celebration. The gifts only keep getting better.
Last year, the unbeaten 28-year-old rapper went all out for his mom's birthday by getting her a brand new Range Rover. This year for her birthday, he stuns her by getting her a brand new rubicon jeep.
Quavo took to his Instagram page to upload a series of posts which included a picture and two short video clips.
The video clip featured his mom standing out of the rubicon's sunroof smiling and waving to the camera while Stevie Wonder's "Happy Birthday" played out in the background.
He wrapped up the posts with a heartwarming caption which expresses his gratitude and love for her.
"M A M A H U N C H O," he began. "Happy Bday I love You Til Death My Bestfriend U Are the Founder No 530 NO Gang I Always Will Reward You For Your Greatness !!! Your Only SON!!!! Quavo," he finished.
The celebratory mood was also shared by Quavo's nephew TakeOff, who took to Instagram to give a birthday shout out to Quavo's mom whom he also referred to as "Mama Huncho."
He posted a throwback picture of her, with a touching caption which read:
"Today Is A Special Day & I Need Everyone Who Been Wit Me Since Dia Uno To Go Wish My Nana Aka Mama E Aka Mama Huncho @beautyisme_boo A Happy Birthday."
While Takeoff did not present Quavo's mom with a gift this time, the love he has for her was outrageously expressed last year when he paired up with Quavo to buy his mom a gorgeous Georgia home for the Christmas festivities.
The 5-bedroom, 5-bathroom, home located in Roswell, Georgia, cost a total of $560,000 and boasts a two-story foyer staircase, grand fireplace, chef's kitchen, breakfast bar, custom terrace level, custom bookshelves, and a complete in-law suite.
All these and you can't help but wonder what's in store for the proud mother next year.
Please fill in your e-mail so we can share with you our top stories!