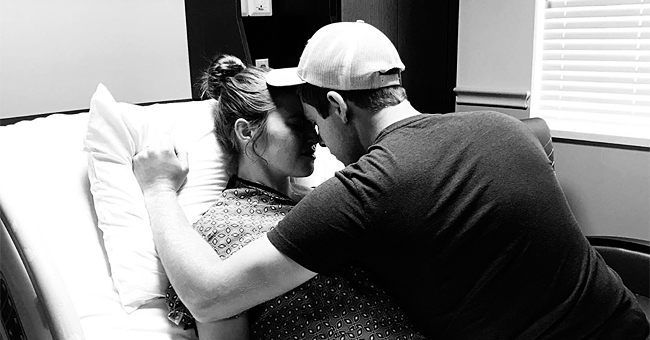 instagram.com/austinandjoyforsyth
Joy-Anna Duggar Confides She Has Been 'Crying' & 'Praying' Weeks after Her Miscarriage
The "Counting On" star, Joy-Anna Dugger in an Instagram post on August 7, revealed that she has been crying and praying even weeks after the death of her daughter.
Twenty-one-year-old reality star, Joy-Anna Dugger opened up about how the past weeks have been for her and her other half since they lost their 20 weeks stillborn daughter.
JOY-ANNA'S POST
She took to Instagram to confide in her fans saying that there has been lots of crying and praying. The star shared a picture of her, holding an ice cream cone, with a smile on her face.
Over the image, she attached the revealing caption which read:
"Being real y'all… It's been one of those days… lots of crying, praying and a little ice cream!"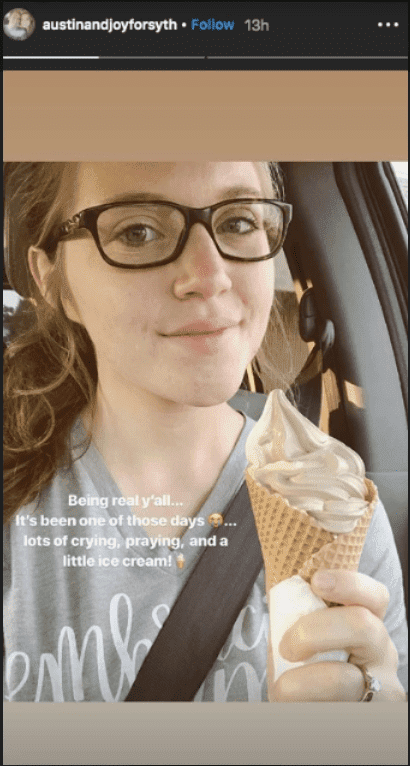 Photo: Instagram story/@AustinandJoyForsyth
ICE CREAM GRIEF
Hopefully, the reality star's ice cream fest is not a cause for concern. A lot of people have been known to turn to sweet foods, especially ice cream as an avenue to let out their grief after a sad loss.
Notwithstanding, any concern that might have been roused by the reality star's post was soon to be dismissed following the psalm shared on her Instagram stories soon after.
She wrote:
"Evening, morning, and noon, will I pray, and cry aloud: and he shall hear my voice."
Those words were a reassurance to fans that she still held on to her renowned faith, and turned to God for her much needed consolation.
JOY-ANNA'S COMFORT IS HER ONE-YEAR-OLD SON
The reality star went off the radar for a few weeks after her miscarriage. She made her heroic comeback with a social media post featuring herself, carrying her sleeping one year old, Gideon.
Following the post, fans sent the twenty-one-year-old words of comfort. One fan wrote:
"My heart hurts for you guys, but that little man is the best love a mommas heart could use right now."
Another fan added:
"I'm sure your little boy is such a comfort to you. So many people are thinking of you and praying for your healing, physical, and emotional."
The television star and her husband, Austin Forsyth revealed in early July that they lost their unborn baby at 20 weeks. They discovered the loss during a visit to the hospital for an ultrasound and gender reveal scan.
Barely a month down the line, the couple seem to have embraced their new reality, while holding on to their faith and continuous prayers.
Please fill in your e-mail so we can share with you our top stories!