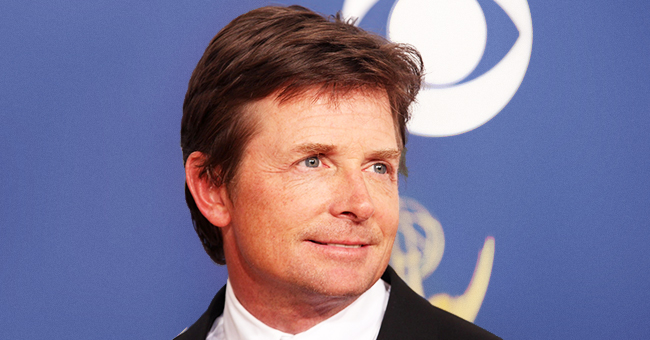 Getty Images
Michael J Fox Enjoys 'Sunset Dinner' with Three Daughters, Wife and Mother-In-Law
Michael J Fox enjoys a sunset picnic on the beach, with his family and they display their love of food.
"They like to eat, a lot. None of them are huge but they like to eat," Fox joked with ET Online. "They must burn a lot of calories doing something because they eat copious amounts of food."
Fox and Tracey Pollan have been married 31 years. The couple have four children together; Sam Michael Fox, Esmé Annabelle Fox, Schuyler Frances Foxand Aquinnah Kathleen Fox.
Good food and a great sense of humor seem to be the recipe that keeps this family together. Fox shared a photo on Instagram of him enjoying a sunset picnic on the beach, with his family.
From the looks of it food was defiantly on the brain. Fox was joined by Pollan, his mother in-law and their three daughters. The family are smiles as they enjoy a sunset dinner consisting of pizza and seafood.
One fan decided to add a hilarious take on the mouth-watering display of food on the beach, he says:

Fan reacts to Michael J Fox's sunset dinner | Instagram
Fox is a comedian and known for never taking himself too seriously. So it's safe to assume that the joke didn't fall on deaf ears. Fox once told ET Online, "I'm very mockable."
The Fox's are not your average Hollywood family. In fact, the couple's children have chosen careers outside of the spotlight and keep a low profile social media presence.
The lives his children now lead are in stark contrast to the life Fox had at their age. In an interview with O Magazine, in 2002, Fox Tells Oprah:
"Before Tracy and I started seeing each other, I was this boy prince of Hollywood. I had a Mercedes and a Ferrari and a Range Rover, and I was really nuts."
Although his children are enjoying their lives away from the limelight, they are his biggest supporters. From movie premieres, charity events and helping with the Michael J Fox Foundation. Fox always has his family by his side.
Fox often accords his new lease on life to being diagnosed with Parkinson's at 29 and subsequent struggles with alcohol. He has always emphasized that these events in his life helped reshape him as a father and as a man.
Please fill in your e-mail so we can share with you our top stories!