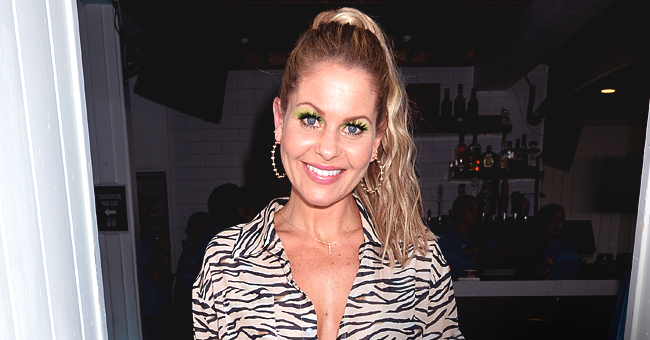 Getty Images
Candace Cameron Bure Steals the Show Posing with 'Uncle J' John Stamos in Tiger-Print Shorts
The "Fuller House" actress was the star of the moment in a tiger print ensemble as she posed for a photograph with co-star, John Stamos, at the 2019 Teen Choice Awards.
The 2019 Teen Choice Awards, which held in Hermosa Beach, California, was made complete with the presence of the "Fuller House" stars, Candace Cameron-Bure and John Stamos.
The co-stars were the lives of the party at the ceremony as seen from Candace's Instagram.
The 49-year-old shared a photo of them both posing for a photograph at the event, but it was Candace's outfit that stole the spotlight.
The mother-of-three put on a leggy display in a pair of tiger print shorts paired with a matching buttoned blouse. Her blonde tresses were styled in a tight bun, and her feet were adorned with a pair of gold sandals heels.
John Stamos, on the other hand, looked like an Elvis Presley look-alike in a white suit over a black round-neck and a pair of white sneakers.
It was his trademark haircut and brown shades that added the Presley vibe to his outfit. His co-star paid tribute to Stamos' Presley impersonation in the caption of her post, which read:
"I thought it was Elvis, but my Uncle J. Will do just fine."
The post garnered over 140,000 likes and several lovely comments from fans of the show. A user @christaleamarsh wrote:
"I love this pic! You both look fabulous!"
However, it seems John isn't the only Stamos that the actress has a thing for.
CANDACE'S LOVE FOR BILLY STAMOS
Even at just 1-year-old, John Stamos' son is already stealing hearts like his famous father. When he visited the set of "Fuller House," Billy charmed the ladies as the Stamos that he is.
However, there was one particular woman who fell so hard for the adorable toddler, and it is none other than Candace Bure.
"I need Billy to be here every week. I think I am going to put that in my contract. There is going to be a rider that Billy Stamos must be here every week so I can have hugs and kisses from him … because he is the cutest thing ever."
When you have the Stamos blood in you, this comes as no surprise!
Please fill in your e-mail so we can share with you our top stories!