Marlon Wayans Shares Touching Tribute to His Baby Mama and Fans Ask Him to 'Remarry' Her
Marlon Wayans showed love to his former partner with a touching social media tribute, but fans seemed to be more interested in seeing the two get back together, and they told the actor/comedian as much.
Wayans and his ex, Angelica Zachary, have achieved what many separated couples find impossible: a healthy friendship. Unfortunately, not many people seem to appreciate that dynamic as is evident in the actor's latest run-in with social media.
A few days ago, Wayans shared an Instagram pic with him hugging Zachary as they smiled for the camera. In the caption, the dad-of-two gushed over Zachary and their children, daughter Amai, 19, and son Shawn, 17:
"This woman.... ride or die. Love you for life. Always my baby. I hope I make you .proud. Thank u for those two little gifts (my kids) and thank u for believing in my greatness."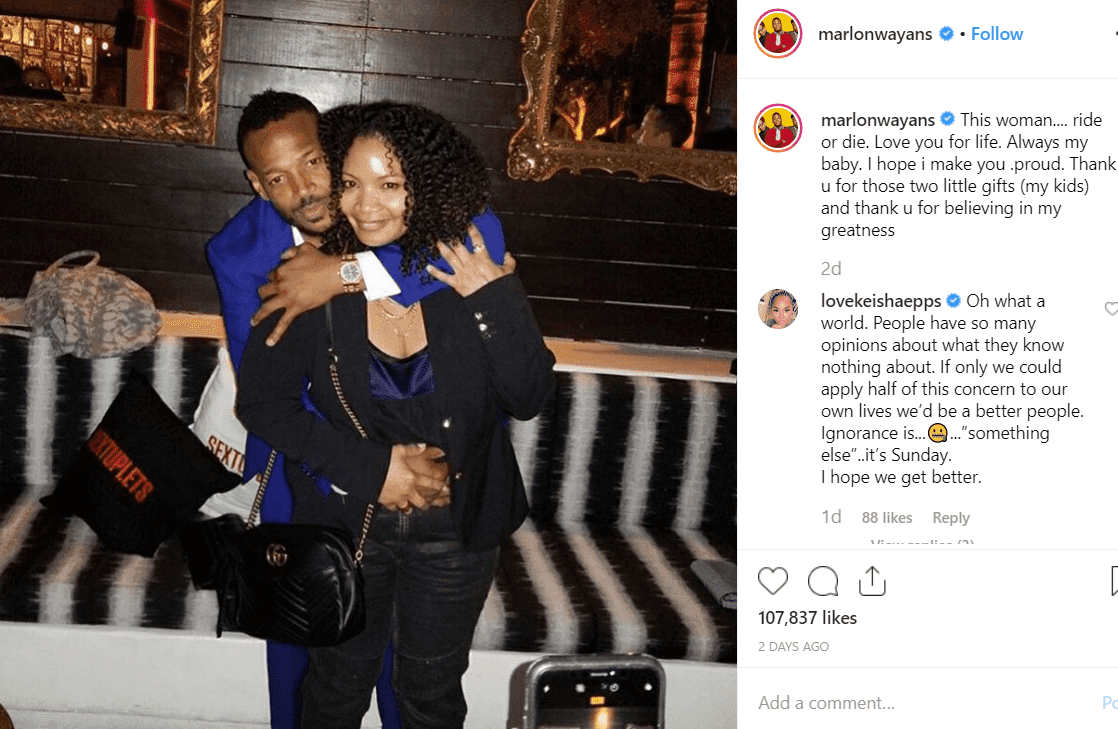 While many took to the comment section to applaud Wayans and Zachary for their maturity and friendship despite not being together, others chose to call out the "Scary Movie" star for not marrying his ex.
Still To Come: It's been six years since they parted ways and Wayans and Zachary seem to have found their happy place

Y'all need to get back together and stop playin," one Instagram user wrote. "There isn't [expletive] out here, but trouble; gotta have a real one by your side."
"I can't wait till you guys get married again," chimed in another.


One person even went as far as suggesting that Wayans, 47, was stringing Zachary along so he could get back with her later in life:
"He gonna get back with her when he old and nobody want him anymore watch."


The "White Chicks" producer and his ex officially called it quits in 2013. The couple had reportedly been in a relationship since the 90s, but things got to a head after Wayans was caught publicly cheating on Zachary.
It's been six years since they parted ways and Wayans and Zachary seem to have found their happy place as co-parents. For Zachary's birthday last year, the actor penned a lengthy message on social media, extolling his ex's virtues and assuring her of his love.
"I'm thankful for all the years we spent together but I'm more thankful for this beautiful friendship and this weird obtuse beautiful family that we have."
"As long as I'm on this earth 'i got you,'" he added.
It appears Wayans and Zachary have this co-parenting thing on lockdown and are making the most of their situation.